You've recently been hired as a creative director, and now you have the tough job of spearheading your organization's digital transformation strategy with your media asset management (MAM) system choice.
The options before you are between an on-premise and a cloud-based MAM system.
It gets tricky because you have to make a strategically relevant choice for your organization without the specialized technical knowledge to inform your decision.
How do you decide whether an on-premise or cloud MAM is best suited for our organization's digital transformation? Which option can best unlock the commercial value hidden in your asset repository?
The rest of this article will help guide your choice, but before we delve in, let's clarify what we mean by 'media asset management.'
What is media asset management?
Media asset management is the system that an organization uses to manage its rich multimedia files and vast libraries of images, audio, documents, and videos. This usually refers to the software that manages these files.
But media asset management goes beyond serving the purpose of an intelligent file organization tool. Next-generation MAM systems now come equipped with AI-driven 'organize,' 'search,' 'share,' and 'integration' tools that orchestrate various processes that work together to increase the ROI generated from your organization's creative digital assets. 
Beyond improving media production workflows, MAM systems form part of the critical technical infrastructure that offers organizations a competitive advantage in a fast-propagating, content-first age.
That being said, let's delve into the various types of MAM systems available today.
Cloud-Based vs. On-Premises vs. Hybrid MAM
There are three primary MAM solutions: On-premise MAM, Cloud MAM, and Hybrid MAM. Each has unique features you need to understand to choose the right solution for your business.
Organizations often have to choose between a cloud-based or an on-premises media asset management system to fit their unique content management needs. Each option comes with its unique pros and cons.
While there is no "right decision" that fits organizations of every type and size, teams can weigh up the advantages and disadvantages of each approach to determine which system best suits their needs.
To make choosing easier, we will weigh each option to assess essential features like cost, implementation, accessibility, security, and control.
What is Cloud Media Asset Management (MAM)?
Cloud MAM is a media asset management system hosted in the cloud, which relieves users of the need to own, manage and operate servers – allowing users to access projects from any location and at any time. 
Because cloud MAMs don't reside within the company's walls, the third-party MAM vendor hosts, manages and secures the MAM system as part of the package. 
A cloud-based MAM offers users the flexibility of being able to access data from any location —provided they have an internet connection.
On the downside, this added flexibility can come at the cost of limited customizability, high bandwidth utilization, control, regulatory compliance, and security. To assess whether a cloud-based MAM is right for your organization, you need to evaluate the pros and cons below:
Pros

Cons

Immediate Availability
As pre-packaged solutions, cloud-based MAMs can be used immediately following an onboarding process.
Vendor Lock-In
Committing to a SaaS vendor comes with its risks. Users are locked into vendors' prices, policies, and support teams and trade off a lower price for a loss of control. However, vendor contracts are sufficient to negotiate control and mitigate associated risks
Lower Start-Up Costs and Scalability
There's no huge capital outlay required from the onset. Organizations can scale by simply adding more users to their packages.
Higher Bandwidth Costs and Utilization
It might be costly to acquire the necessary bandwidth for high-volume data transfers without additional optimization efforts. However, decreasing global bandwidth costs can help counter the high bandwidth costs over time.
Remote Access
Cloud-based solutions can be accessed from anywhere with an internet connection and by multiple users simultaneously.
Might be Unsuitable for Regulatory Compliance
Highly regulated industries may require on-prem/hybrid data structures or customization to fit strict security and audit requirements.
Seamless Collaboration
MAMs hosted in the cloud make it easy for remotely distributed teams to access and collaborate on projects simultaneously.
Dependent on Internet Connection
As the system is wholly dependent on a reliable internet connection, interruptions to the connection or high latency may bottleneck  workflow collaboration temporarily. Thankfully, pandemic-fuelled investments in technical infrastructure has created more reliable internet connection options for remote work.
Hands-free Maintenance and Security
Vendors manage maintenance and security. Except for large organizations, third-party vendors are typically more experienced and knowledgeable than your in-house IT team.
Shared Resources and Security Concerns
Not all providers can offer shared security mechanisms robust enough to keep tenant resource demands from affecting other tenants. There is a need for due diligence on providers, picking providers like Evolphin Zoom with robust security mechanisms like true single-tenant set up for maximum security with individual client AWS accounts and virtual private cloud (VPC).
What is On-Premises Media Asset Management
An on-premises MAM solution is hosted on an organization's physical on-premises network server and installed and maintained by its in-house IT team. 
In contrast to cloud-based solutions that depend on third-party vendors, an "on-prem" MAM  system is self-hosted on your servers and maintained by an in-house tech team. On-premise MAMs offer total control over company data and are particularly applicable to organizations with strict compliance, security, and regulatory requirements.
However, on-prem MAMs also come with specialized hardware and data storage requirements, network requirements, and strict access controls. These may not be feasible for smaller organizations due to high capital and maintenance costs with infrastructure under the direct control of the organization.
The most significant benefit of an on-prem implementation is security and control. On-prem MAMs store data on an organization's physical servers,  isolating them from external attacks by firewalls and encryptions.
Industries with high data sensitivity (like healthcare) are usually governed and audited by regulators that specify security recommendations for data management. For others (especially those that handle large volumes of video data), on-prem MAMs are not such a good idea. Here are some pros and cons that illustrate why. 
Pros

Cons

High Customizability
Complete control over the system and its architecture with no intermediaries. Customized to fit your data, security, and integration needs.
Hefty Start-Up Costs
Requires costly investments in servers and other hardware. This is particularly applicable to organizations that lack pre-existing hosting infrastructure.
Meets Stringent Industry Regulations
Some sensitive industries require on-prem implementation due to higher security and accessibility to audits.
Implementation Delays
While cloud-based systems can be used out-of-the-box, on-prem systems take much longer to implement as all elements are built from scratch.
Not Reliant on the Internet
Not dependent on your internet connection. Also, the proximity of the data means that low latency can streamline your workflow.
Limited Accessibility
Data can only be accessed by workers on-premises. This makes it harder to coordinate remotely with clients, freelancers, and remotely-distributed employees.
Security
Your data is more secure behind your own firewalls and encryption methods. This added security is one of the most important benefits of an on-prem MAM.
High Maintenance
Your IT team will have their work cut out for them. General maintenance, update, and integration tasks will fall squarely on their shoulders. These tasks require high levels of skill and manpower.
What is Hybrid Media Asset Management?
Finally, hybrid MAM systems combine elements of on-premise capabilities with cloud accessibility for remote users. 
Hybrid MAMs provide organizations with the best of both worlds – reliable access to data from any device or location while maintaining complete control over the technical infrastructure. With a hybrid cloud model, users can leverage local infrastructure and cloud services for maximum flexibility, scalability, and cost savings when dealing with vast volumes of digital assets.
Does This Also Apply to Digital Asset Management (DAM) Solutions?
While both terms are used interchangeably, the same hosting options apply to MAMs and DAMs, as the key differentiator is the type of content they manage. To recap, here are some more specific differences to help you choose between DAMs and MAMs.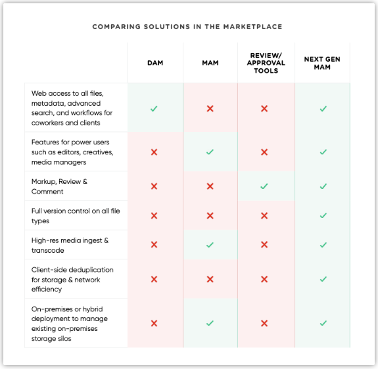 Purpose: DAM solutions typically handle finished assets, images, MS office documents, etc., with ease but can struggle to handle unfinished files and video, unlike  MAM systems. 
Asset volume: DAMs manage relatively fewer assets (typically less than 100,000), whereas MAMs handle millions of assets seamlessly.
File size: Smaller file sizes (less than 100MB) are best suited for DAMs, but MAMs can easily handle files Terabytes in size.
Workflow:  The typical DAM workflow includes searching, filtering, uploading, downloading, and processing assets. MAMs, on the other hand, are typically used for work-in-progress workflows, orchestrating steps like high-res video production, ingestion, raw video footage transcoding, proxy workflows, media archiving, and more. 
Video management: Especially when it comes to raw, unprocessed video files, DAMs fall short, unlike MAMs that manage both finished and unfinished video files seamlessly. With specialized video media management features like transcoding and proxy generation, MAM systems generally have better video-handling capabilities than DAMs which usually lack these extended video-specific capabilities.
Collaboration: Remote teams might find DAMs slightly restrictive with limited markup, review, and commenting capabilities on assets. On the contrary, the modern MAM allows for creative collaboration across time zones, devices, and platforms. 
Users: Marketing agencies, sales teams, and brand executives will likely use  DAM systems. Media managers, videographers, and producers are the users of the MAM system. 
Level of Sophistication: MAMs are typically used by professional media creators (video editors, audio engineers, etc.) who need powerful, specialized tools for managing their assets and collaborating with other professionals. On the other hand, DAM systems are often used by generalist business users who need less sophisticated tools for managing their finished assets.
As you can see, MAM systems generally offer more features and more specialization than DAM systems to support their more complex workflows.
A media asset management workflow is a sequence of tasks or processes through which media content production progresses from beginning to completion. This sequence usually includes archiving, organizing, accessing, and collaborating with media assets to improve the content creation process.
All three types of MAM systems (Cloud, On-Prem, and Hybrid) work in tandem with secure storage solutions to offer businesses and individuals alike peace of mind in knowing their assets are safe.
MAM storage refers to easily accessible, centralized storage facilities that multiple users can access simultaneously. It is essential to understand that MAM systems do not provide data storage facilities.
Rather, they index content for easy identification and accessibility from centralized storage facilities. Choosing the right MAM storage to fit your scalability needs is as strategically relevant as choosing the right MAM system for your operations. 
How to Choose What Works Best for Your Team
At this point, you probably realize you need a MAM system, and you've researched the various MAM types available on the market. Now, it's time to figure out what 'right' means for your organization – a cloud, on-prem, or hybrid MAM.
Considerations for choosing a MAM system
Your organization's strategic needs drove your decision to implement a MAM system, for reasons like:
However, when deciding on which MAM type is most likely to give your organization a strategic edge, it is important to consider your unique operational needs before making an informed decision. 
The following points will guide you in the right direction toward the best type of MAM system for your workflow.
Bandwidth: 
Consider the cost and availability of bandwidth required to service cloud operations, especially if your organization produces large volumes of assets. It is also important to remember that because of bandwidth costs, some MAM vendors cap the amount of data transferable beyond which additional costs are incurred.
Consider whether the cost benefits of the cloud MAM outweigh the operational implications associated with your work-in-progress data transfers. 
Future-proofing
How much storage and processing capacity are you projected to need in the future, and how rapidly is your user base and archive growing weekly or monthly? If you can accurately define your future needs, then an on-premise MAM  solution might be for you, as these do not easily scale beyond pre-defined requirements. 
If, however, it is difficult to predict your future needs accurately, and you prefer to scale flexibly, you're better off with a cloud-based MAM solution. You don't want to wake up to discover that your MAM system is no longer fit for purpose.
Collaboration
Does your team meet on-site? Do they shoot on location and manually ingest using camera cards on-site? Do they need remote access to your repository? Perhaps you need a cloud-based MAM to streamline your workflow, primarily if your teams are distributed across different time zones and geographic locations.
You will need to ensure that your shortlisted MAM system can handle simultaneous requests for access and security features like role-based access control.
Technical Infrastructure
What type of infrastructure is available to your business? Do you already have a well-established IT team with relevant skills for deploying, configuring, and managing your MAM system? Do you own physical hosting infrastructure? If so, you might find it easier to use your existing resources to set up and customize an on-premise MAM system. 
Business Type 
Is your business governed by a regulatory body with pre-defined rules for managing your data? For example, a healthcare organization will have specific criteria for managing sensitive digital assets under HIPAA regulations.
To stay compliant, you will need access to a team of IT professionals to custom-fit your on-premises MAM system to meet HIPAA regulations or employ a robust cloud-based MAM system with migration/deployment services included.
Integrations
How well does your prospective MAM solution integrate with third-party programs?
Take stock of the third-party tools critical to your team's workflow—Google Analytics, WordPress, Drupal, Wrike, Canva, Trello, Shutterstock, Hootsuite, Slack, SalesForce, Microsoft Dynamics, and others.
Can your MAM solution integrate with all of these? You might find that cloud-based MAMs have some of your most used integrations pre-configured and ready to use immediately, while on-premise MAMs might take some time to set up. 
Capital Cost and ROI
When it comes down to it, the cost of deploying a new MAM system can be broken down into three major components:
Implementation and deployment costs.
Ongoing operational costs paid to a SaaS vendor offset against those operational costs you would incur by managing the system internally.
Customization costs, if applicable.
Tally up your totals and consider whether or not your shortlisted solutions include proprietary technology or packages that may absorb some of these costs. For example, Evolphin Zoom MAM's front-end deduplication technology reduces cloud storage costs by up to 90%.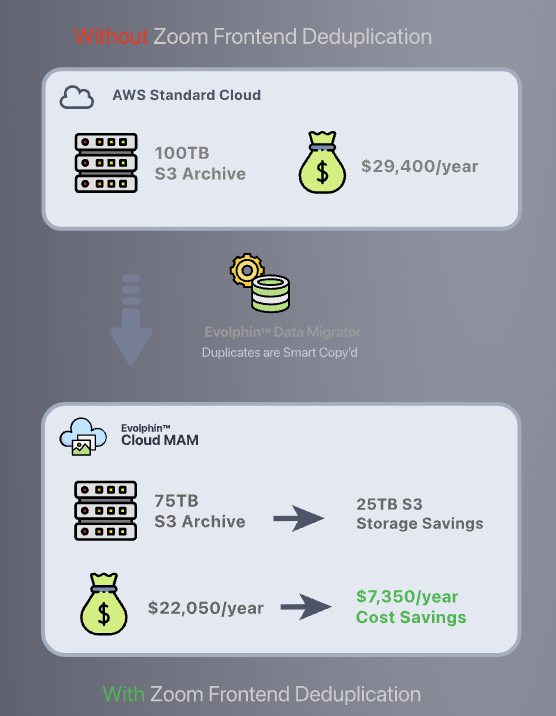 There are various ways to assess the ROI achieved by a MAM system deployment. For example, you can easily quantify the cloud storage and operational savings generated from a cloud-based MAM.
Vendors
Involve your team in determining which sort of vendor is best for your organizational needs. You might need a vendor that provides an out-of-the-box cloud solution available for use immediately. Alternatively, you may prefer a vendor that provides an on-premise or hybrid solution with part-cloud and part-on-premise elements.
Does your preferred vendor require a system integrator, or are they a one-stop shop? Also, do you want a vendor which provides deployment services, or can you rely on your own team to deploy in the cloud?
Check your references
After settling on a provider, make sure you do a reference check and evaluate previous records of your shortlisted vendors. For example, Evolphin Zoom MAM is successfully used by reputable organizations like InterMilan FC, Vox Media, and KQED TV.  This minor step can save you from many needless headaches down the road.
Still confused? Discuss your concerns with the experts
If you're still uncertain or hesitant about where to go from here, don't worry. Our seasoned media asset management consultants are ready to discuss your needs and help you iron out your MAM requirements.
Not to blow our trumpet, but with globally reputable organizations trusting our MAM solution and some proprietary technology under our belts, we know a thing or two about choosing the right media asset management solutions.
For example, the world-famous Italian soccer club Inter Milan FC has successfully used Evolphin Zoom MAM to revolutionize their media asset management and bring to life 113 years' worth of priceless assets.
Our solution, Evolphin Zoom MAM, is one of the most powerful media management system available in the market, with a hybrid system that combines the best of  cloud and on-premise solutions to optimize your team's remote workflow. In addition, deploying this system has given us valuable experience for solving the media asset management challenges faced by companies like yours.
Evolphin Zoom MAM is a worthwhile strategic investment for teams that want to revolutionize how they deal with their media assets and production workflows. It is also not limited to serving as a central repository for your media assets, as it helps your team with ingesting, retrieving, version tracking, integrating, and harnessing the benefits of AI and the hybrid cloud.
When we handle your migration to Evolphin Zoom MAM we also include technical setup, consultations, a customized deployment model, and ongoing technical support as part of our package. You and your team will never have to worry about hidden costs or working things out independently. 
If you are ready to chat with us about how we can handle your media asset management requirements, contact us today.