If you're looking to step up media operations in 2023, you will need to plan ahead for managing your projected asset volumes.
You will likely outgrow rudimentary digital asset management (DAM) systems in favor of more robust media asset management (MAM) systems – to support your mixed rich media and video assets,  which can often be tricky to manage.
But finding the right MAM system is only the first step in the journey toward a more efficient media asset management system. You still need to overcome the challenge of migrating your assets over to your new MAM system.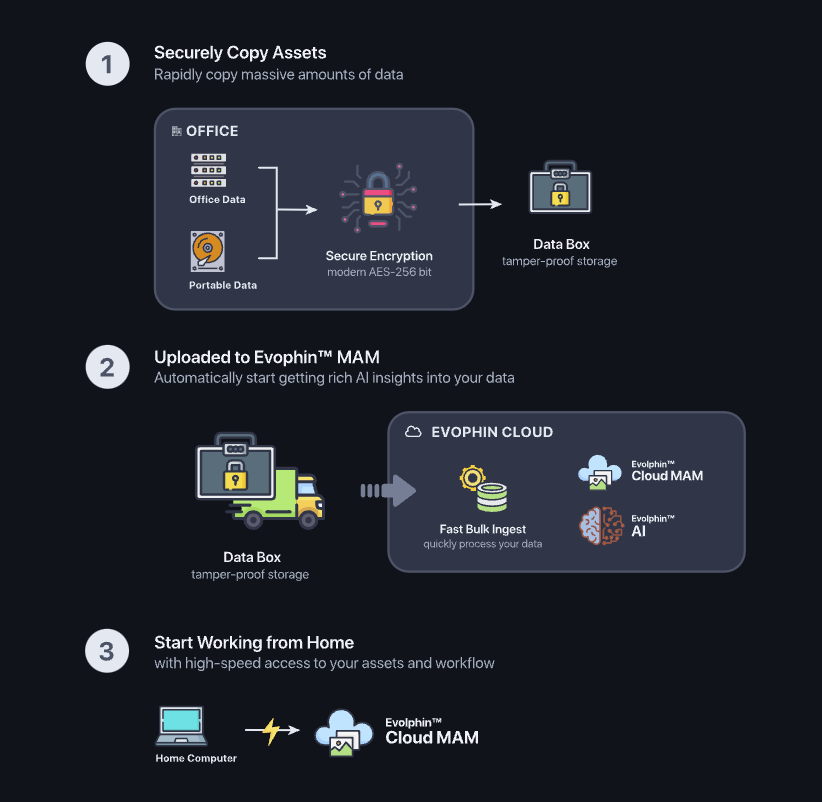 This guide will explain all you need to know about migrating your media assets after choosing your selected MAM system. We'll outline the challenges, key steps, and important terms to help you become more familiar with the journey you're about to undertake.
If you've read this far, chances are that you probably have a sizeable asset database to migrate. The good news is that migrating your media assets into a MAM system is the "necessary evil" needed to make your library easier to search and navigate.
On the other hand, asset migration can be an arduous task – but don't fret.  The benefits of this exercise far outweigh the efforts involved in execution, but before going further, let's get familiar with common migration terms you'll likely encounter during this journey. 
Media asset migration initiatives are a complex process that can be fraught with technical jargon. Before we delve into the meat and bones of media asset migration, here are some terms you need to get familiar with as you're likely to hear them used very often:
Pre-migration crawl is an automated search that takes place before the actual migration starts. This step scans through digital assets, seeking to identify data that is broken or incomplete.
Metadata provides additional information about searchable assets or data. Businesses need reliable metadata descriptions and vocabularies so they can assess and categorize assets properly.
This is a drive that supports an older platform or interface for data. It is important to understand the nature and limitations of these drives when migrating to new platforms such as the cloud. 
A codec program uses compression to enable faster data transmission and decompression when receiving data. It can shrink large media files into more manageable sizes for transfer. It can also convert audio and video files from analog to digital formats. 
Ingest refers to the process of uploading media to your MAM and systematically cataloging them using metadata for quick retrieval and storage.
For robust MAM systems, this also includes setting up a dedicated ingest workflow for uploading media into the central repository as part of standard processes. 
A hot folder is a directory in the MAM file system that is always monitored. Any file placed in this folder is automatically imported into the system and removed after upload.
This is an agreement that lists the project goals and deliverables for a project. It keeps every stakeholder in the project aware of the expectations, deliverables, and scope of work.
1. Pre-migration assessment and discovery
Discovery is the first step of the process, as this gives you an idea of the nature of assets for migration. Data discovery allows you to identify and itemize your files and folders for migration. It entails taking stock of the data formats, locations, and sensitivity of the data. You can then identify what kind of formats they need to be in, whether you need a file cleanup and the permission levels for access.
2. Plan your migration strategy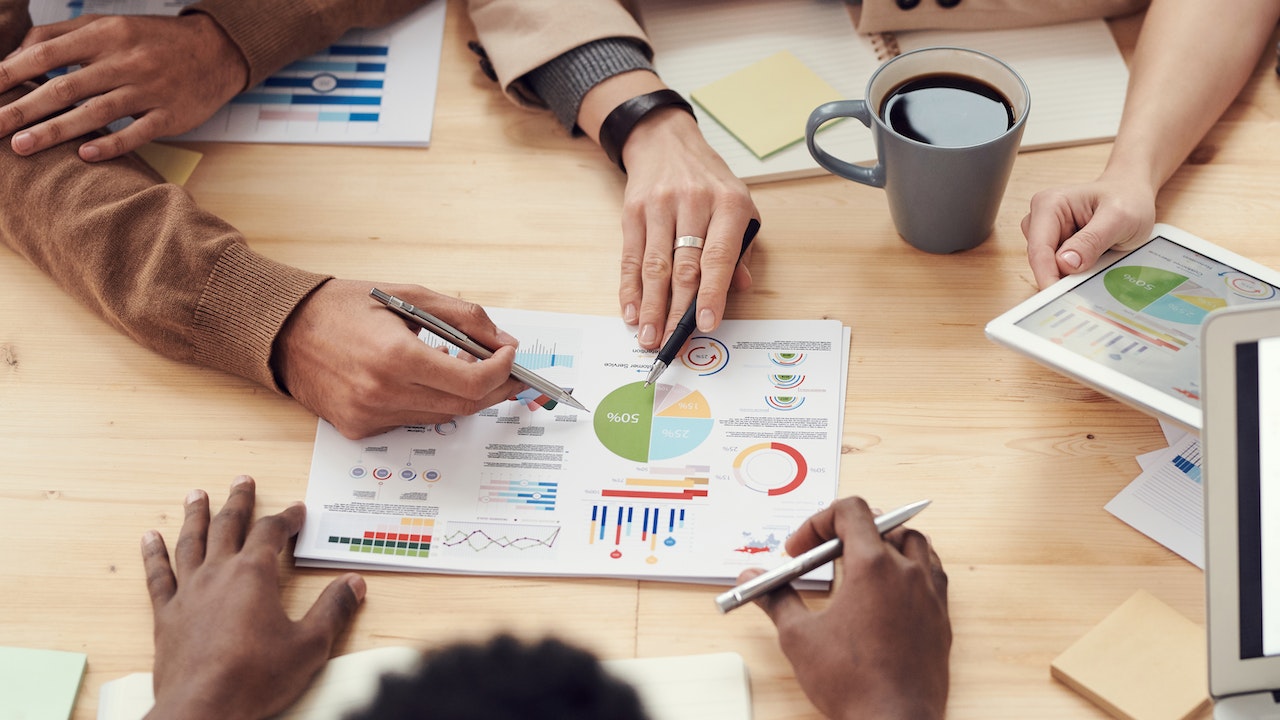 As with every well-executed project, planning is the first step for a successful data migration exercise. The hallmark of a successful migration exercise is that users can select, extract, and transfer data in their optimal form and quality. 
To achieve these, any organization adopting a new MAM platform must create a data migration plan that is appropriate for its resources, platforms in use, and users who need access.
Media asset migration is not a one-size-fits-all exercise. There are several migration strategies you can use depending on your business needs. Choose a strategy that matches your needs, especially after using pre-migration crawl tools to find out which media assets are ready for data migration. 
3. Anticipate common migration challenges and how to navigate them
After pre-migration scans, the main issues that organizations face include 
Size of the files
Volume of the files
Processing issues
Kitchen sink syndrome
Let's take a closer look at these challenges.
File Sizes
The average individual sizes of your files can determine the speed of migrating your entire cache of media assets to the cloud. Migrating large files worth hundreds of gigabytes (GBs) can significantly lengthen the transfer rates or the overall time taken for file uploads.
Files Volume
Most organizations accumulate millions of files for transfer to the cloud. These make up significant volumes which can take considerable time to upload and catalog.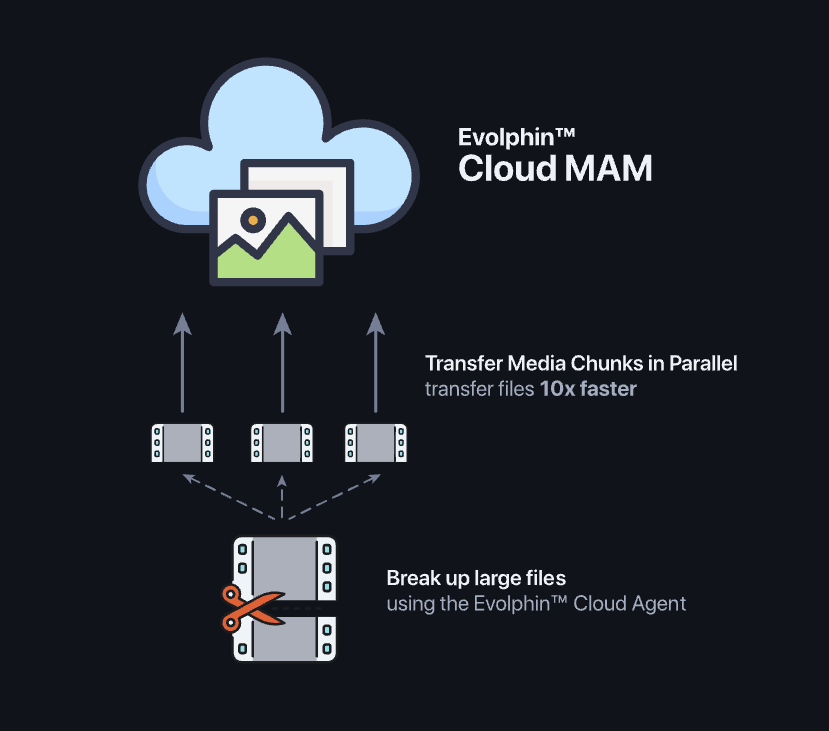 Processing Issues
The variation of file types, formats, and codecs can make cataloging a time-consuming project without the right tools.
Kitchen Sink Syndrome
In business, the kitchen sink syndrome (KSS) refers to work projects that have notably grown beyond the scope of their original goals.
It isn't unusual for these types of projects to have disorganized assets with poor file or folder names, a lack of metadata, disorganized file structures, and duplicate files. 
Understanding these challenges will help you manage your migration team's expectations while setting realistic goals and timelines.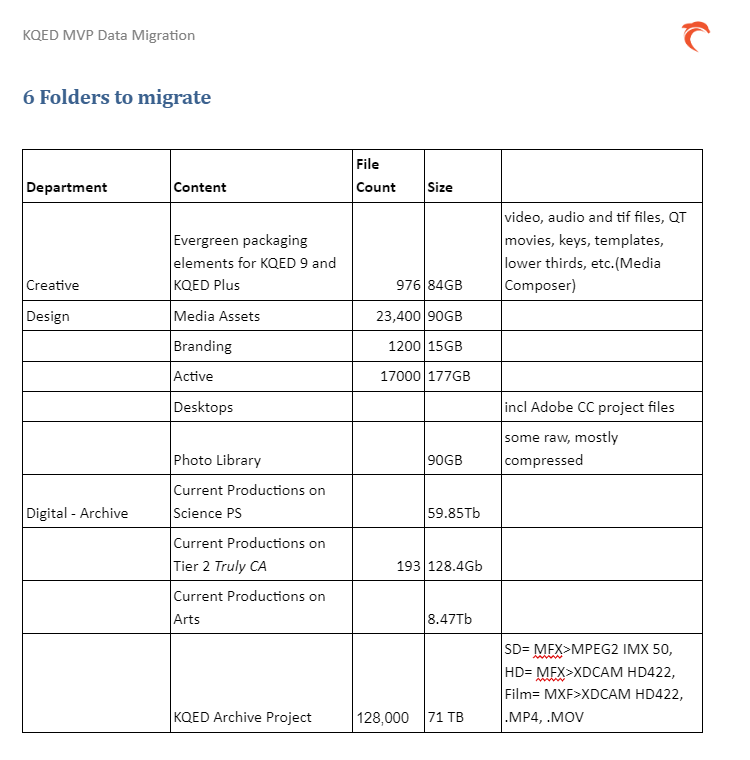 Here are five common MAM migration strategies:
Drag and drop existing files on legacy drives and share as-is into the hot folder or asset browser. This strategy indexes the folder and file name on automatic search. 
The scrub first strategy entails creating a staging area within a shared drive where users can move and copy specific folders.
These folders will be cleaned up, and some assets and folders will be deleted. The reorganization will then be initiated before the ingestion of the assets.
The need-basis strategy necessitates an empty slate for the assets to be transferred. Users will grab the assets they need from the current drives and then ingest as needed. 
The mapping strategy can be employed to replace a manual scrub as long as there are consistent rules for mapping the current folder structure to the new folder structure.
This ensures that the folder structure contains the new organization schema. It also automates the upload of existing folders.
Hot-folder Ingest Strategy 
This strategy will support several hot folders on one or multiple machines. Each hot folder can have a property file with metadata with fixed properties.
Users can then move the assets into the hot folders and apply different sets of metadata on the incoming assets. 
Automated Ingest Strategy
This strategy will support several APIs (application programming interfaces) and frameworks that allow media assets to automatically be ingested with the metadata during the ingestion process.
Hot folders can then be used to make changes to the folder structure through custom automation. This strategy can also remove duplicate assets and create copies based on the master assets. 
4. Implement the migration process
Once you have identified the strategy that matches your company's needs, you can start the migration process by undertaking the following key steps:
Metadata Creation
Once all resources are identified, you'll need to create metadata to create extraction and schematic plans for your resources. AI-based metadata extraction is used in modern data migration processes to speed up the process by automatically analyzing the media, then generating pre-existing tags.
This process leverages machine learning and AI to make legacy assets discoverable without relying on hours of human labor. 
Set Migration Rules
This is when you set rules that cover file renaming, illegal character management, metadata ingest, validation, incoming folder mapping, and copy-to-archive guidelines. Migration rules create a system that organizes your asset library in the long run. 
Automatic Migration
You can then automate the migration process using a hot folder and a one-time automation script that automatically validates your data.
Cloud Migration
Now, it's time to migrate your media assets to the cloud. Here are some common tools that you can use:
AWS Direct Connect
AWS data sync tool
AWS Snowball
S3 Ingest Tools
Transcoding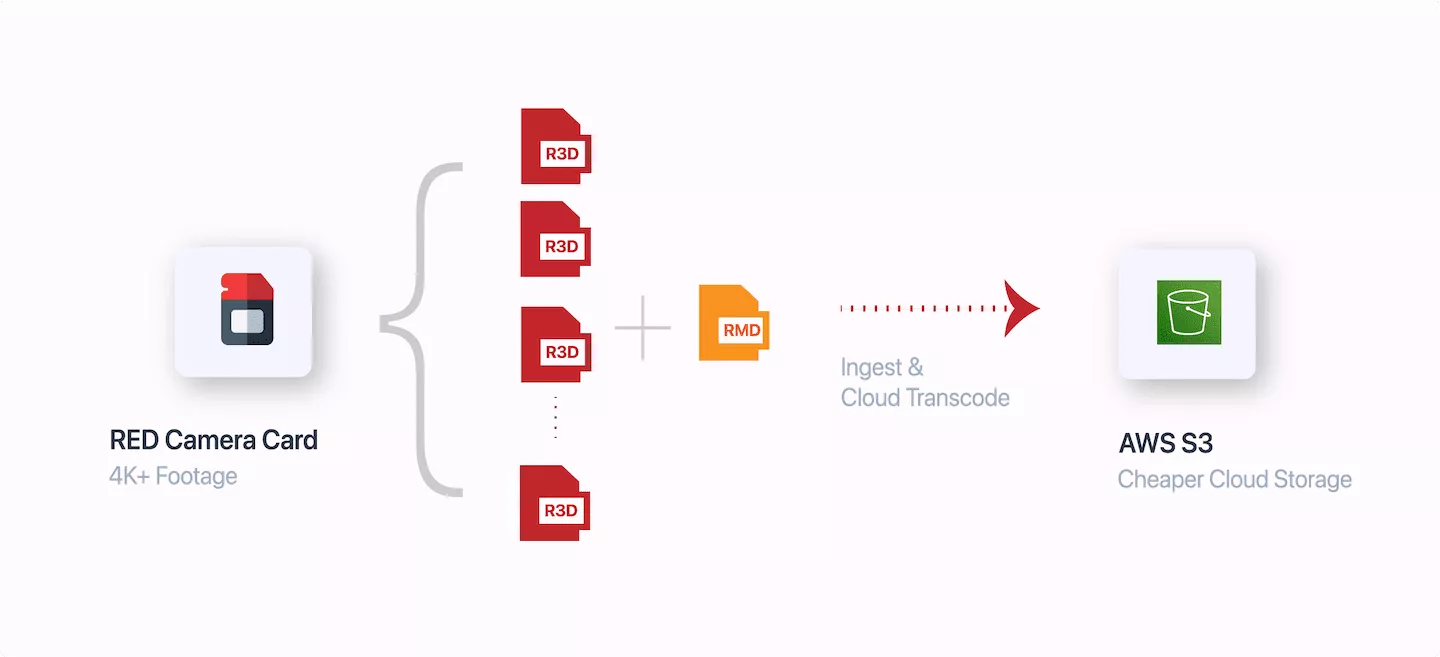 This part of the migration process converts audio and video files to other formats for compatibility with more relevant and updated devices and software.  It is important to follow transcoding best practices to ensure that file stability is preserved.
5. Implement migration best practices early
Especially when dealing with huge volumes of digital assets, it is important that you follow migration best practices early to successfully and efficiently transfer your assets. 
Your organization must evaluate its readiness to shift assets to the cloud. The first step to doing this is conducting an initial assessment to gauge your organization's readiness before a large-scale migration action plan is formed. 
Part of your assessment will entail collecting and evaluating data from various sources to understand your organization's needs, as well as the nature of the files that need to be migrated.
You must employ automated discovery tools and pre-migration crawl tools to identify which assets and data need to be migrated. 
Reports from these exercises should provide an overall view of the state of play. It is important that these reports are accurate, as high report accuracy reduces the time and effort needed to find and categorize data for proper mapping and storage.
Circle Media Successfully Migrated 39.2TB of Assets Using These Principles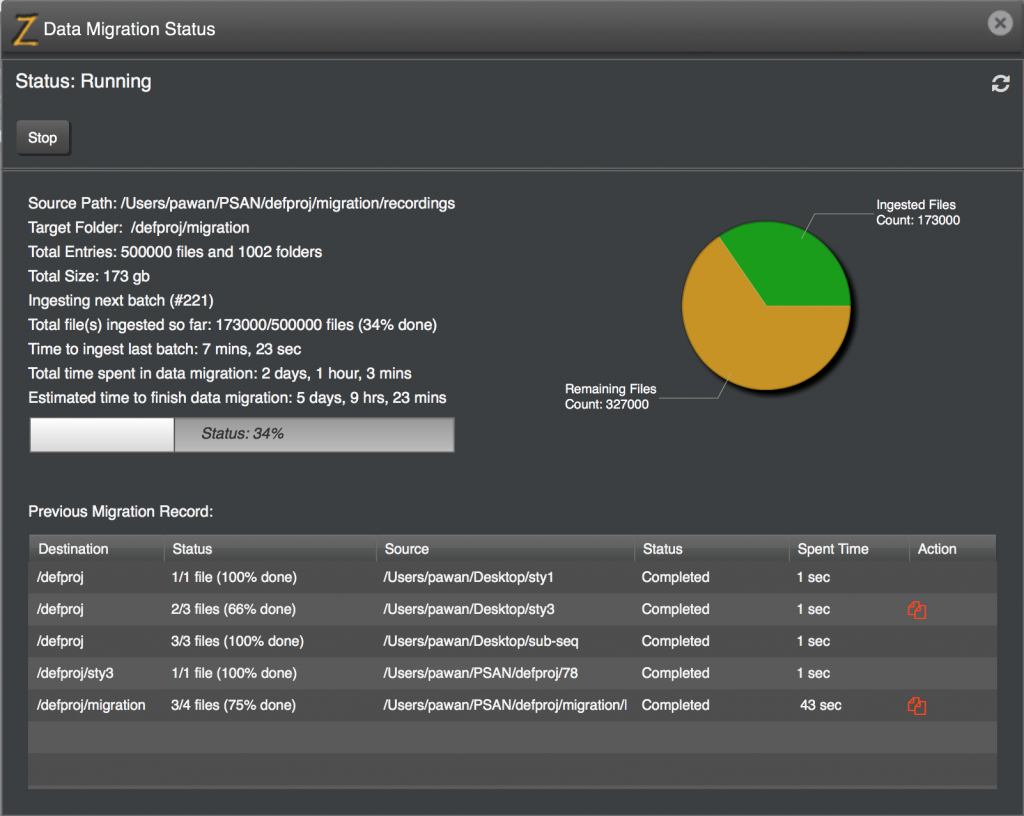 Just before the Covid-19 pandemic, Circle Media (a premium linear television and OTT streaming channel with 50 monthly viewers) needed to migrate just over 39TB worth of media assets to better serve its audience. 
By partnering with Evolphin's Cloud Services team, Circle Media migrated all its on-premise content to the cloud using a 100TB AWS Snowball. 
As an  Evolphin Zoom MAM customer, Circle Media enjoyed a simplified migration   process overseen by a migration specialist from planning to implementation. 
Evolphin also included a checklist for documenting data migration requirements while carrying along all stakeholders, as well as a full license to the Data Migration Tool for simplifying migration planning and pre-migration discovery research.
Evolphin: Making Data Migration Easier for Zoom MAM customers
Evolphin's data migration service makes it easier for our Evolphin Zoom MAM customers. Our migration service allows your team to focus on your deployment activities while our Zoom specialist sees to the success and implementation of your data migration and deployment.
To help you migrate to Evolphin Zoom more efficiently, we provide a checklist that documents your data migration requirements and AI scripts. We eliminate the time needed for skills ramp-up, making it easier for all stakeholders in your organization.
Another benefit you will receive from Evolphin is the license to our Data Migration tool, making it easier to create a migration plan and conduct pre-migration discovery research.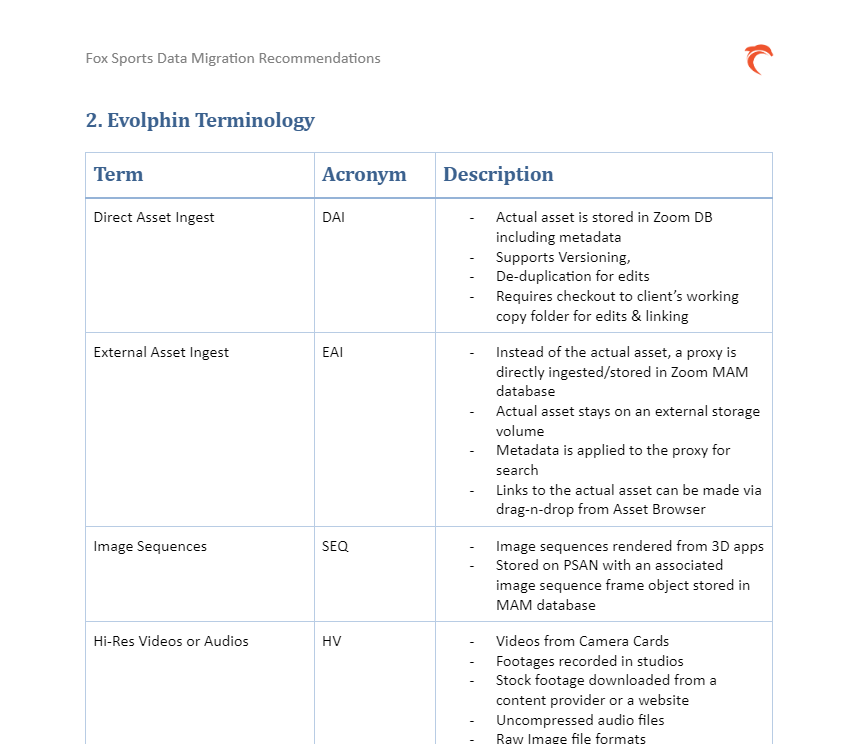 It's now possible to use AI with Evolphin Zoom. Identify and catalog all types of media resources then use your MAM to search for and retrieve the right resources for any project. 
Evolphin Zoom provides you with the latest creative tools that your IT and marketing teams need for archiving, versioning, implementing workflows, managing reviews, and gaining approvals. 
Your teams can manage the lifecycle of any project or asset with the protection, integration, and workflow that is only available in Evolphin Zoom. 
If you want a MAM that can help you from migration to project management, your search ends with Evolphin Zoom.
Learn more about Evolphin and Evolphin Zoom by visiting our media asset management page or sending us a message.