Speed to video marketing matters even more in 2022
When it comes to creating engaging videos for a global fanbase, every major sports team on the planet wants to make the sports footage to video highlights or promo creation as fast as possible. I will explore AI video editing as the answer to this challenge.
But first, why does speed matter when it comes to editing & distributing videos?
In one word – search engine optimization or "SEO". We have all seen this play out in real life. A major sporting event such as a final of a soccer world cup is raging on and we begin to see it all on social media sites such as YouTube or Twitter, social video highlights of cool moments start to trend. If the sports team or club isn't the first to publish those videos, someone else will, which means they lose the benefits of social media engagement and sponsor attribution.
AI Video Editing gives Inter Milan a competitive edge
AI (artificial intelligence) Video Editing has come a long way in 2022. 
Unfortunately, if you search the blogosphere you'll find loads of well intentioned advice online on how AI can help a video editor, but very few real solutions; check this post from IBM for example that has the prescription but no real cure! 
However it's real and it can do some very cool stuff. One of the best things AI can do is speed up the process of video editing. Sports teams know this because it's how they get their video highlights and promo reels out to their fans before anyone else does. 
All that said, read on to learn how Italy's top soccer team Inter Milan, is using AI to stay connected to its global fan base. Journalists & video editing teams at the Inter Milan Football academy use AI video editing to make video highlights at lightning speed. Let me explain..
Automatic AI Generated Metadata Timelines
Inter Milan had over 21K+ hours of existing video footage from over 113+ years of soccer history spread across 600TB of data storage on cloud (AWS S3) and on-premises NAS. Before video editors (using Adobe Premiere, Avid Media Composer, DaVinci Resolve, Final Cut Pro) could take advantage of AI video editing to create new video clips, all this video content needed to be ingested and turned into metadata timelines for each video clip using AI tools:
AI Speech to text (Italian) engine

AI Logo recognition engine

AI Object recognition engine to label moments like goal celebration, penalty etc

AI Face recognition engine to label current & historical players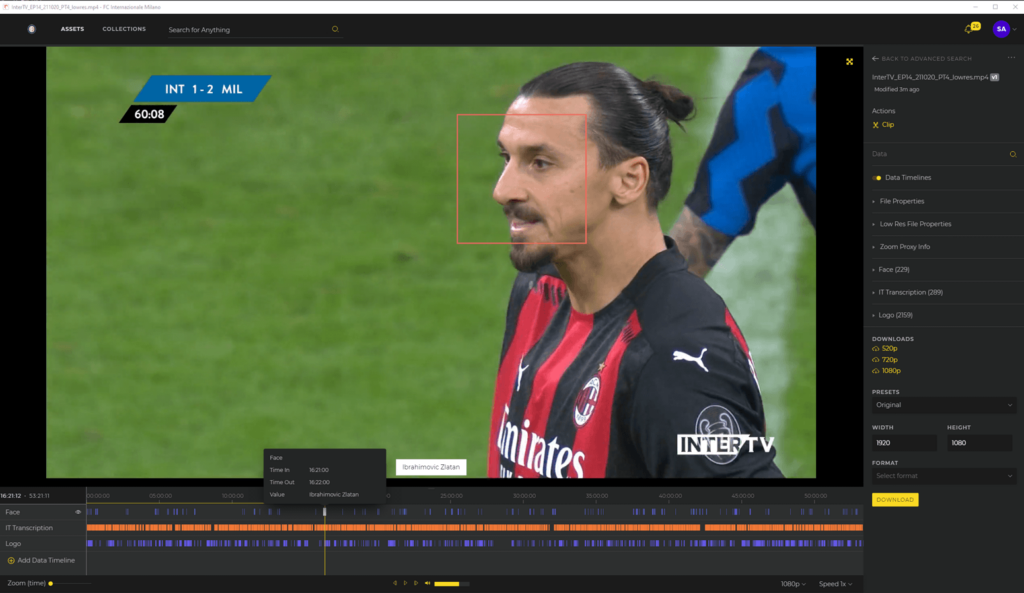 Inter Milan used  Evolphin Zoom, an AI enabled, media asset management (MAM) solution to essentially ingest all the historical video content and index it using Evolphin's AI tools into a metadata database.
New content from recent games is simply drag-and-dropped into Evolphin Zoom for real-time analysis using its AI tools by the journalists or media managers.
AI Video editing in Adobe Premiere
Once Inter had their video content indexed and searchable in their MAM, the video editors could use the Evolphin AI video editing tool or plugin to automatically create a video sequence inside Premiere without even lifting a finger. For example, while doing a retrospective on the famed left winger,  Mario Corso, an Italian soccer player who was active in the 1960s, the editor can just select the tags such as "Face" matches "Mario" and specify events like "Goal scored" and have the Zoom Premiere plugin pull  from 21K+ hours of footage into a 5 minute clip with a pre-made sequence ready for a final cut and effects in Adobe Premiere.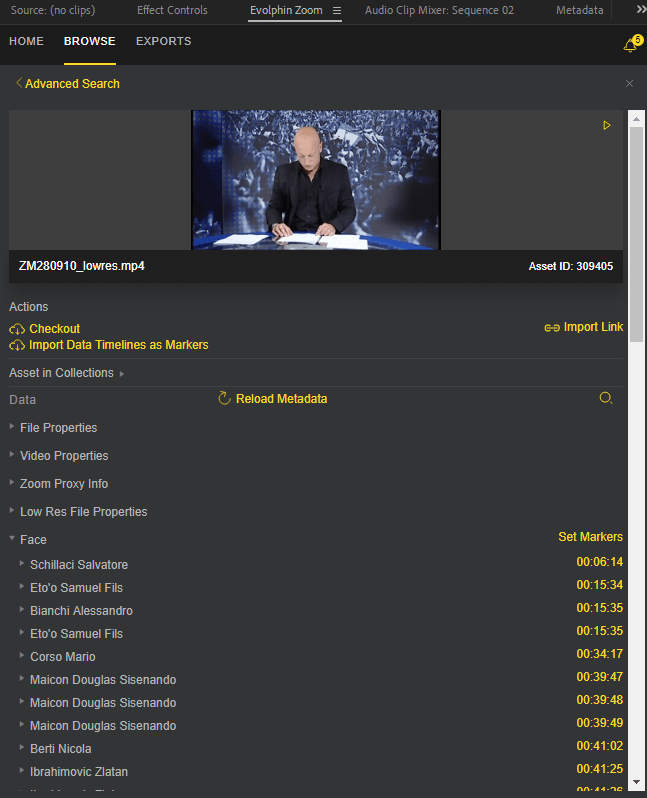 Previously the same could have taken months! Before the editing process went like this:
Ask media managers to locate video footage from the 1960s

Media managers would load LTO tapes based on a best guess on where Mario's footage might be located

Scrub through 100s of videos to locate Mario's presence

Made notes on start/end time

Send the files to an editor with notes

Editors would again scrub through to locate the moments in the footage
After the AI video editing was enabled the video creation process goes like this now:
Search for Mario Corso

Click a create sequence button in the plugin

Add background music, or apply a video template
AI video editing with Avid Media Composer
Not all the editors at Inter use Adobe premiere. While they don't have access to the Evolphin AI video generator Premiere plugin, they can still get a lot of mileage using an AAF workflow. The avid editors are now able to:
Use the Zoom desktop app to search the AI tags

Create a

video sequence

from these AI tags, without using Premiere, directly in the desktop app

Import the pre-build sequence much like a video template with actual footage placed inside it

Export an AAF timeline from Premiere

Import the AAF timeline into Avid Media Composer
While it's true the solution would be even more elegant if there were a plugin inside Avid, but this still saves a lot of time creating videos in Avid Media Composer. All the manual sifting & sorting through LTO tapes is eliminated. Huge win for the Avid editors.
AI video editing with Apple Final Cut Pro
The desktop AI video sequence generator can just as easily export an FCP XML sequence from the AI tags to help the Final Cut Pro editor speed through the video creation process. The pre-cut FCP sequence is a huge time saver for the Final Cut Pro editors.
AI video editing with DaVinci Resolve
Lots of video editors like to use DaVinci Resolve for color correction. Their video editing process is similar to the Final Cut Pro editors. They too use the desktop AI video sequence generator to export the Final Cut Pro XML file. That can then be easily imported into the DaVinci Resolve timeline thus saving loads of manual video editing effort to scrub and select points in the footage to color correct.
Want to learn more about how Inter Milan FC went about their digital transformation using AI? Checkout this case study for more information.