It's your first day as a media asset manager.

You've been drafted in to help organize video files (and other media file types) and manage the video production workflow of a growing organization. Your employer holds a colossal collection of media assets – high-res video project files, voiceover audio content, images, etc., spanning decades and stored in fragmented archives.

Teams will rely on you to bring some order to the collection and, consequently, the video production workflow. The question is – where do you start?
Good thing you found this guide to video production workflow management for all video production teams, including remotely-distributed teams. This guide aims to help you understand how dependable video production workflows are structured so that you can successfully support your team's workflow by optimizing one of the most critical components – media asset management (MAM).
It's no surprise that video consumption is at an all-time high. Even before the pandemic, YouTube announced that users had clocked 1 billion hours of video watched daily on the platform. But what goes into producing 1 billion hours of video?
It takes an average of 7 hours to create a 5-minute video clip (or 84 hours for 1 hour of video). So, the 1 billion hours of video watched daily on Youtube would take a staggering 84 billion hours (or 9.6 million years) to create!
These lengthy production times are necessary to create captivating videos that capture the target market's attention.
To achieve this goal, videos need to be relevant, striking, and current – the last of which demands a shortened production lifecycle. Some industries (like sports, for example) are characterized by even shorter video production time frames – as close to real-time as possible.
Soaring demand for video content also pressures video production teams to turn around finished projects within shorter time frames. This means that video production teams must find ways to work more efficiently.
While videos are relatively easy to consume, they cost significant time, skill, and financial resources to create. Higher resolution formats (like 4K, for example) demand even more resources to produce and manage.
But resources aren't the only ingredient that teams need to work more efficiently. A significant amount of planning and organization goes into every stage of the video production workflow. So, there's a need to optimize every step of the production process to allocate resources efficiently, complete video projects quickly, and satisfy the ravenous consumer appetite.
What is a Video Production Workflow?
A video production workflow is a set of tasks you must complete to create a video that is ready to watch. Video production workflows have 4 distinct stages that include a pre-production stage to assemble the storyboard & a script in order to do a video shoot, followed by editing, review & approval and finally publishing the finished videos to reach your target audience.
Say your team members need to create a 5-minute product advertisement video, for example. You will need to find the right location for your video shoot and hire a production crew (and equipment) before the post-production process begins.
As you can imagine, many stressors can emerge throughout this workflow. Video producers might have to deal with issues ranging from the availability of critical equipment to the timing and deadlines involved in completing the video production onsite or offsite. 
The media asset manager, on the other hand, could be faced with issues that arise once the video shoot ends:
As you juggle through the moving parts, the last thing you want is to hold up your team and miss your deadline. And with competitors racing to hit the market first with video content, one 'little' setback can have disastrous consequences for the team. 
Why Do You Need a Streamlined Video Production Workflow?
In 2004, a 4-minute advertisement made it into the Guinness Book of World Records as the most expensive ad ever, costing $33 million to produce. While your team's video budget might be nowhere near that figure, video production is still a costly exercise for several reasons:
expensive video and photo shoots,
rising demand for high-quality videos and
reduced supply of available gifted editors,
multiple roles (animators, graphics designers, sound engineers, voiceover artists, video editors, colorists, etc.) that need to be orchestrated to create a superior finished video project.
Streamlining your video workflow is a crucial exercise for allocating your resources prudently. This is important because time spent behind the scenes forms a significant part of your production budget. Distributing your resources judiciously allows your production team to meet project deadlines without preventable delays.
A streamlined video production workflow helps your team members use technology to work harmoniously. This, in turn, expedites the production process so that your team can release high-quality video projects within competitive timeframes.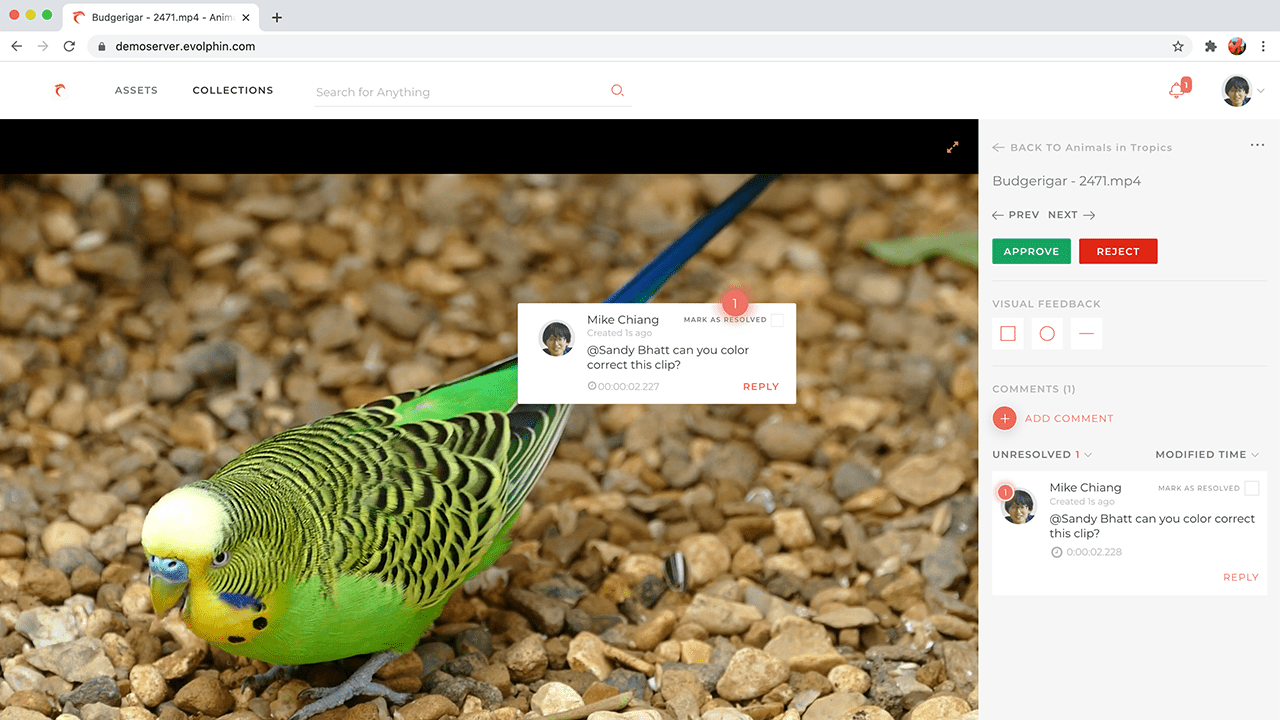 The phenomenal consumer demand for video content has also led to an increase in audience engagement on diverse platforms, from social media to streaming video on demand (SVOD).
Your finished video must be versatile enough to be distributed in various formats to reach as much of your target audience as possible. Juggling different versions of your video to meet the demand can get overwhelming, so efficient video production management is vital.
A strong collaboration culture will work wonders for your project, especially where timing is of the essence. A poor collaboration culture, on the other hand, leads to confusion, ultimately slowing down your project delivery timeline. 
To avoid this, you must manage your production workflow effectively and put all stakeholders on the same page. But that's not all. Clearly-defined roles and responsibilities will also encourage accountability throughout the process.
So, how do you create a streamlined video production workflow to harness these benefits? You will need to begin by mapping out your current workflow issues to identify what areas need optimization. 
What are the stages of video production?
The four stages of video production are
Pre-production: This stage is where you put ideas together and plan and script your video project. 
Production: The video shoot occurs here, and the script is brought to life.
Post-production: Here is where the magic happens – video editing, review, re-editing & approval all happen in this stage.
Publishing: Now, the final cut of your video is ready to be published and distributed in various formats
Each stage is managed and executed by a specialized team. Now, let's lift the hood on what the entire video production process really entails:
Pre-production
This is the stage where you conceptualize your video. It involves identifying the core message you want to convey and defining the ‌visuals needed for the project. After this comes brainstorming video script ideas to help create a detailed outline of the video. Creatives who assemble the creative brief, script and storyboard the video also fit in here. 
Essentially, pre-production involves everything that needs to happen before the director yells, "Action!" for the first time. This includes finding suitable locations, props, cast, and crew members. This is also where the budget is discussed, and resources are allocated expeditiously. 
Production
In insider terms, "video production" technically means video shoot. The production stage is where your video is shot, and the script is brought to life. The shoot (production) time can range from 3 hours for a simple video to months for a feature-length film.
At this stage, raw footage is captured using high-quality cameras. To allow for tight production timelines, it is always a good idea to work towards achieving all the footage needed for the project as the team might not have opportunities for reshoots after this stage.  
Post-production
This is where the magic happens. The most important part of post-production is editing the raw footage to create the final video. Here, editors work collaboratively to cut and organize the video footage. Color correction, editing, and voiceover recordings for dubbing in foreign languages (if necessary) also happens here. 
This stage largely determines how the final  video will be perceived by your audience, especially if you're using a collaborative feedback system like Evolphin's Zoom PAM. 
You'll receive feedback from different stakeholders with inputs on how the final product should look before publishing. Collaborative feedback is crucial to get the highest quality result, and this usually means multiple revisions to ensure that everyone is satisfied. 
Publishing
This is where it all comes together! The last stage of your video production workflow is delivery or publishing your final product to be viewed by your target audience. We can do this through various social media channels, such as YouTube, FaceBook, TikTok; Video On Demand (VOD) channels such as Netflix, Amazon Prime;  broadcast channels such as linear TV, marketing agencies and more. 
It is important to keep open streams of communication within the team and with your client. Feedback from stakeholders will be crucial in deciding whether your project is complete and fit for purpose. Once you're done, you'll want to distribute it to the right channels and/or marketing agencies.
How to Build a Video Production Workflow for Every Production Stage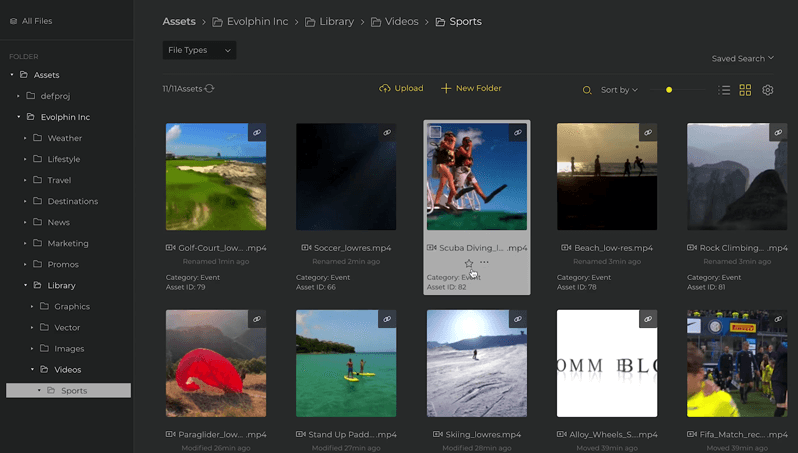 Now that you're familiar with the four stages of video production, let's ‌discuss how to create an efficient workflow for each stage.
Define your audience
For starters, pre-production involves identifying your target audience and communicating your core message to them. Think about your target audience before creating the script. Is the script relevant to the market?
Communicate your objectives
A good pre-production workflow will ensure that all parties are on the same page and that a realistic schedule is set for completion. This will help to avoid a last-minute scramble, which can cause delays in the production process.
Create a footage acquisition plan
While you prepare for the shoot, create a plan for how you're going to get all the ‌footage. Getting b-rolls is just as important as getting the main shots of your video. You'll also want to avoid scheduling conflicts (like having to return equipment before getting the rough cuts, for example).
Organize your media
Following this, video post-production can be particularly complicated to navigate. When you consider the volume and frequency of expected video content, older post-production methods and workflows can prove cumbersome to keep up with. For example, sorting through different project files can be a headache without an AI-powered media asset manager like Evolphin Zoom MAM.
Use collaborative media asset management and editing tools
There is also the possibility of multiple collaborators and stakeholders (graphics designer, motion graphics team, sound engineers, video editors, colorists, marketing team) working with different file versions simultaneously, which can cause confusion. These complex workflows demand a powerful media asset management solution to help collaborators stay organized and work efficiently.
Streamline post production workflow with Evolphin's Zoom MAM
Video post-production is what happens after the video shoot and before the video is published. It involves the assembly of raw footage, creating rough cuts,  video editing, sound mixing, visual effects, color correction, and title credits.
Sequentially, here's what this stage involves:
Video production workflow best practices
Now that we have established the importance of video production workflow in getting the finished product ready for publishing, let's discuss best practices for optimizing the entire process. 
What exactly is Evolphin Zoom MAM?
Evolphin Zoom MAM is a trusted Media Asset Management (MAM) tool that removes the headache from your post-production workflow.
A MAM is a software tool that allows you to keep track of all your video assets and then export them to different platforms. You can also use it to organize and retrieve your important files quickly. Evolphin comes with a suite of features that can help streamline your video workflow, allowing for better collaboration across teams so that you can work more efficiently.
MAM systems are optimized to manage high-res video workflows containing media that can be several terabytes large. The primary objective of a MAM is to streamline video post-production workflows by orchestrating many steps in the process, including ingestion, transcoding, proxy workflows, distribution, and archiving.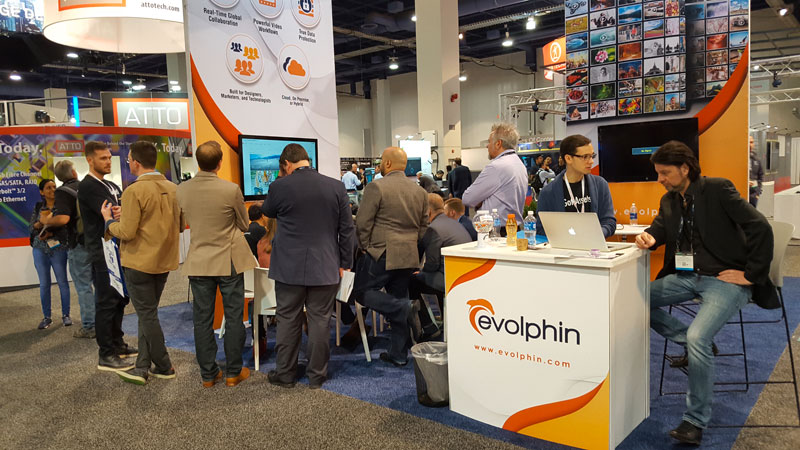 With a streamlined video production workflow, you can focus on harnessing your team's creativity while your fine-tuned process does the heavy lifting. A robust tool like Evolphin Zoom MAM will help you deliver your finished videos on time and stay ahead of your competition.

But to make this work, here are the main takeaways:
Set clear goals early in the process. Determine the deliverables you will need to achieve for each stage of the video production workflow.
Manage your time and financial resources wisely to avoid budget overruns or a half-baked product.
You don't have to be a video production expert to streamline your workflow. All you need is an excellent system that allows you to organize your tasks and stay on track. Evolphin Zoom MAM can do the heavy-lifting of streamlining the crucial post-production segment of your video workflow management by helping your team collaborate seamlessly and incorporating automation to cut back on your costs.