Things That Make Us Different
Explore the Powerful Features that Make Evolphin Unique!
Our Most Popular Features
Business Value Not Bits and Bytes
Science and Art Combined. This is a patented feature only available in Evolphin Zoom. FACT: Storage is a huge driver of cloud cost. FACT: On average customers will save 25%-30% in cloud and storage costs per year with Zoom when compared with other solutions!
Step1 of 3
Migrate current archives
Step 2 of 3
Automatically convert duplicate to Smart Copy before ingest
Storage Savings when Migrating Data
Zoom Data Migration App detects duplicate media during migration to AWS S3 or On-premises Storage.
Duplicates are converted into 0-byte smart copies eliminating the need to upload duplicate files and saving YOU a ton of Storage space. 
Reduce Storage Costs by 20-30%
Deduplication WILL reduce your storage costs by 20-30%. File paths won't change and links will remain in place. 
Video Exports Storage Savings
Video exports are saved as a new revision and NOT a new copy saving a ton of Storage.
Exported revisions are deduplicated on the edit station with incremental changes stored as new revisions. For e.g., revision 3 here only took 20 KB vs 241 MB: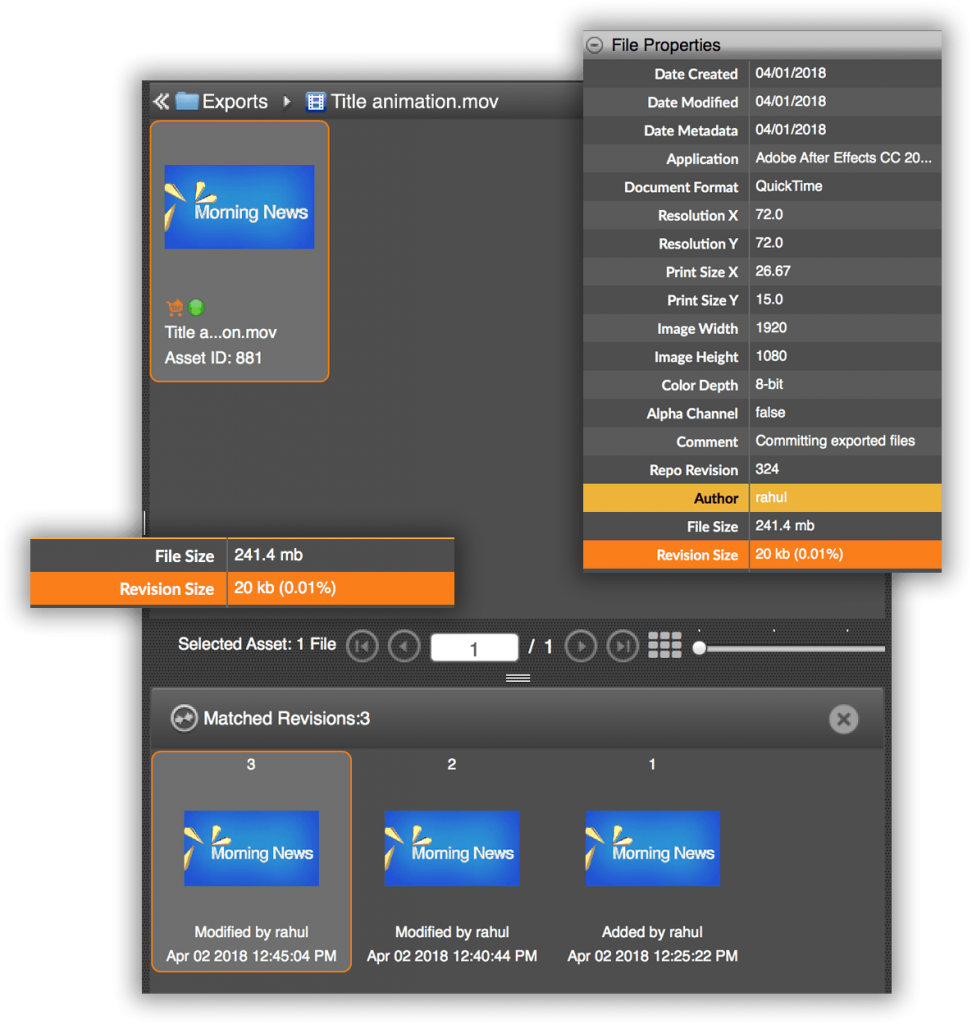 Graphics & Document Revision Savings
Deduplicate Any Asset Type
All asset types including Photoshop files, images, InDesign documents and Presentations are massively compressed with front-end deduplication. There's no loss of quality or image resolution!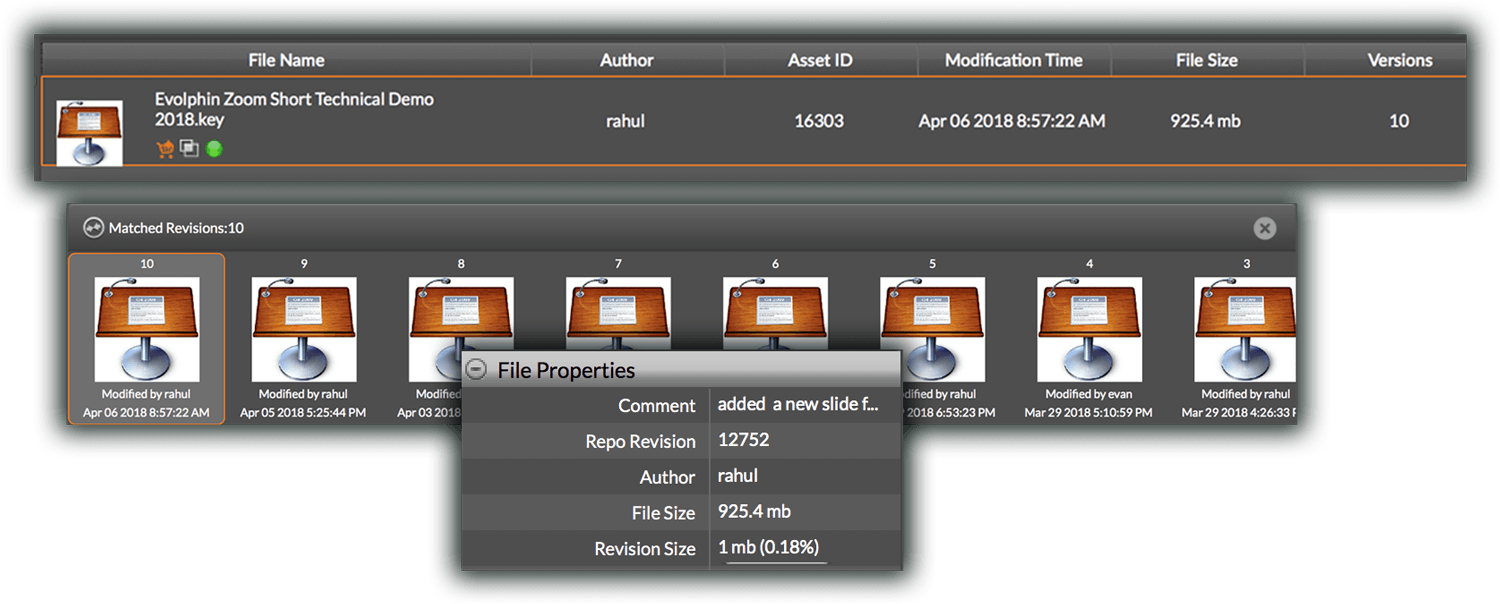 Reducing the Cost of Data Transfer
Slash and Burn the Egress Costs
Downloading content from the cloud can cost upwards of $90/TB. Deduplication reduces the amount of content stored and the amount of content to be downloaded. How? Only the file deltas are transferred and not the whole file. 
Save Time Upload 90% Faster
Deduplication IS the most important innovation driving the remote workflow. Collaboration is enhanced while clogged networks, poor response times, and excessive storage costs are relegated to a thing of the past, End of Story!
Who said that Duplicate Folders are Essential?
Post-production & creative teams love to clone previous working folders.
Duplicating media and digital asset folders takes a load of storage, increases your cloud costs and usually upsets your CFO. It's madness!  Read on…
Introducing 'Smart Copy'. Simplicity with serious firepower!
Zero byte duplicate folders; no storage, no cost and no difference at all to the user. Innovation making things simpler. 
"Deduplication is the single most important innovation saving our customers thousands of dollars per year in storage and bandwidth costs as well as being the foundation of Evolphin's market leading version control"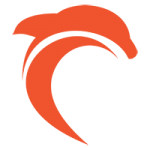 Most Creative App Plugins
We didn't stop at Adobe Premiere or Photoshop; we tackled the  entire creative spectrum. Designed with features for multiple workflows, our plugins are optimized to support  Video Editing, Vector Art, Motion Graphics, Layout, Photo, Web Design just to name a few. Take a look and see for yourself!
"Evolphin's Zoom plugin simplifies both the content management as well as the review and approval processes to increase productivity and allow creators to create"

Evolphin Zoom Plugins track project links with unique IDs. A file rename, folder move or even changing the drive mount point will never throw a link offline.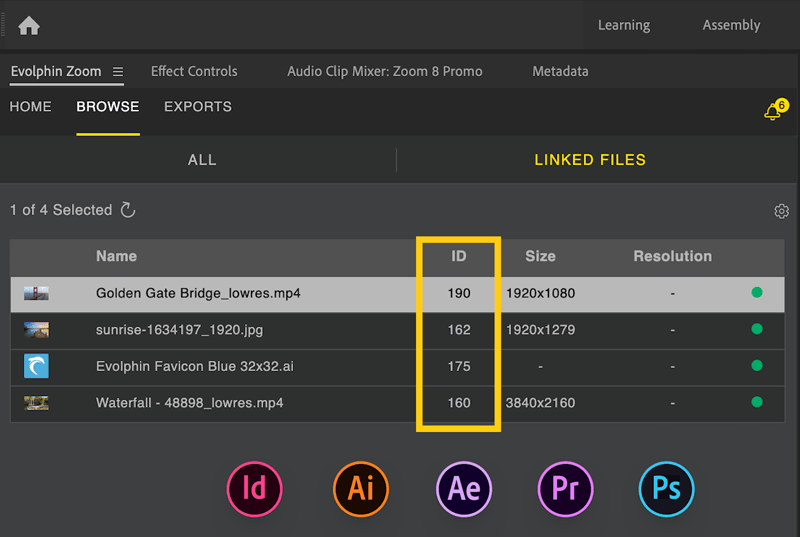 When Adobe CC apps struggle to locate offline links, turn to the Zoom Resolve Link option and find missing links wherever they are stored.
This feature alone can save editors hours tracking offline files.
Relationships that Matter
Track Layers, Links, Exports & more
We track 9 different associations between files more than anybody else. It makes possible time saving workflows such as:
When you are dealing with large media files, remote teams and the need to collaborate, the traditional file transfer managers simply doesn't cut it.
Using our global network of transfer hubs, content can be ingested and distributed rapidly to and from anywhere, including the cloud.
Zoom will automatically divide your large media into chunks and then upload them in parallel. Upload or download entire folders recursively.
Ditch the 3rd party WAN accelerator!
Zoom includes a global network of accelerated transfer hubs that will move your content at lightning speeds saving you time and money.
"Fantastic progress since our launch just nine short months ago. Thanks Evolphin Team for migrating our post-production workflows to the cloud. This was key to getting our country music & lifestyle network on four major AVOD Platforms (Roku, Comcast Xfinity, VIZIO SmartCast & Samsung Electronics TV Plus)."
Seriously Smart Version Control
Industrial strength version control is at the heart of Evolphin Zoom. Built on top of our patented frontend deduplication, designed to never lose revisions. Handles every file type you can throw at it.
Integrated into all our creative apps, as well as MacOS Finder & Windows Explorer!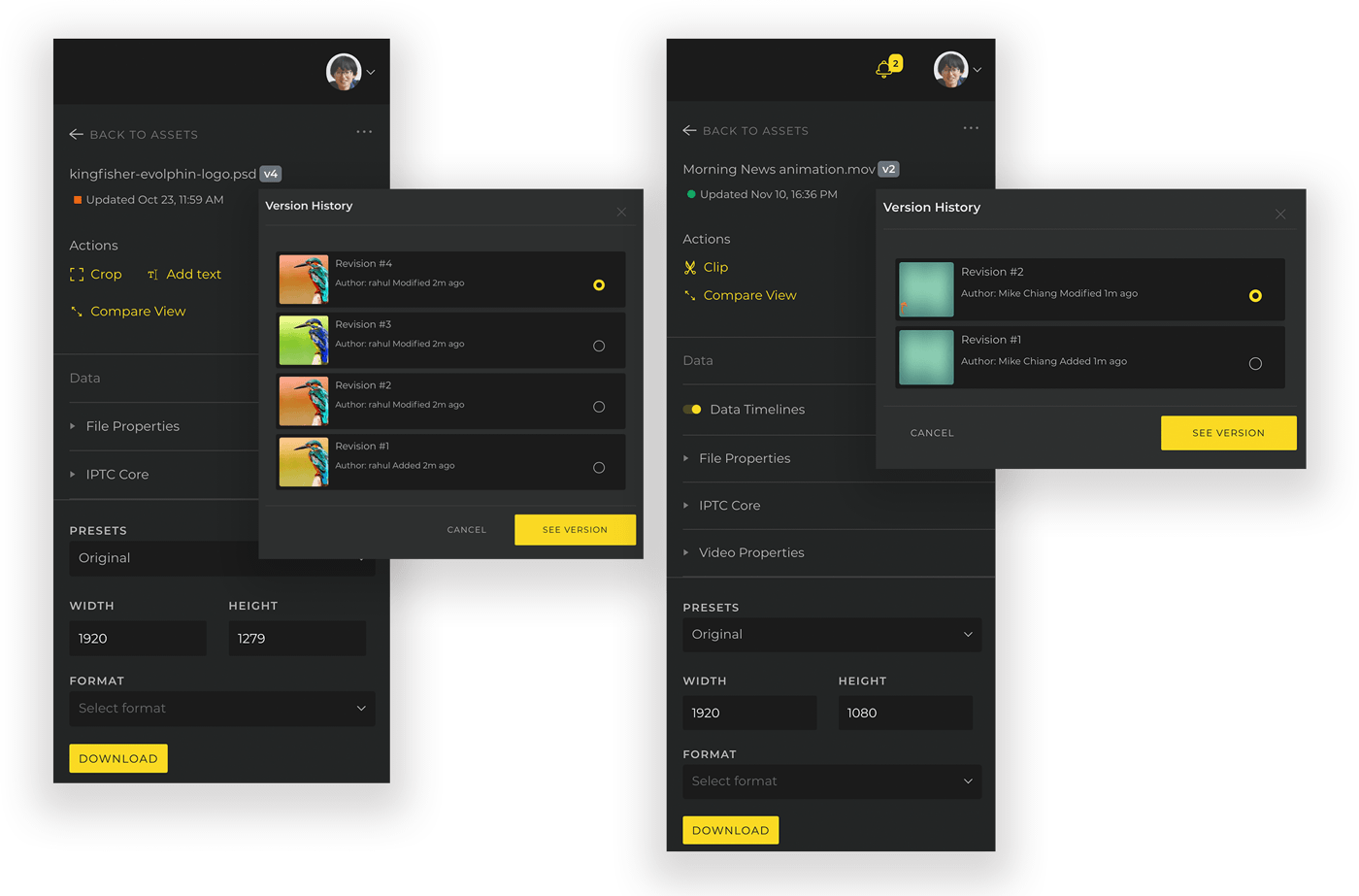 Conflicts are No Good for Assets!
Built-in Conflict Detection
Unlike a Traditional MAM that can lose revisions when multiple editors are working on the same asset, our super smart conflict detector will alert you and then give you options before conflicts mess up your files.     

Optimized for Creative Version control

Real time activity reporting! Need to know who's working on an asset and what changes they've made? Easy! Zoom will give you a list of who, what and when.
Moves & Renames are Versioned Too​
Need to know who moved or renamed a file or folder? No problem, Zoom tracks and reports every change made to an asset including moves & renames!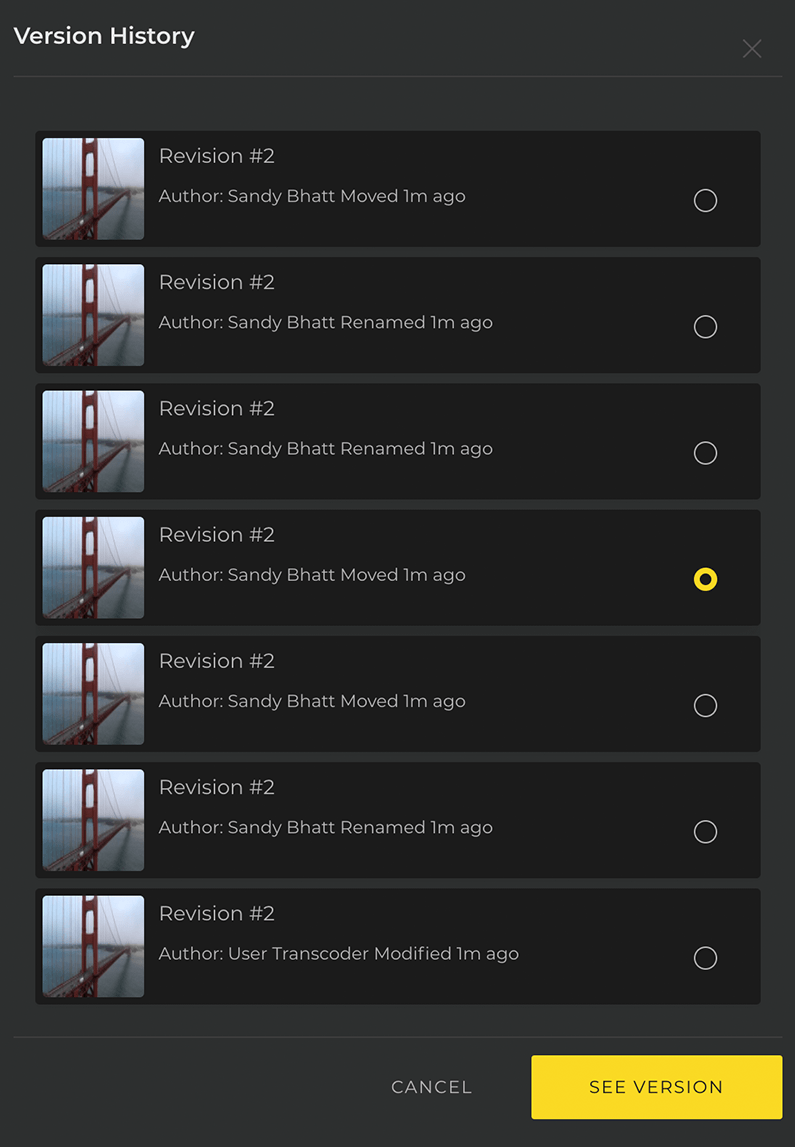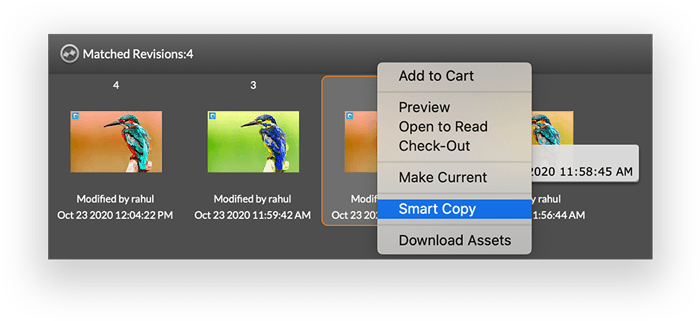 0-Byte Smart Copy of a Revision
Need to edit revision 2 for a new project but don't want to make a full copy of the file? Our unique Smart Copy feature works with revisions. Create a 0-byte smart copy of a revision with 1-click and save time to copy as well as storage space too!  
Best Lock Management Period
You can grab a lock on any file or folder. Zoom will then show the time at which you started editing the file in your working copy.
Unlike competition, our asset level locks do not rely on the usual file system based lock. Why? Because the approach is flakey and error prone.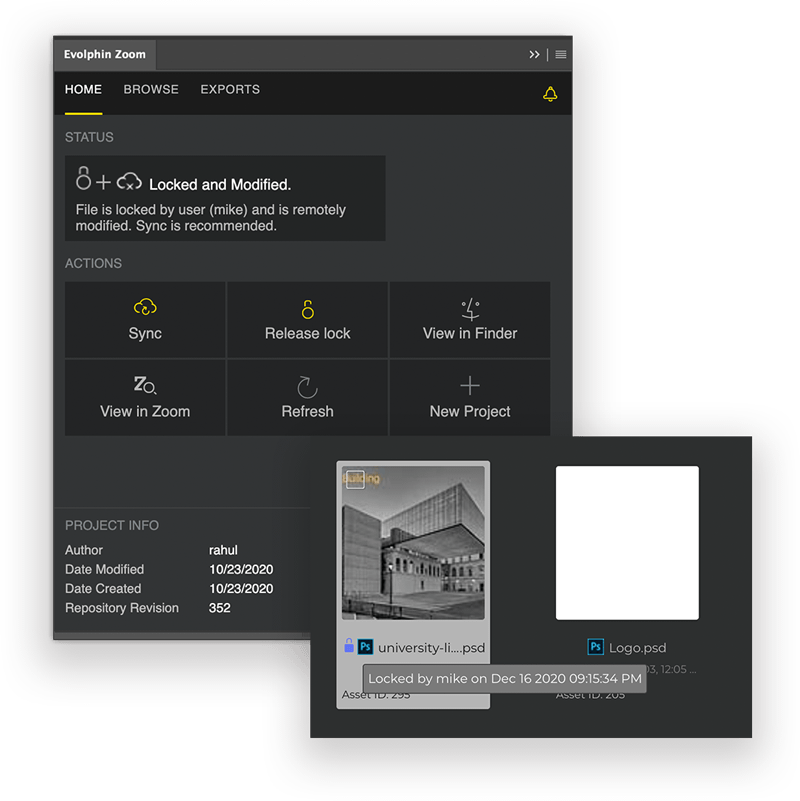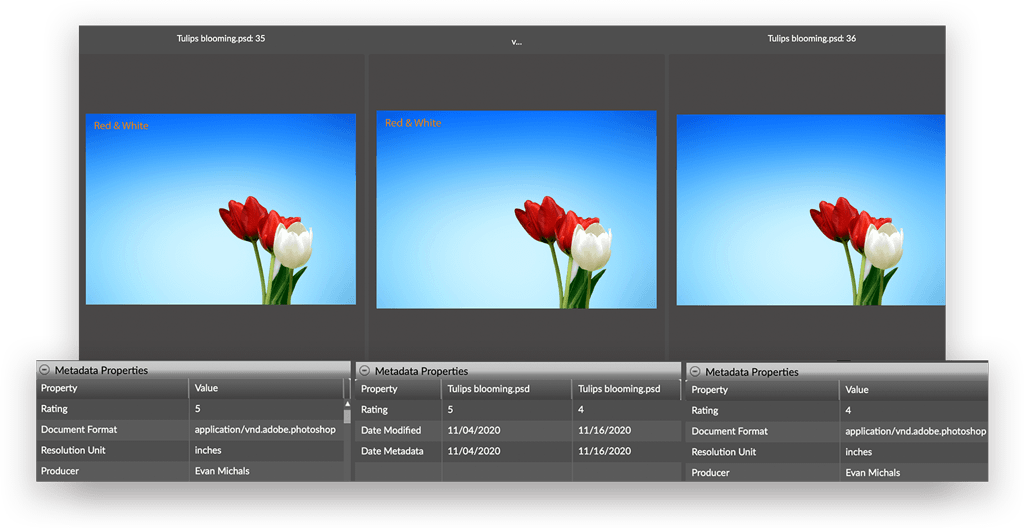 Even Metadata is Versioned
File versioning without metadata versioning makes no sense. 
While the rest of the industry is still catching up on file versions, Zoom has supported metadata versions for a while! Easily view metadata change history, or compare metadata across revisions.
"After an in-depth evaluation of a number of options for managing our digital assets particularly video files, we selected Evolphin Zoom. It has the best engine for digital asset version management"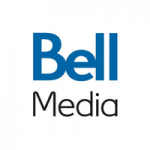 Built-in Collaboration App
Tied into our coolest features, the only web based collaboration app you will need for every type of asset: 2D/3D graphics, images, documents, audio & video.
Save $1000s every year on the cost of subscribing to a 3rd party collaboration service as well as the time it takes to upload assets.
Collaborate anywhere, at any time and on any device
Collaboration is part of our DNA and not a convenient after-thought. Every aspect of your creative workflow is carefully integrated by Zoom across devices, platforms and timezones.
Powerful Dynamic Collections
"The panel has really powerful capabilities contained within the software itself. You can search within the panel, you can ingest within the panel, you can collaborate, review and approve without ever leaving it. So that really allows our content creators to stay in the system and so they're actually way more effective that way"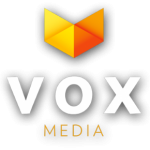 Click below to learn more about the latest Collaboration Features in Zoom 8.0.
Protecting On-premises Content
It happens! Ransomware, Malware, Human Errors, System Failures; they can all destroy your precious media archives. Protecting your content can't be done after the fact.
By design, our unique ingest server architecture will create a DMZ around your SAN and NAS to keep the bad actors away. If your business depends on digital content this is a feature you can not afford to overlook!
Ransomware is a real threat to your business
Protect Your Irreplaceable Media
Unlike Traditional MAM, our intelligent Ingest Hub acts as a guard to your media storage. Ransomware or Malware attacks are thwarted as end-users have only read access from their computers.
Simplify Permissions via Project Vaults
Multi-Dimensional Permission Model
Competing solutions offer a basic but inadequate user/group permission model on files or folders. Evolphin Zoom organizes storage silos as Project Vaults providing a simpler yet much higher level of security. 
A user must be a member of a Project Vault and have role based access to get to a file or folder in Zoom.
This multi-dimensional security model is more suited to creative workflows than plain old file permissions which are complex to administer especially when you have tons of files.
"The protected SAN/ NAS architecture restricts access to critical content to designated applications only, preventing direct access by users. During a recent attack on our content, the protected SAN/ NAS architecture proved impenetrable and saved our content from malicious intent"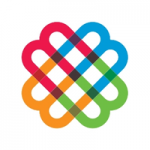 AI costs need to be carefully managed. Processing costs by the minute can escalate rapidly. The Zoom AI hub allows media managers to set rules on which media to send to AI Engines. It also gives them the ability to map collections of assets to a specific AI Engine.
Evolphin also provides industry's first AI driven editing workflow to speed up video post-production.
Managing your AI Providers With One Simple Dashboard
Save Hours Managing your AI Engines
If you have every used AI Engines on large archives, you will trust us that a dashboard to monitor multiple AI engines is will save you time, money and a ton of frustration.
Using our dashboard you can: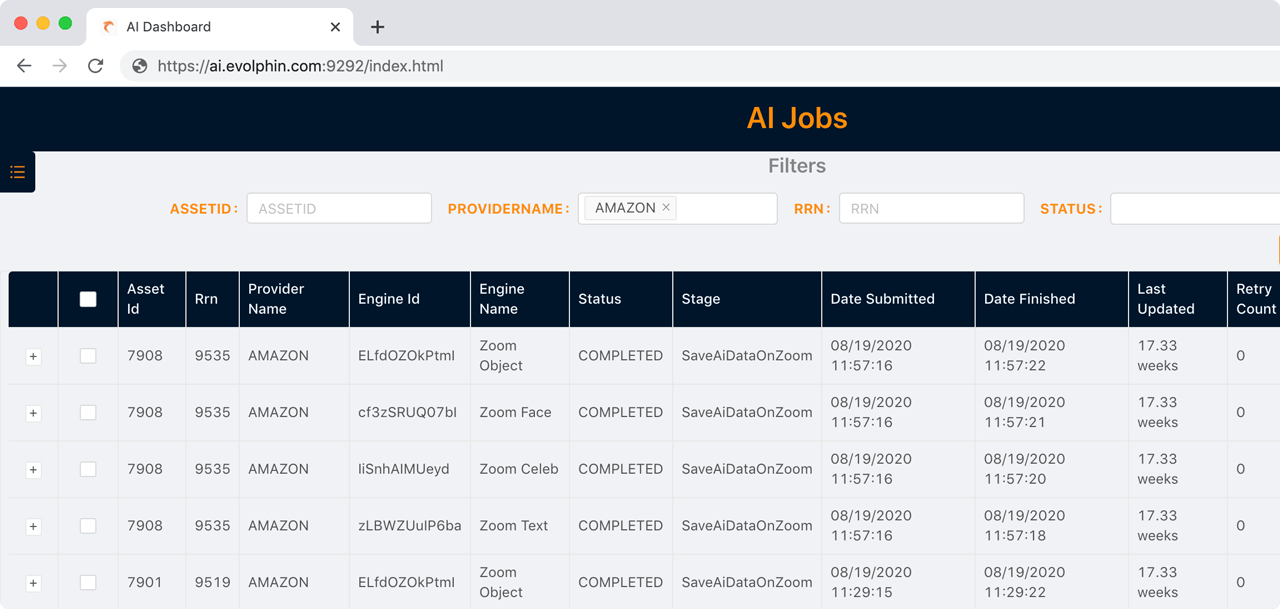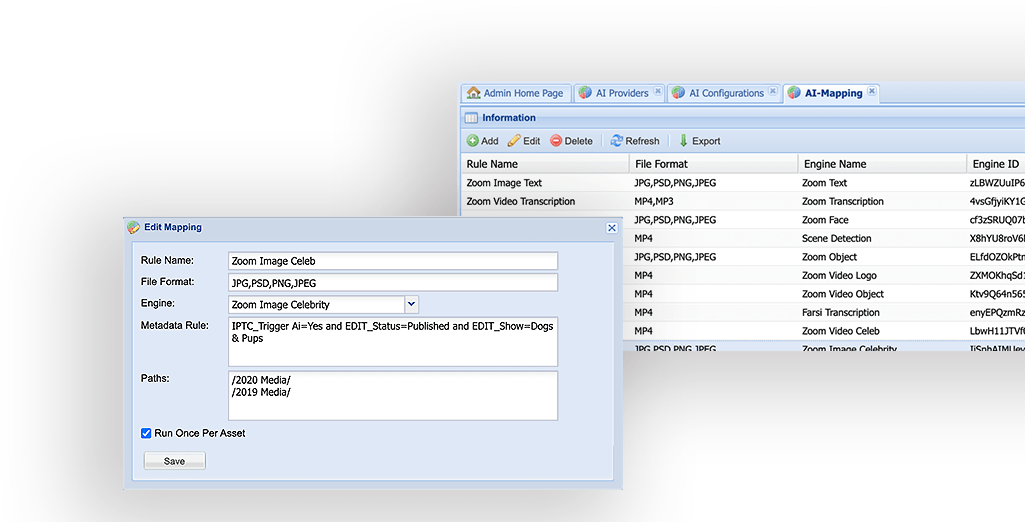 Setup Metadata & Path based AI
Media Managers can use any metadata & path based queries to automatically choose from 100s of AI Engines. For e.g. choose a specialized AI Engine to process all media published for "Dogs & Pups". 
There's way more to AI than Speech to Text & Object Recognition
Try our Celebrity, Logo & Face Detection for starters
While most solutions are still perfecting basic AI Integrations such as Speech to text and Object Recognition, our AI capabilities reach into a long list of additional AI categories including:
AI Audio Translation
English audio track to Farsi transcription
Future of Video Editing is Here
AI Assisted Video Editing
Creating Rough Cuts with AI
Save Hours Selecting Relevant Clips
Importing an AI Edited Sequence
Save Hours Editing in Premiere Pro
"Using Zoom AI capabilities, our users don't have to lift a finger to make a vast library of content discoverable"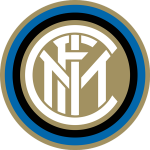 Motion Graphics Workflows
Zoom provides more support than anyone else for Motion Graphics workflows including Render Queue management. Check out our plugins for Maxon Cinema 4D, Adobe After Effects and a load more!
First MAM to Include Image Sequence Support
Why ingest 1000's of frames when you can ingest one Image Sequence object?
Zoom can map a sequence of images as a single compound asset.
Traditional solutions will ingest individual frames, costing you time & money to store & index. Search can become a nightmare across millions of frames that all look similar
165 images in the NASCAR image sequence ingested as a single asset
All our Apps are Image Sequence Smart
Directly Link with a Sequence
How cool is this…use any of our desktop apps including the Desktop Browser or the Adobe After Effects Plugin to search an image sequence as a compound asset & then drag-n-drop to automatically link with 1000s of individual frames!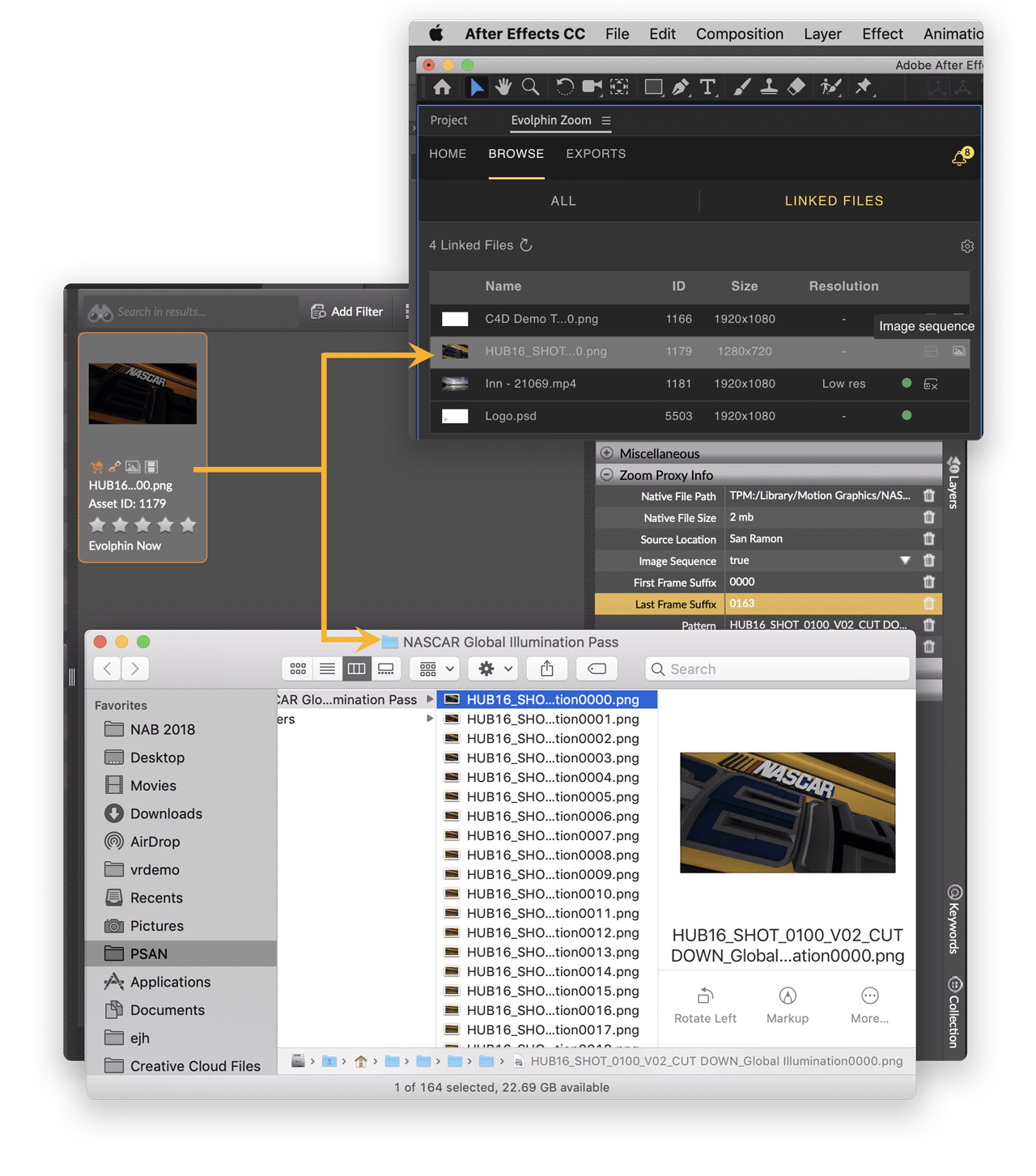 See a Video Preview of an Image Sequence
No specialized software needed
Configure the frame rate and generate video previews from image sequences.
Let your Motion Graphics team  collaborate with anyone through our simple Web Browser.
Why not markup or add frame accurate comments to image sequences like any other video asset? Awesome!
Avoid partial render ingest by a hot folder
Partial ingest by a MAM hot folder of an image sequence or animation still being rendered is of little use to the downstream editors.
Only the Evolphin MAM has API integration with popular render management systems like Adobe After Effects Render Queue, Cinema4D Team & Batch Render to ensure all your renders across multiple passes are correctly ingested and tracked in our MAM.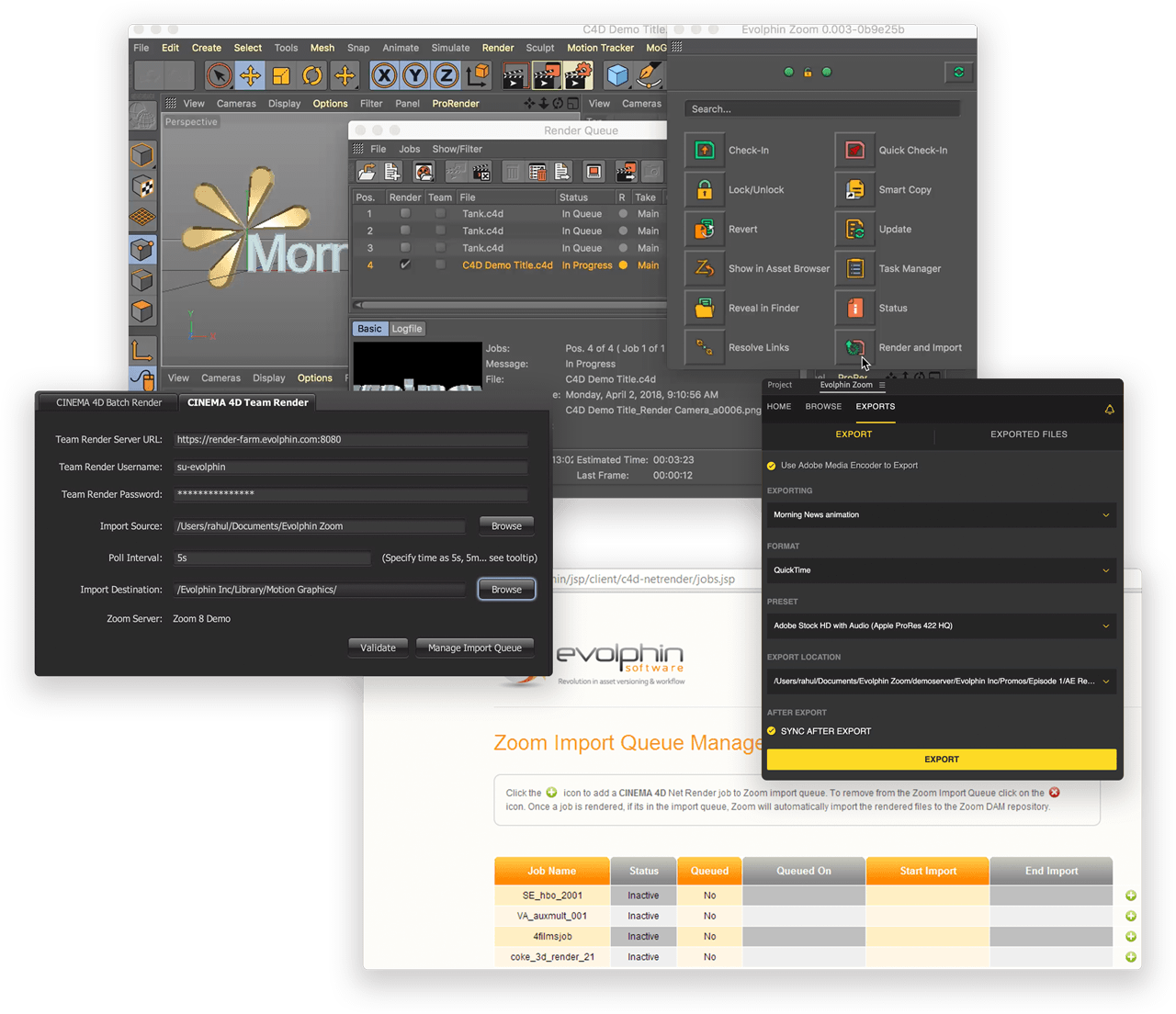 "To be able to find animations quickly for our ever increasing projects has been a boon since we moved to Evolphin's Cloud MAM. And to top it off being able to send/receive large image sequences reliably has been awesome!"
Often left as an after-thought, Data Migration can be a nightmare. Simple 'drag n drop' ingest just don't cut it, especially when you are moving TB or PB of data across thousands of folders on different storage systems!
Data migration needs to be planned, methodical, automated and as far from casual as you can get.
Enter Evolphin Data Migration app:
How Many Videos do I have?
Visualize video metrics before migrating
Migration can be expensive. Find out all of these & more BEFORE you spend $$ migrating your archives:.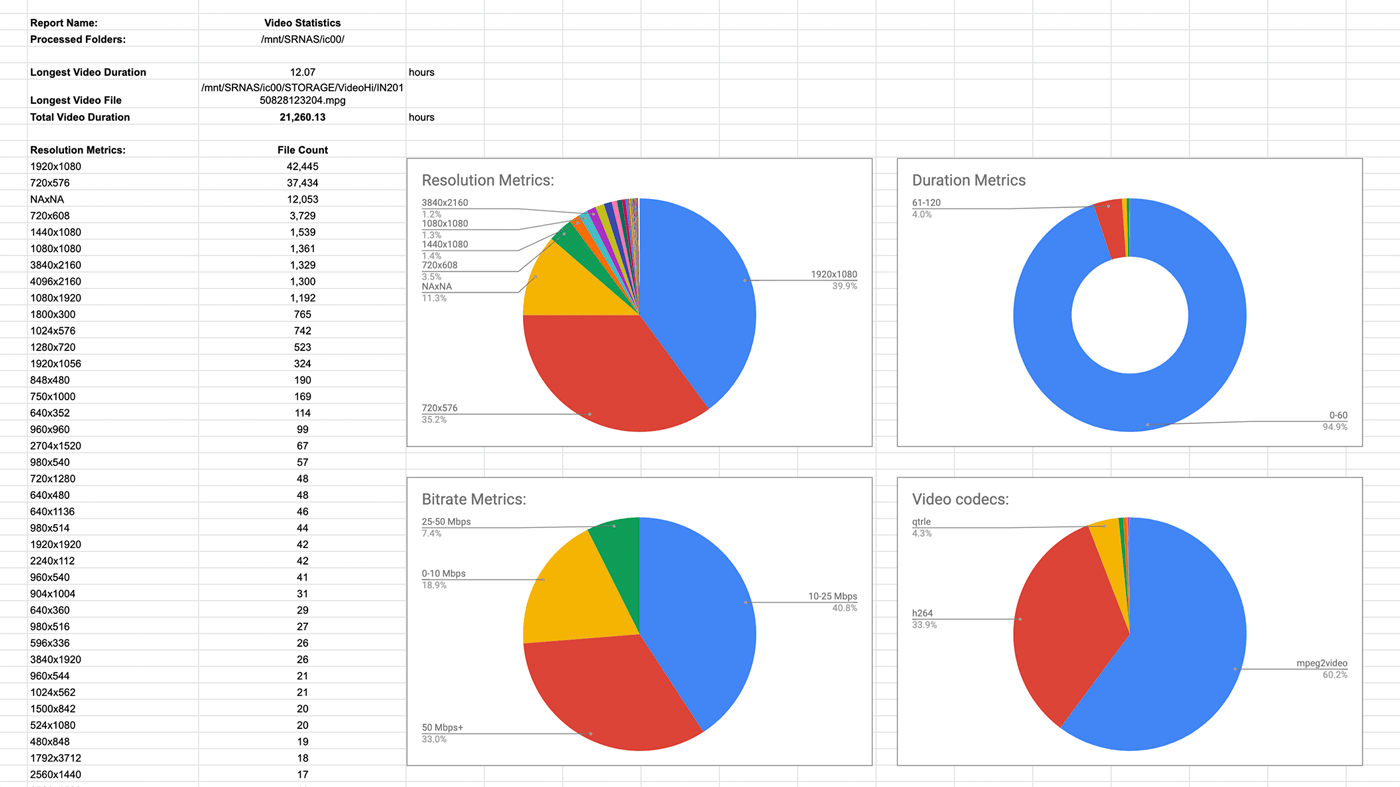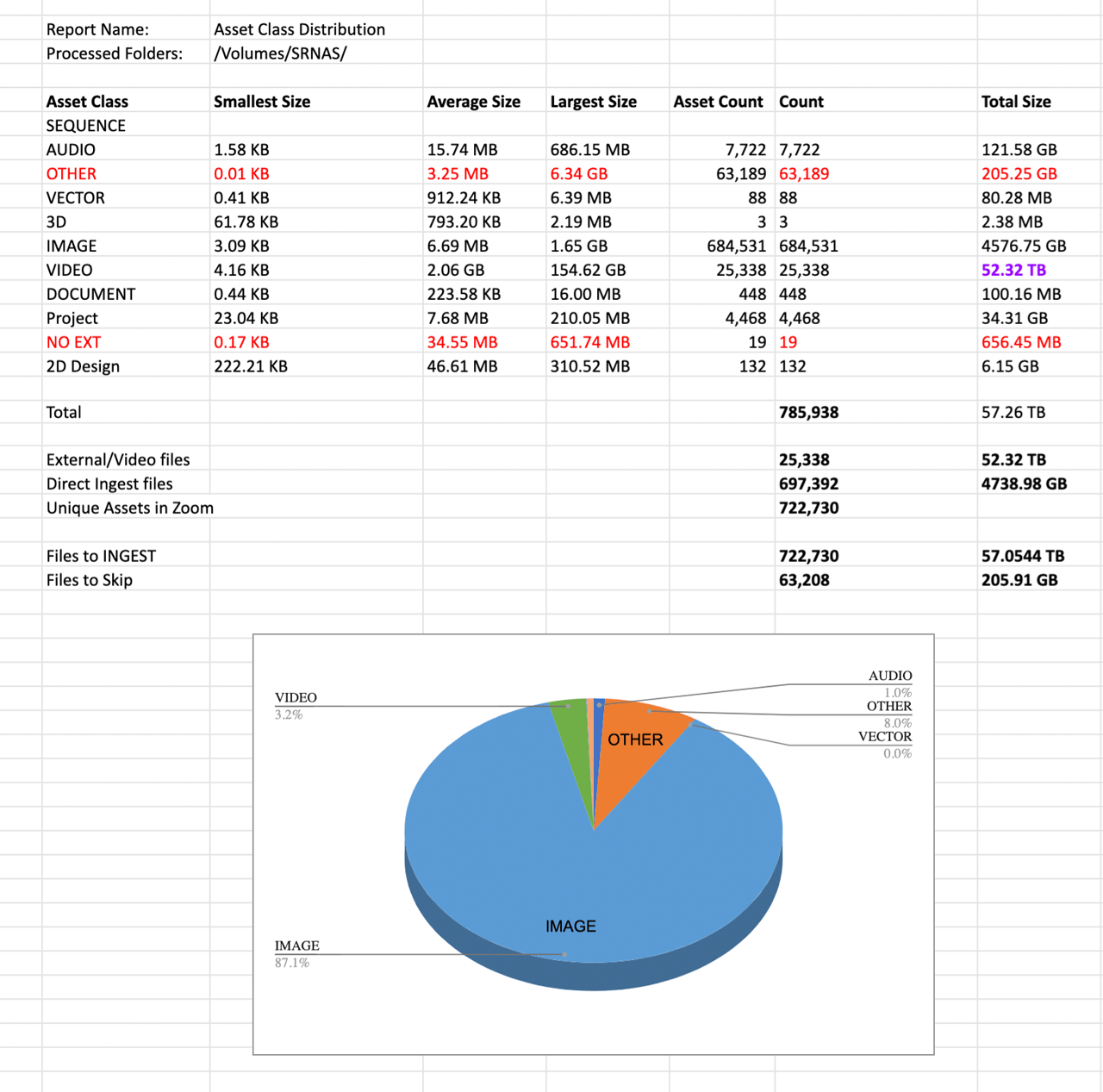 Review Content Distribution Metrics
Find out how your content is distributed across various asset classes BEFORE you spend time and $ migrating your archives:
Report by every single file type
Often, you won't know how many distinct types of content your company has collected over time. This report uncovers every type of file you have in your archives along with key metrics: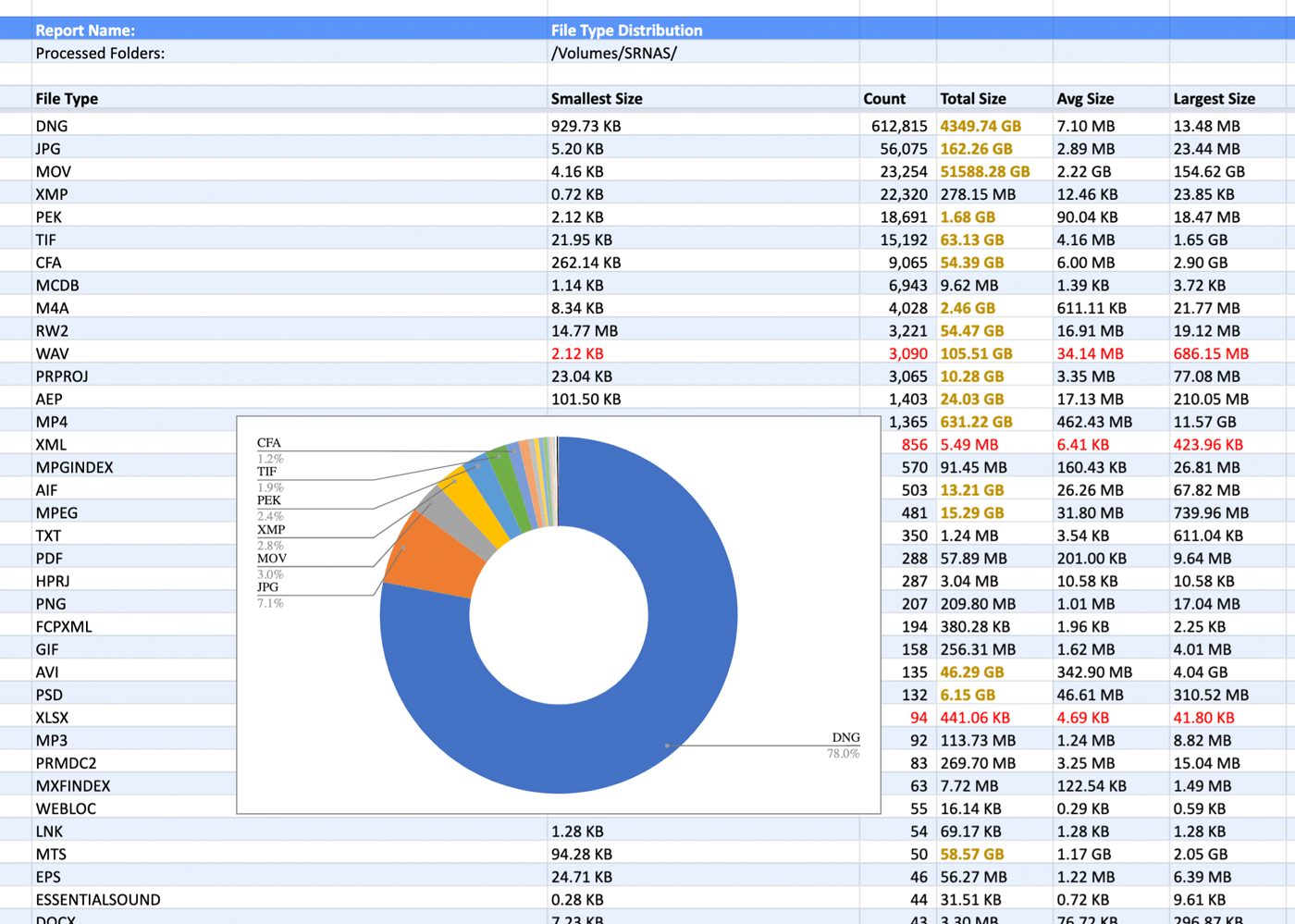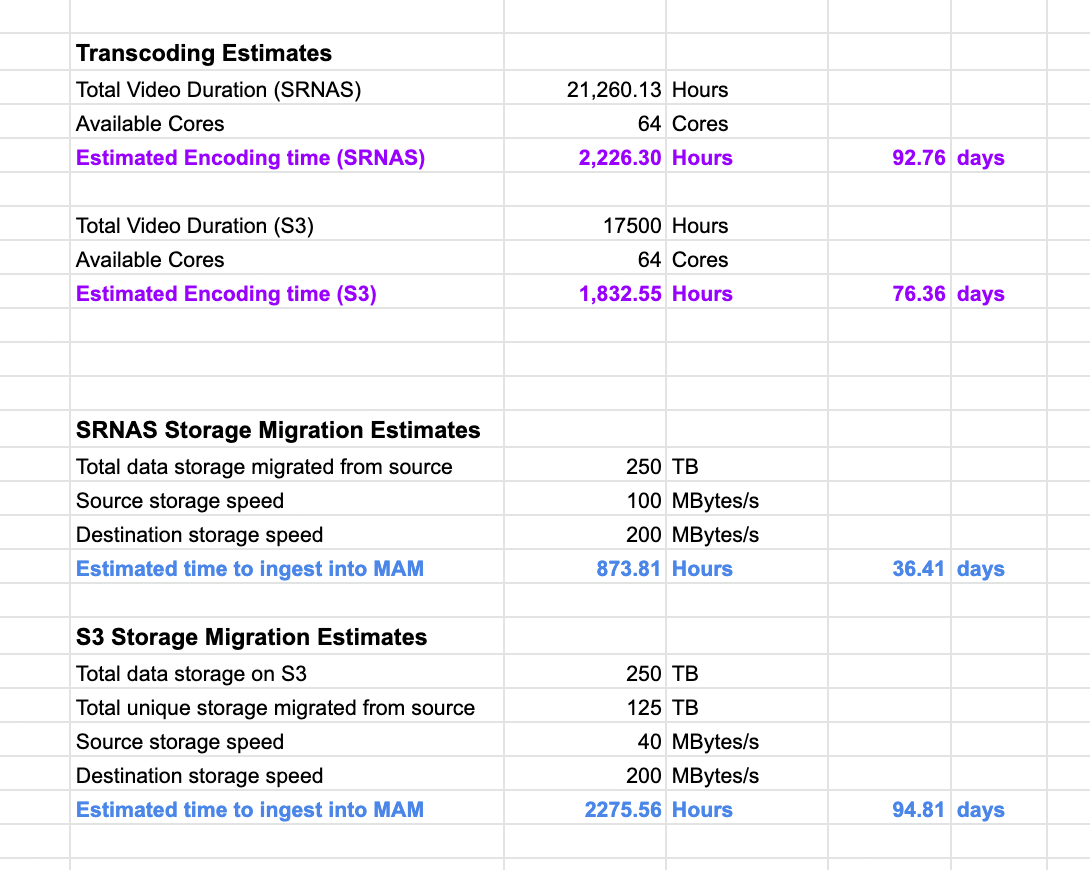 Know Before You Start Transcoding
How many MAM vendors can estimate all of your upfront transcoding costs, timelines and of course, every other aspect of your data migration? None.
Armed with our transcoding metrics you can trade off compute cost (CPU) with transcode time.

Evolphin Data Migration App
So much more than just a folder ingest. Our app is designed to run for days or even months, across massive volumes of content and secured with built-in fault tolerance for any situation ranging from hardware failure, disconnected networks to file system errors and even 'user' errors. We have the experience of migrating billions of objects, for premium brand customers.
You're in good hands with Evolphin.
Tiered Archive Management
Auto Tiered content across AWS S3, Glacier, Deep Glacier or even on-premises LTO tape library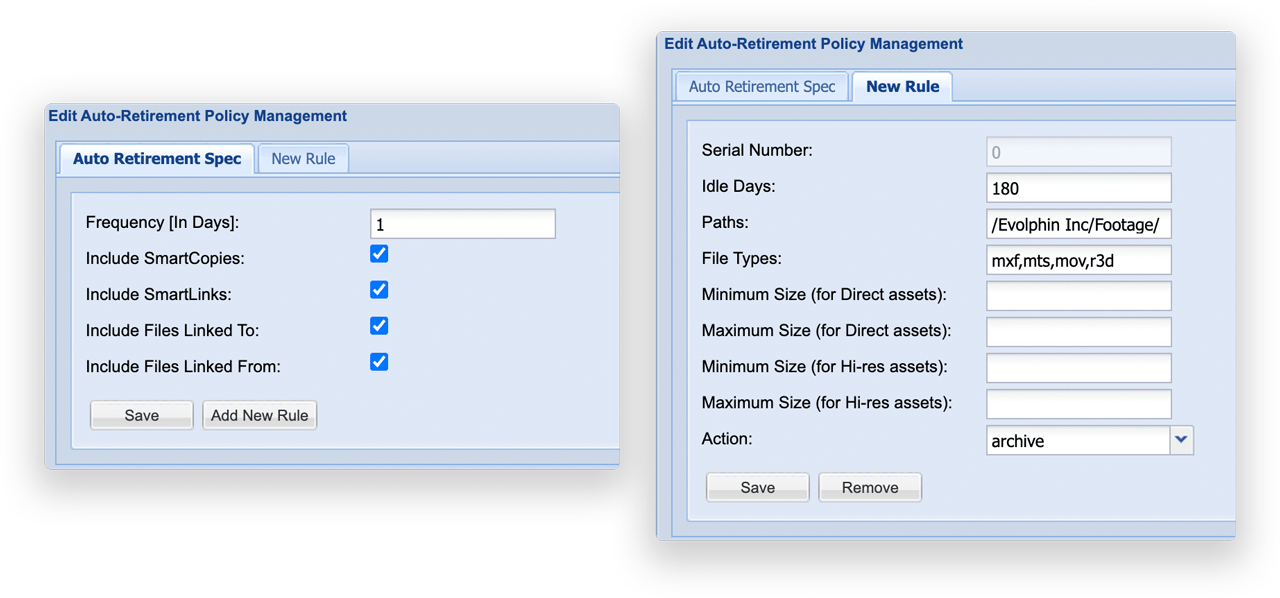 Automatic Retirement Service (ARS)
Archive with automated rules
Media managers don't need to spend hours archiving old footage.
Setting up ARS is easy. Define the rules for different types of content and then let the system automatically tier that content as an automated background task. 
$ will be saved, links and smart copies will be maintained and ARS will identify all files tied to a project and archive them as a single collection. 
ARS replaces manual archiving with intelligent tiered archiving.
Archive to 20X cheaper storage tier
Evolphin offers an AWS Glacier Deep Archive connector that lets media manager either setup an automated metadata trigger or move on-demand any project or it's linked asset into the cheapest storage tier in AWS.
AWS S3 Standard tier is faster but more costly

AWS Deep Glacier 10TB/Month

$11

Archive in Deep Glacier is > 20X cheaper!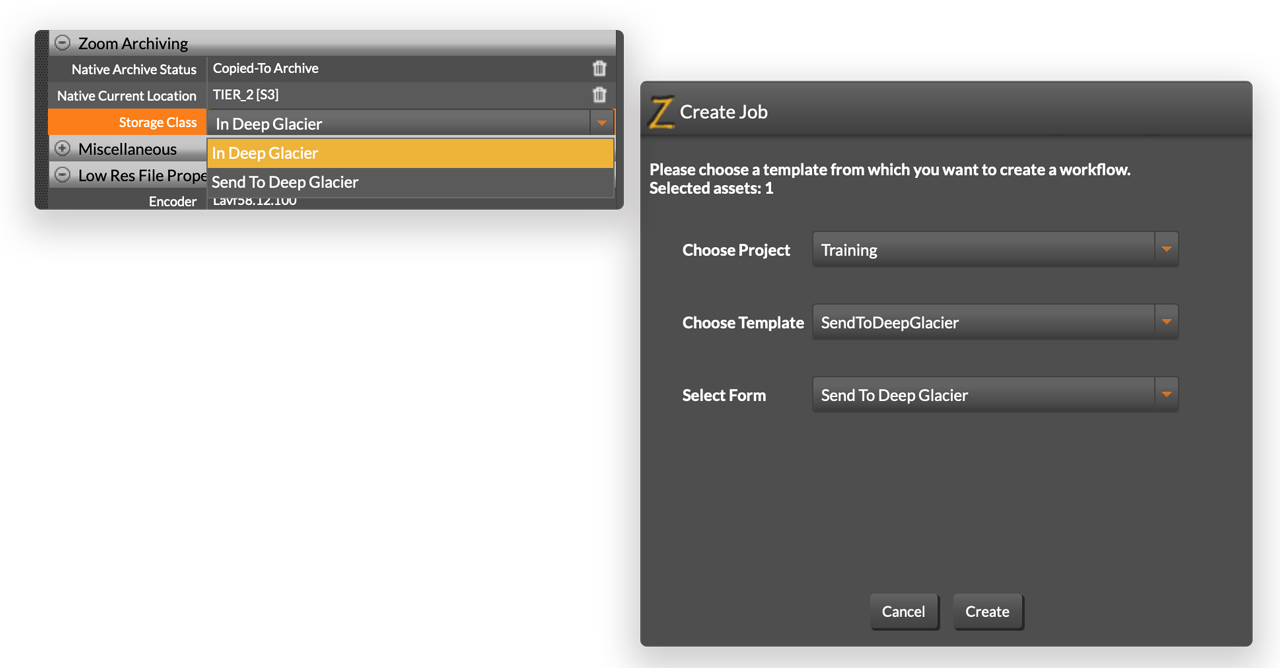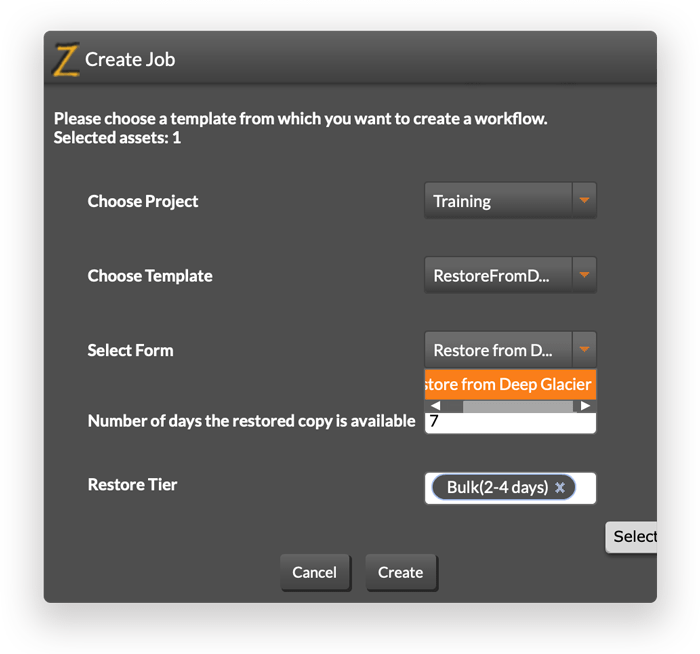 Manage Deep Glacier Restore Costs
AWS Deep Glacier is an incredibly cheap resource for archiving large amount of media. But the cost per GB to retrieve media and the time it will take can be excessive. 
Evolphin gives you the option to decide which restore tier to work with depending upon cost and how long you want to wait for your content! 
Keeping your proxies online
By default, Zoom will keep your low-resolution proxies online so that you can preview or edit with them before you decide to restore the high-resolution asset from an archive such as AWS Deep Glacier.  
For you this means you can save cost & time by downloading only the necessary assets from the archive every time!
"Cloud storage costs can quickly escalate. The Evolphin Tiered Archive Management solution automates the movement of content from high cost storage to low cost archive and saves customers massive amounts of money each year"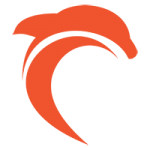 Integrations & Automations
Out of box Evolphin offers over 
2000s
3rd party integrations via variety of frameworks.
If you wish to get your hands dirty, we have a full suite of REST API and CLI for your development team.
Out of Box Integrations
It's a long list!
Zapier App with 2000+ Integrations
Automate in minutes, no code required
Our Zapier app allows anyone (including non techies!) to integrate our MAM/DAM with 2000+ apps without writing a single line of code. 
This growing list includes:
Popular Zapier Integrations
Evolphin Zapier App exposes webhooks and actions based on metadata triggers. This allows for easy, "If this, then that", style of codeless integrations.
Evolphin Zoom to YouTube Upload Trigger
Simply set "Publish To" metadata field in Evolphin Zoom to "YouTube" and sit back and let your videos get uploaded and published into YouTube.
SEO tags from Evolphin Zoom Metadata
Automatically populate Social Title/Description/Tags from your custom Zoom metadata fields.
Create automations faster using simple scripts
Only Evolphin ships a purpose build Command Line Interface (CLI) that allows creating automations in popular scripting languages including Python, Ruby, JavaScript, Perl on any Operating System (MacOS, Windows, Linux).
Make our system personal and create your own automations without the need for expensive 3rd party SIs.
Work Smarter with Automation Hooks
Most solutions will boast a set of APIs. However, these are little use if you need to be a rocket scientist to use them! Zoom includes a rich suite of automation hooks which complement our APIs and can trigger automations based on user defined business rules. 
There is an answer for every business automation your team desires. Automate smarter not harder.
Execute actions on millions of search results
How's this for unique.. combine the power of metadata searches with automation. Execute a search on any number of assets and then automate the actions to be taken on the assets that are returned. 
Plus we take care of  batching millions of search results into a group of 1000s and then invoking your actions on each batch.  
Customers have build search & execute actions for variety of use cases including: 
Save your favorite media conversion recipes and use them repeatedly for frequent media conversion & transformation tasks. 
Extend our hot folders with your logic
Hot folder ingest is nothing new. The 'coolness factor' is being able to apply custom hooks to the hot folder that will trigger actions to be taken either BEFORE or AFTER a hot folder ingest job.
Customers have used these hooks to:
"Evolphin is super integratable. We can take our existing programs and plug them in, we can take our existing processes and plug them in. It's going to integrate well with all of that"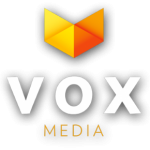 Zoom NonStop (ZNS) is the premiere High Availability/ Disaster Recovery solution without doubt!
Designed for the most demanding of mission critical media workloads, when your business can not tolerate any downtime or data loss.
Cloud or database vendors cannot give you the same level of data protection as ZNS, period! Read On….. 
Active-Active Replication
Instant failover with 0-data loss!
ZNS can deliver Recovery Time Objective (RTO) and Recovery Point Objective (RPO) of zero! No other DAM or MAM in the marketplace can provide active-active replication. It all depends on your tolerance for RTO and RPO. In the Broadcast world for example, would an RTO of 10 minutes be OK for a critical to air piece of content scheduled for the Superbowl half time show?
Active-Active replication can be implemented:
You Won't Get this with AWS
Don't believe us? Check out this AWS guide. Notice "asynchronous" replication? 
This approach is not suitable for cross region replication of mission critical content because it is prone to partial dataset replication and at worst data corruption.
ZNS is designed to work across WAN regions by virtue of using our:
Automatic Client App Failover
End users failover to nearest replica
Traditional failover technologies usually require system downtime to recover from a disaster.
ZNS can automatically failover your users to the nearest replica. And when their primary system comes online, ZNS can automatically transition them back to it.  
For mission critical workloads such as globally distributed 24×7 creative shops this is a must have option!
Any Number of Replicas Anywhere
More than 2 replicas? No problem.
Alternative solutions are limited to 2-replicas and usually deployed in an active/passive configuration. ZNS supports any number of replicas which eliminates any single point of failure and protects your business from multiple simultaneous primary server failures.
Replicas can be configured within your data center or across regions or in a hybrid setup with cloud and on-premises environments. ZNS supports shared storage or a shared-nothing model as well:
Contact Us
Sign up today and we will be in touch shortly.

Global Headquarters
6101 Bollinger Canyon Road
Suite 324D
San Ramon, CA 94583
USA
Phone: +1 888 386-4114
Email: info@evolphin.com

Evolphin India
Unit No. 1005, 10th Floor
BPTP Park Centra, Sector 30
Gurgaon, HY 122001
India

Evolphin Europe
3rd Floor
86 - 90 Paul Street
London
EC2A 4NE