One of the most expensive graphic design errors that never made it into the media was chalked down to a small design mistake.
The team designing the covers for a popular casino's slot machines sent the wrong design file version to the manufacturer, leading to thousands of dollars worth of unusable slot machine covers being manufactured and shipped.
Sadly, these losses could have been prevented with an effective digital asset management version control system.
Digital asset management version control is a big phrase for the often missed practice that takes the frustration out of creative teams' collaboration. To fully understand the transformative effect of this practice, it is important to define each part of the phrase distinctly.
What is a digital asset management (DAM) system?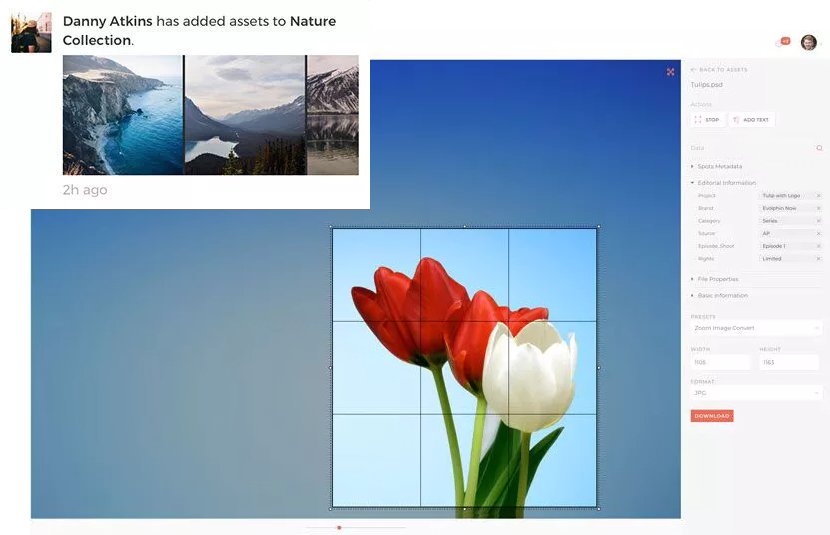 A digital asset management (DAM) system is a centralized software-based platform accessible to various teams simultaneously for organizing, managing, and collaborating with all digital and creative assets. This platform is fundamental to media-centric activities (branding and marketing, for example). It primarily drives content management systems and workflows characterized by editing and repurposing media files to suit various channels.  
More importantly for the digital transformation seeker, DAM software also enables organizations to easily store and retrieve digital assets most relevant to maintaining brand consistency across the board. This high level of relevance improves operational efficiency in organizations by reducing the risk of error and miscommunication. 
How does version control work?
Graphic design teams for example will use image version control to manage and track multiple  versions of the same image from a single location (usually a DAM system). It keeps users working on the correct asset while allowing other stakeholders to monitor how assets change over time.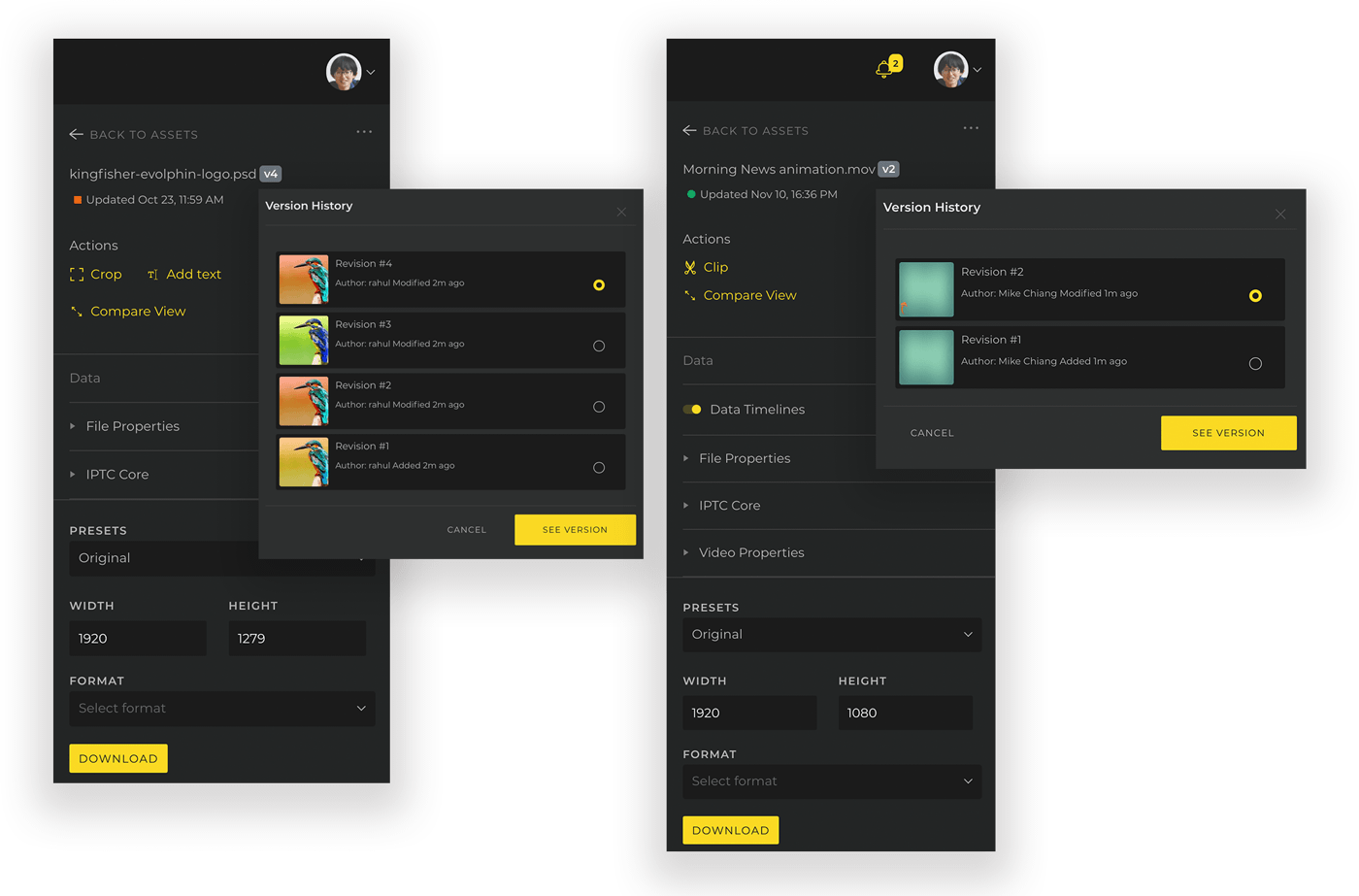 Let's take the example of a flagship product image to see how version control works in digital asset management.
In practice, even with a definitive master copy, a team will likely keep various iterations of the same product image file – cropped, reformatted, or enhanced in subtly different ways – for use on its website, social media, email marketing, etc.
Version control helps manage these iterations, making the right file available for the right channel. It also enables businesses to preserve all previous versions of their digital files alongside an unaltered original.
Versions are not Variations or Renditions.
When it comes to digital asset management, it's important to understand the difference between versions, variations, and renditions. While these terms appear interchangeable, they have distinct characteristics with implications for managing digital assets. 
Versions
A version is a unique iteration of a digital asset that has been updated or modified in some way (for example, updating color, adding text, or cropping). Multiple versions of the same file will show a trackable history of the file's evolution over time.
These versions can also be managed and organized through a version control system. Version control systems keep collaborators working on the latest file version, reducing the risk of error and conflicts.
Variations
Variations, on the other hand, refer to different iterations of the same asset created for different use cases or formats. For example, one image file could have several size variations to fit different channels or platforms, such as social media, print, or email.
Variations are not typically tracked through a version control system as incremental changes to a file version. Rather, they are managed as separate files, distinct from the original file. Variations can be created from any version of an asset, including the original.
Renditions
Renditions refer to different versions of a digital asset created for specific use cases, such as different resolutions or file types. For example, a high-resolution image could be converted to a lower-resolution version for web use or converted into a different file type (jpeg to png, for example)  for a specific application.
Like variations, renditions are not usually tracked through a version control system and are managed separately from the original asset.
Version Control Is a Must-Have Feature for Digital Asset Management Solutions
In the journey to transforming your organization's digital strategy, several reasons exist for insisting on robust version control capabilities as a must-have for your prospective digital asset management system.
First, version control capabilities incorporated in a digital asset management solution help to reclaim wasted time from the creative workflow. Direct access to specific file versions reduces the number of clicks (and time) needed to find assets, saves collaborators from duplicating efforts, and frees up time to focus on creative tasks rather than administrative tasks.
Version control also helps teams efficiently access and manage assets' rights and licenses to avoid legal issues. Finally, version control facilitates more efficient sharing and distribution of assets with clients and contributors.
Benefits of DAM Versioning
Versioning is a critical aspect of digital asset management that improves the quality of creative outputs, team efficiency, and return on investment. To understand this further, here are some benefits of DAM versioning:
Improves Efficiency and Team Collaboration
When properly integrated into an asset management system, DAM versioning goes one step further than offering users control over their files. It additionally provides granular control over file versions so collaborators can cut to the chase, collaborate without version conflicts, and complete their projects faster.
Versioning also allows teams to view a history of critical digital assets, making comparisons (and subsequently, decision-making) easier.

Robust DAM systems offer smart link management, which disseminates file updates to all authorized users without the need to distribute new links or embed codes, further reducing the margin for error in collaboration.
Maintains Brand Consistency
Versioning is essential for maintaining brand consistency across different channels and campaigns. With a single source of truth for all digital assets, all stakeholders benefit from easy access to the desired version of any asset required for a project. 
In addition, each indexed file contains detailed metadata that tracks the file usage history and its change history over time. This data helps users track asset version history and identify each published file's location to keep assets in production consistent with published assets. 
Reduces Cost through Streamlined Workflow
DAM versioning also helps users save the cost of operational inefficiencies that stem from a poorly optimized workflow. 
For example, more time spent on finding the right file versions can lead to efficiency losses from context switching and duplicated efforts that might require the intervention of multiple team members. A capable version control system eliminates this problem with automatically updated assets and asset versions. 
Businesses can significantly reduce costs and improve their bottom line by avoiding unnecessary extra work and using the most appropriate and relevant asset versions.
Reduces the Risk of Expensive Errors
DAM (Digital Asset Management) versioning is crucial in minimizing the risk of expensive errors by streamlining the tracking and management of media licensing. 
In today's rapidly evolving media landscape, manual methods for tracking media licenses (such as spreadsheets or third-party licensing solutions) leave room for human error. DAM versioning with built-in digital rights management capabilities significantly reduces this risk by triggering notifications to prevent the use of expired assets.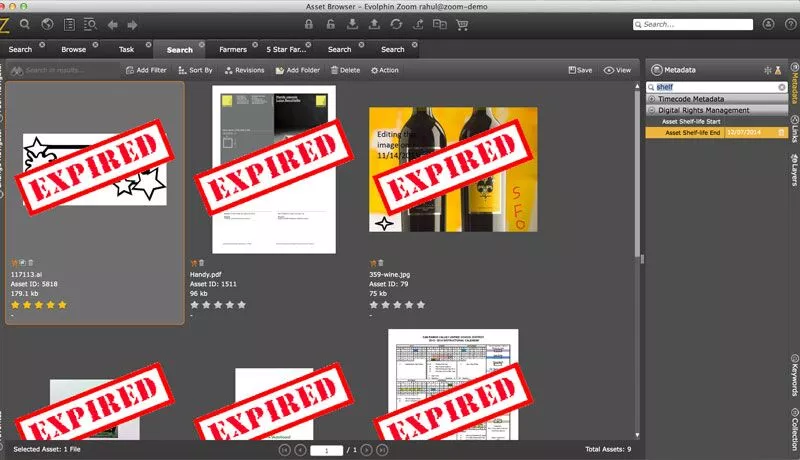 A robust DAM system also provides an auditable trail of licensed content usage, which can be invaluable to legal departments. In the event of disputes, these can be used to track individual assets across various projects, enabling quick identification of content requiring re-editing or removal due to licensing changes.
With these capabilities, DAM versioning transforms potential licensing challenges into easily manageable tasks.
How does Digital Asset Management Software Help in Version Control?
While standalone version control tools exist, they offer limited benefits compared to DAM version control systems. Here are three advantages that DAM-integrated version control systems have over standalone version control tools:
1. Workflow integration benefits
Collaborative teams (like marketing teams, for example) often rely on a suite of tools and systems to complete their tasks. Version control tools integrated with a single point of truth (and their integrations with third-party workflow applications) enable teams to reap the benefits of full process efficiency.
When integrated with other applications and databases that constitute part of a team's toolset, version control helps to streamline team workflow and drives a faster and more efficient process completion. 
2. Metadata-driven Automatic Updates
Using metadata capabilities, DAM platforms enable users to update assets automatically and transparently. This is superior to the manual method of replacing old assets with new assets, losing the opportunity to track all the previous iterations of the asset.
Additionally, tracked metadata attached to all digital assets allows users to search for, and retrieve files based on new or historic search parameters. 
3. Asset History Tracking
Retaining asset history in one well-organized and accessible location is critical for successful version control. Many DAM platforms allow for the retention of old variations, which clarifies how multiple versions relate to one another.
Applying metadata helps to filter searches and quickly find the latest version of a specific asset while enabling teams to distinguish between current and outdated brand assets. 
For next-generation DAM systems, role-based access control can be used to restrict access to assets, to streamline the access approval process better.
How to Choose The Best Digital Asset Management Version Control Tool For your Team
When it comes to choosing a version control tool for DAM, there are several key factors to consider. These include:
Workflow Integration and Ease of Use
The ideal version control tool should integrate seamlessly into your existing workflow and not add unnecessary complexity to your workload. With over 5,000+ integrations, Evolphin Zoom DAM easily interfaces with other applications allowing producers, editors, and stakeholders to collaborate intuitively.
This makes storing, sharing and collaborating on digital assets easy without leaving the platform or losing productive hours to context switching.
Feedback and Collaboration Capabilities
A good version control tool should provide all collaborators with a simple, practical visually-led communication feature.  Optimized for work-in-progress workflows, Evolphin Zoom DAM allows all stakeholders to comment directly on assets, with direct visibility into client feedback.
This reduces the risk of overlooking important comments and makes it easy to capture and track the rationale behind each change with all comments in one place.
Visibility into Asset Usage and Interaction 
Knowing how and when clients interact with your digital assets is crucial for making informed decisions and managing the review process effectively. With Evolphin Zoom DAM, you can monitor and manage the review process, ensuring that creative efforts are not wasted on assets that receive little or no interest from stakeholders. 
Device Compatibility and Seamless Collaboration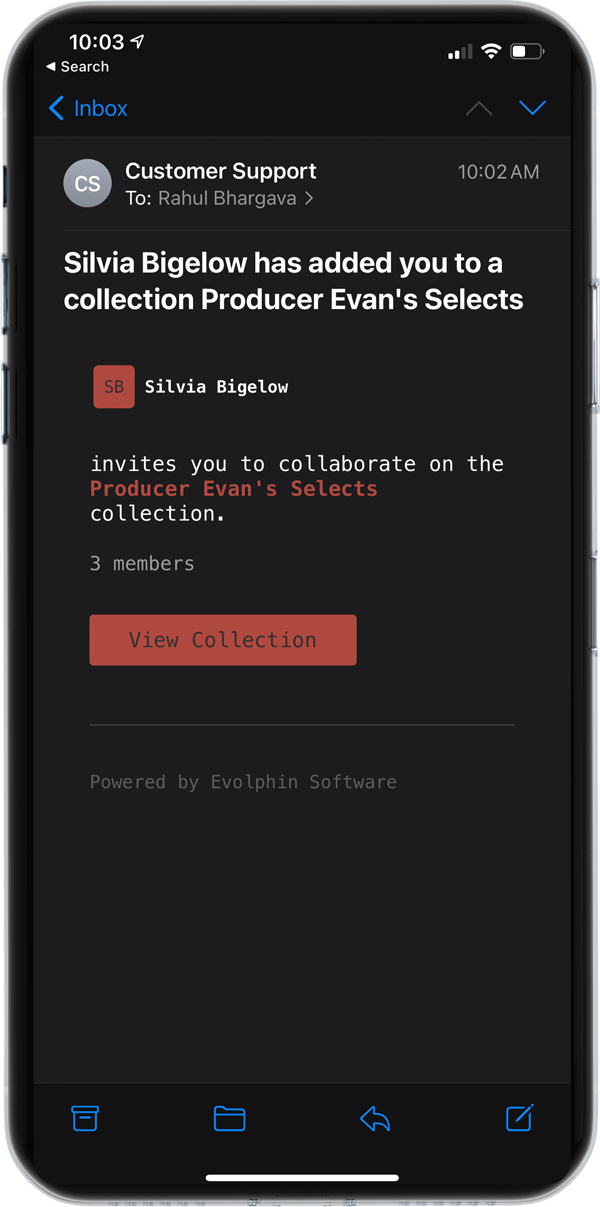 In today's fast-paced, increasingly decentralized work environment, it is vital to have a ubiquitous version control tool to collaborate across different devices and platforms seamlessly.
Evolphin Zoom DAM keeps your digital assets accessible across multiple devices, including mobile devices, ensuring that clients and stakeholders can review and provide feedback on the go without slowing down the review process.
Reduced cloud storage costs with intelligent versioning
Intelligent versioning is not about duplicating copies (for example, V1, V2, etc) and incurring incremental storage costs. Intelligent versioning such as that offered by Evolphin Zoom DAM is designed to be intuitive, enabling users to identify, observe and monitor changes where necessary with a simple, frustration-free process of reverting to previous versions. 
Evolphin Zoom DAM is the best digital asset management version control tool for your team.
DAM software with built-in version control capabilities like Evolphin Zoom DAM increases your profit margins by transforming your workflows, maintaining brand consistency, and improving your team's productivity.
Evolphin Zoom DAM is critical to the creative process of renowned organizations like InterMilan FC, Mercedes, WorldVision, KQED, and more. 
By supercharging your team's productivity, automating mundane tasks, and speeding up production times, Evolphin Zoom MAM has unshackled the video production process of these organizations from dependence on manual labor to increase their profitability.
Evolphin Zoom DAM is a strategic investment that delivers attractive ROI in content quality and output speed for organizations looking to supercharge their digital strategy by leveraging the power of industrial-strength version control. Contact us today for a free demo.