Digital asset management benefits organizations struggling to control the sea of media files necessary to compete in today's market. 
Most modern businesses have evolved into media businesses because a new generation of customers and stakeholders dictates the need for digital relationships. Before the dot com boom, most companies outside the media industry could sell products without handling graphics and video files – unless for a TV or billboard campaign.
Today, the typical business has the means and the need to create thousands of digital files and launch digital campaigns by e-mail and social media channels, a process often coined 'the digital business model.'  
These technological advances, however, come with a caveat – managing a variety of digital assets is a lot of work. And it's enough work to usher in the emergence of a new job role, 'digital asset manager'.
But organizations need more than a new job role to solve the problem of organizing and managing digital assets effectively. They also need technology.

How does a digital asset management platform increase operational efficiency?
Digital asset management software offers organizations a centralized and organized system to securely store, manage, and access 'finished' digital assets such as rich media, images, videos, audio files, and documents.
At a basic level, they improve operational efficiency and collaboration by enabling teams to efficiently find, process, and share digital assets. 
Beyond this, DAM software also improves work-in-progress workflows with features like automatic version control, licensing tracking, security, and quick and easy access to assets in short and long-term data storage.  
There are so many benefits to adopting a digital asset management solution. The remainder of this article will explore a range of digital asset management benefits that organizations looking to increase the ROI of their valuable digital assets can expect. 
11 Benefits of Digital Asset Management Platforms in 2023
1. Optimizes cross-team collaboration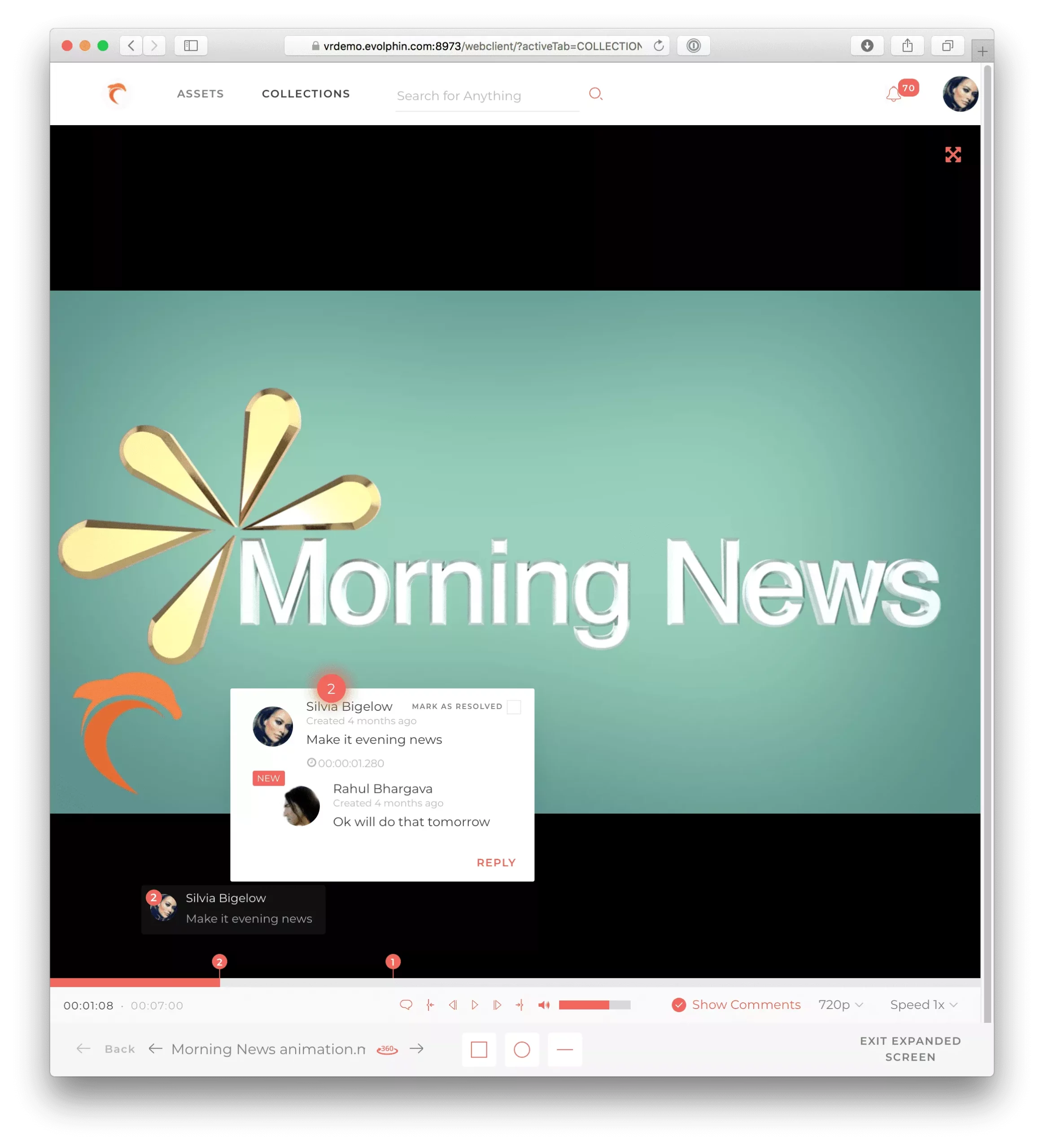 For dynamic teams constituting a mix of remote, on-premises, and hybrid workers, holding assets in fragmented stores and compounded by poor network connectivity makes collaboration difficult and time-consuming.
To top it off, the absence of face-to-face interactions creates communication barriers when teams collaborate on visual assets. Especially when it comes to sharing large files (like a hi-res video for marketing campaigns, for example), sending the necessary video files to remote-based video editors can be cumbersome, and home-based computing devices are often limited in their processing capacity.
A digital asset management system solves this problem by providing access to a centralized repository no matter where people are located. It simplifies workflows and enhances team collaboration.
Robust DAM systems like Evolphin Zoom DAM eliminate the need for costly 3rd party collaboration tools, enabling editors, designers, and clients to markup, review, track changes, and share files without leaving the DAM system.
With DAM systems, all team members can access the same up-to-date version of a file, avoiding the confusion of multiple conflicting versions, providing of course, that the DAM system enables industry strength and best practice version control.
It also allows teams to track changes in real time, ensure quality outcomes, and quickly identify potential issues that might need immediate remedial action.
2. Streamlines the entire content and media lifecycle
The post-pandemic remote work culture created a need to optimize work-in-progress workflows for increased operational efficiency. A powerful, next-generation DAM solution like Evolphin Zoom DAM goes a step further than simply making cross-team collaboration possible.
It streamlines clunky workflows that are complicated by a mix of high-res video, low-res video proxies, remote editing with questionable internet speeds, and the need for cross-platform publishing.
Evolphin Zoom DAM is designed to handle the entire content lifecycle – from  automatically ingesting 'unfinished' file assets to the cloud to editing and multi-platform publishing.
3. Keeps digital assets organized and saves time
Acting as a centralized file storage system, DAM systems help businesses organize their valuable digital assets using automation and metadata.
Metadata, or data about data, describes a digital file beyond the actual data it contains – for example, location, title, description, etc. This data is essential because it helps users categorize and search for assets using these parameters without wasting time trawling through thousands of uncategorized files.
Robust DAM systems like Evolphin Zoom DAM go a step further to automatically apply metadata to files on ingest based on out-of-the-box pre-configurations.
For organizations with extensive digital archives, this saves hours of manual labor otherwise spent manually applying metadata by making large pre-digital archives immediately discoverable.
Overall, metadata gives DAM systems enhanced visibility into organizational assets.
4. Ensures brand consistency across sales and marketing channels
For marketing teams and creative teams, DAM software helps ensure brand consistency and maintains the congruency of brand assets across all digital channels.
It helps to ensure that all images, logos, videos, and other content are used consistently and optimized to meet each digital platform's needs. This helps to maintain a consistent brand identity and removes barriers to reaching new, profitable audiences.
In addition to maintaining brand consistency, digital asset management platforms integrate well with the entire marketing tech stack, enabling users to create and publish a variety of content without leaving the platform.
Organizations can reduce costs while improving efficiency without using multiple tools or services for managing digital assets. Evolphin Zoom DAM connects marketing programs with the content production process and, in doing so, ensures high-quality and fit-for-purpose content-driven programs.
5. Minimizes legal risk with digital rights management
DAM systems help organizations keep track of brand asset usage subject to licensing restrictions. This capability is critical for medium to large organizations that have grown beyond relying on spreadsheets and manual labor to track digital rights and asset usage.
To avoid potential legal issues and copyright infringement, a DAM system provides the capability to manage and track the digital rights of assets to keep usage aligned with licensing agreements.
A next-generation DAM system goes beyond simply tracking digital rights to proactively monitoring licensing behind the scenes of work-in-progress workflows. Evolphin Zoom DAM, for example, monitors licensing in the background, triggering notifications and blocking access to assets with expired rights. 
Furthermore, Evolphin Zoom DAM offers granular control over each asset and its linked projects. This level of control is essential for tracking assets licensed for multiple uses over defined periods (an audio track licensed for a year, for example).
Evolphin Zoom DAM makes tracking assets as easy as simply selecting a project in the Zoom interface to highlight all assets and links used in the project and vice versa. 
6. Automates asset creation and distribution workflows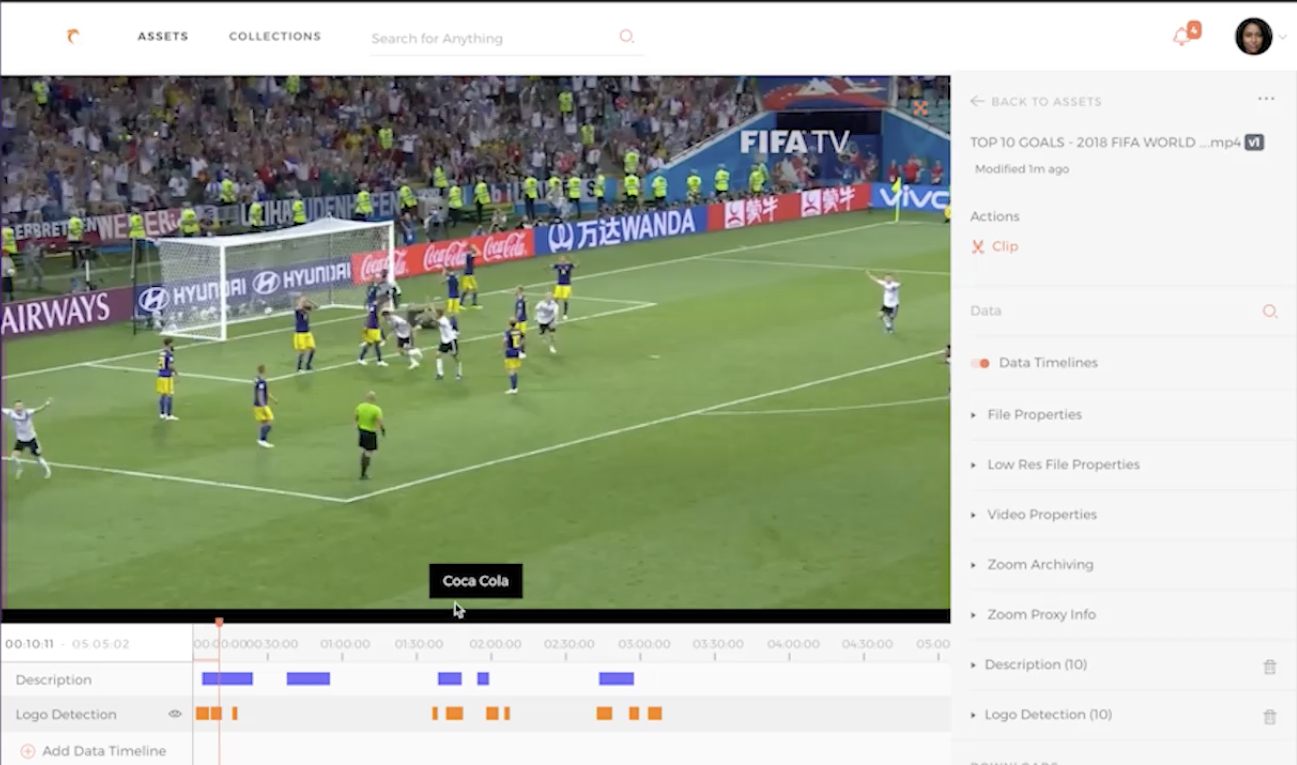 Digital asset management platforms benefit organizations with their automation capabilities, especially for asset creation and distribution workflows. A competent DAM system leverages AI and other automation technologies to reduce the number of manual interventions in the content creation process.
For example, Evolphin Zoom DAM's AI-enabled video editing capabilities allow users to speed up video creation and get finished videos to market faster. With all digital assets indexed by the DAM system, video editors can create rough cuts in seconds rather than hours.
Inter Milan FC used this capability to cut down its video editing workflow for archived content from months to hours. Before Evolphin Zoom DAM, creating a short reel featuring Mario Corso (an Italian player active in the 1960s) would have involved:
Asset managers locating LTO tapes containing Mario Corso based on best guesses
Scrubbing through hours of footage to locate Mario's presence,
Noting start and end times
Sending files to editors with notes
Having editors scrub through the content again to extract the required footage.
With Evolphin Zoom DAM, the process changed to:
Searching for Mario Corso
Clicking on "Create Sequence"
Adding a video template or background music
Generating rough cuts from existing videos automatically is efficient and saves organizations time and money on production costs while still providing high-quality outcomes.
Additionally, DAM platforms integrate with third-party video editing services like Avid Media Composer, Apple Final Cut Pro, and DaVinci Resolve, so teams don't need to change the editing software they want to work with.
With digital asset management platforms, teams can quickly create and publish compelling content that helps them stand out in a crowded marketplace.
7. Secures valuable assets with access control features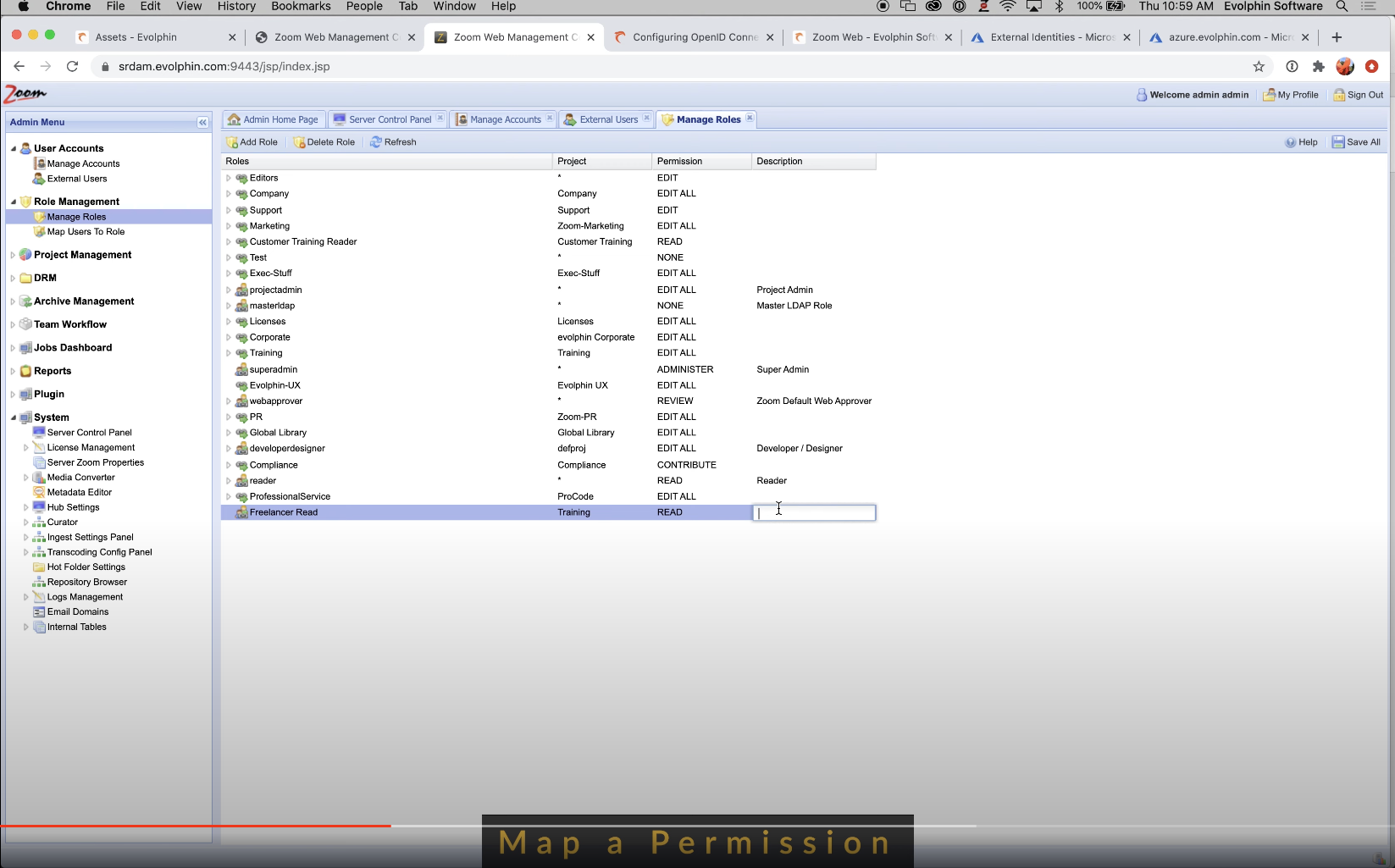 With many organizational assets – files, documents, finished and unfinished brand content going digital, DAM systems offer a means to manage sensitive digital assets securely. Role-based access control is a feature that organizations can use to define access and permissions ensuring that users have access to only the files they need.
This helps ensure that only those with the correct permission levels can view or modify specific files or documents.
With a role hierarchy, organizations can secure content at scale for increased security and greater effectiveness. 
8. Offers insight into asset usage
Digital asset management platforms can provide valuable insights into how assets are being used. DAM usage analytics help businesses track their assets' performance and measure their workflow's effectiveness. This data helps drive data-driven decision-making with better insight into allocating resources and optimizing digital asset usage. 
Additionally, analytics help to identify asset usage trends and drive a better understanding of customer preferences.
For example, if analytics show that certain asset types have never been used, this might indicate low customer demand for these asset classes.  By leveraging these insights, businesses can ensure that their digital assets are used in the most effective way possible.
9. Consolidates redundant tools and automates repetitive tasks
Thanks to technological advances like AI, DAM solutions are fast evolving to handle the heavy lifting involved in content production workflows.
For example, AI-driven integrations help teams save time by automating manual, tedious tasks such as searching for assets (including archived assets), generating and tagging files with metadata, media orchestration, managing permissions, video editing, and more. 
Where each of these tasks may have been historically executed by various specialized software, modern DAM systems are multi-faceted enough to perform several of these tasks to some degree. But that's not all.
Next-generation DAM solutions like Evolphin Zoom can perform and orchestrate these tasks sequentially with a high degree of specialization.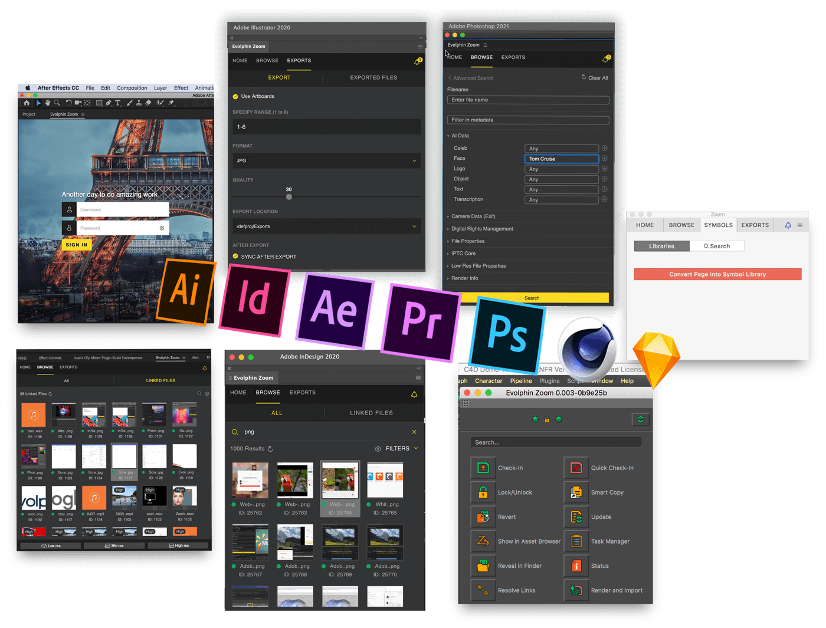 Evolphin Zoom DAM is designed to manage, monitor and automate the media production workflow with limited human intervention.
For example, using interconnected orchestration widgets, users with limited technical expertise can execute chains of media production tasks – bulk ingest, transcoding, etc from one simple interface.
This eliminates the need for multiple tools or services to manage digital assets, which helps reduce costs while improving efficiency.
10. Future-proofs your business
As a business grows and evolves, a system that can scale with operations is important. Many businesses implement systems and software that serve immediate needs without consideration for future needs. 
While DAM platforms offer businesses an initial means to scale their operations, the extent to which a platform can scale depends on its strength and capabilities.
A robust DAM system should easily accommodate more users, more functionality, and larger data sets without compromising performance or reliability.
While all businesses can immediately benefit from a DAM platform's ability to systemize content production, not all find their scaling needs fully met by their chosen DAM platform.
For example, a company might implement a DAM solution that performs optimally for producing 100 graphics per month. But customer preferences could change, with demand shifting towards 100 videos per month in addition to the existing graphic production workflow.
This growth phase ushers in the need for a DAM tool that optimizes cloud storage costs out-of-the-box, motion graphics support, and more. The company might find that this new demand pushes the limits of its existing DAM solution, putting it back on the market for a more robust platform and, yet again, another migration exercise.  
Scalability should be designed into a system. It cannot be added as an afterthought. For this reason, it is critical to adopt a DAM system designed to scale up or down depending on the needs of the business.
As demand for content grows, the DAM system should be able to handle large volumes of data while providing fast access times for users. Additionally, it should have features such as automated backup and recovery capabilities so that in the event of a failure, users can recover data quickly with minimum downtime.
11. Version control simplifies the management of various asset versions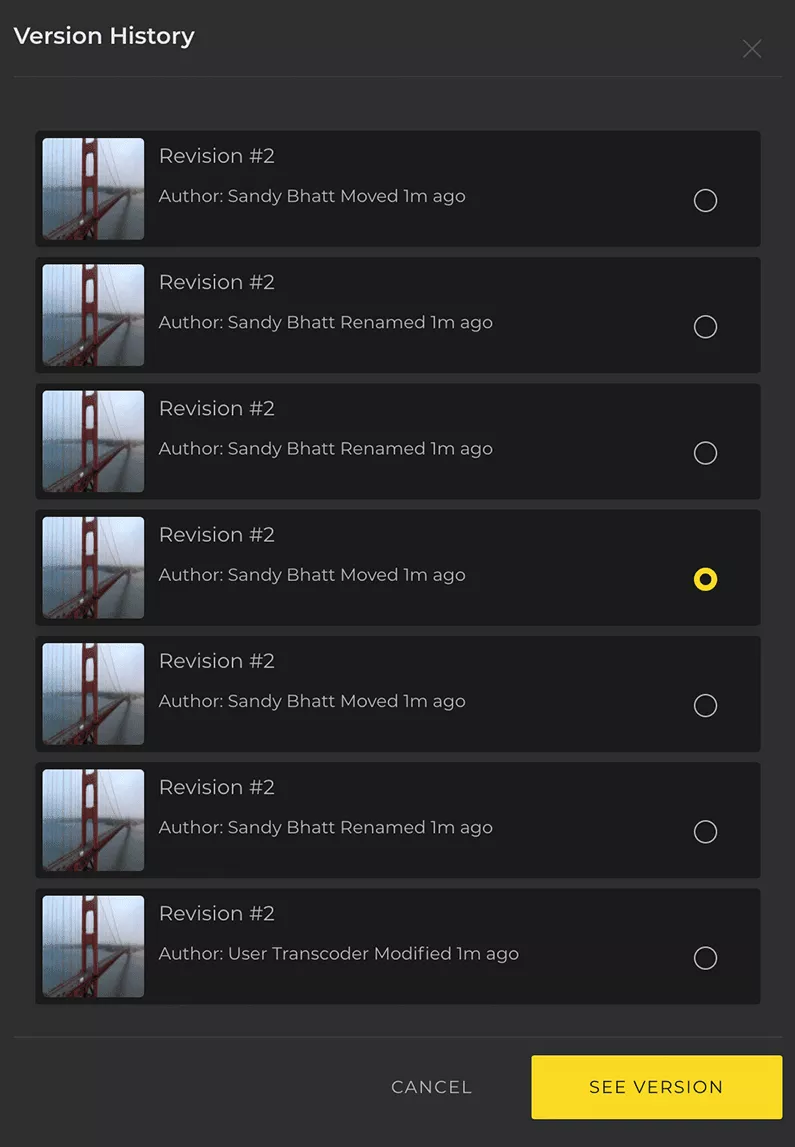 Managing multiple file versions can be frustrating when collaborating on projects with different moving parts – especially when trying to track lost revisions.
Next-generation DAM software prevents this with built-in version control that enables users to manage and track every version of each file used in a media project. For example, Evolphin Zoom DAM automatically alerts collaborators of impending file conflicts, providing the option to intervene and prevent potentially debilitating conflicts.
In addition to this intelligent conflict detection feature, Zoom MAM's version control also tracks file changes by collaborator, including file moves and renames, while saving changes as storage-optimizing smart copies. 
Evolphin Zoom offers the most comprehensive benefits of any digital asset management tool
Apart from offering insight into your best-performing media assets, a DAM system equips you with the tools you need to ride on previous successes and repurpose high-performing content for new use cases.
Storing all your digital assets in a central, easily accessible repository enables a modular creation workflow that you can harness to repurpose great content by simply swapping out easily accessible elements using AI-powered search to find assets quickly and version control to collaborate. 
With secure, scalable, and robust asset management capabilities, Evolphin Zoom offers your organization the most benefits of any digital asset management solution.
Evolphin Zoom goes further than competing solutions to offer industrial strength capabilities like deduplication, single-tenant deployment, a web-based collaboration app, and more. 
In addition to this, adopting Evolphin Zoom is seamless, with technical setup, consultations, and ongoing technical support added to your package.
Want to try out the future-proof solution to your digital asset management needs? Contact us today.