It's easy to underestimate how much work goes into producing visually appealing educational content like KQED's award-winning series,
Above The Noise
. What's crazier is the idea that only a few years ago,  productions like these would have taken weeks to edit,  with all team members – colorists, sound, editors, etc., all collaborating under one roof.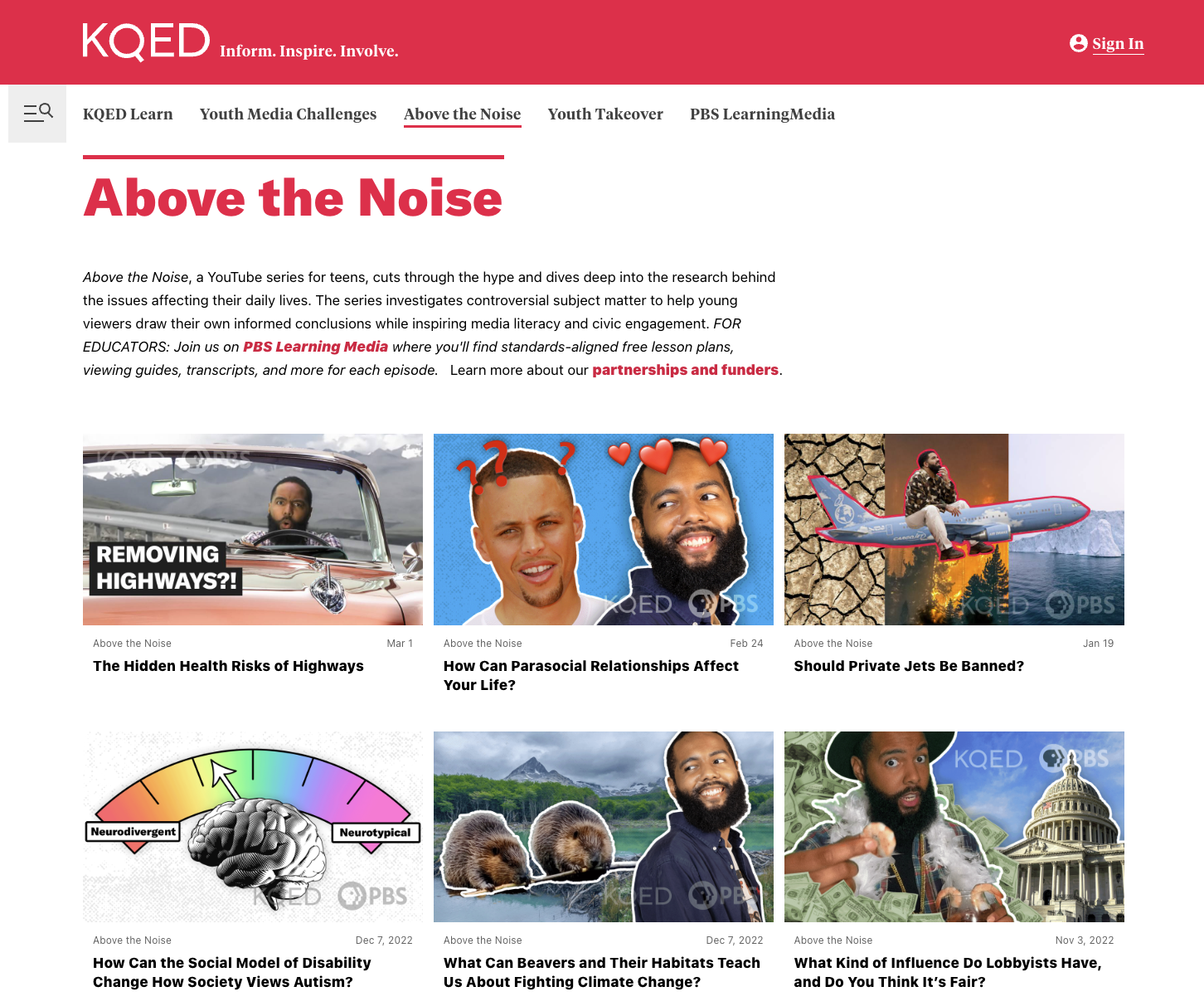 With the pandemic forcing organizations to innovate or die, KQED had to find new ways of collaborating remotely on post-production. Remote post-production collaboration is challenging for various reasons. 
First, managing high-resolution video files shot by professional cameras is a task that demands computers with high processing power and fast data transfer speeds. Then there's the need for clear, visually-led communication when collaborating on audiovisual material. A work environment with limited face-to-face interactions presents new challenges in communicating illustratively with other collaborators. This mix of sub-optimal communication, poor data transfer capabilities for large files, and limited computing power for editing hi-res files throttles the entire remote video production workflow. 
Fortunately, KQED found a solution in its media asset management platform – proxy video editing. Proxy files enable multiple editors to collaborate on large files, eliminating the need to shell out on expensive hardware.
The rest of this article will discuss the practice of editing video proxy files and how like KQED, you can use this technique to optimize your remote video production workflow.
What is a proxy in video editing?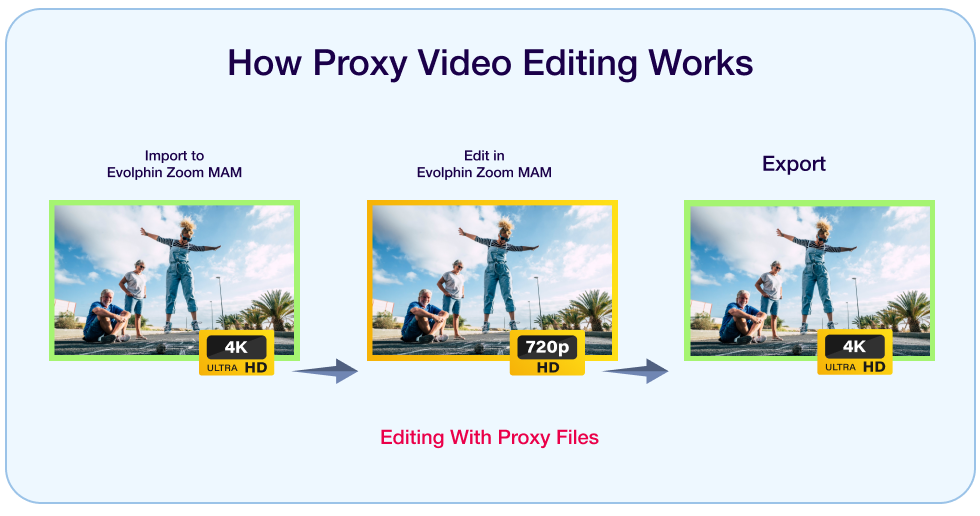 Proxy videos are lower-resolution copies of high-resolution raw files that make the video editing process more manageable. Technically, proxy files are "placeholder" video files with the same file dimensions but more compressed frames. For a more in-depth  explanation, let's delve into how you can optimize your video editing workflow using proxy videos.
Imagine working on a tight deadline with several terabytes of raw files that need extensive editing. While editing three or four of these files simultaneously, your work computer starts to lag. Then grinds to a halt. Then it crashes.
None of your edits are saved, so it's back to square one. 
Video proxies help you avoid situations like these since their lower resolution makes for more efficient editing that doesn't take a toll on your computing resources (or patience).
And media asset management (MAM) systems like Evolphin Zoom MAM make it easy to easily create proxies for integration into video editing software like Adobe Premiere Pro.
Should I use proxies for video editing?
The short answer is
yes
. Editing with proxies has several advantages, and some of these include:
reducing video render times
increasing video preview load speed
reducing editing times
creating a smoother editing workflow
less processing power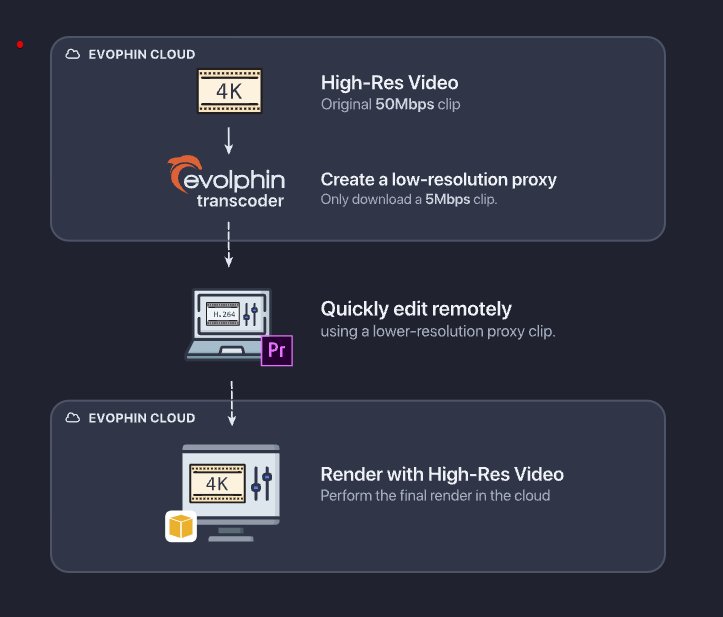 Proxy video editing in the post-production workflow
Creating video proxies is a process that starts at the beginning of post-production. 
For instance, KQED's team ingests footage into the cloud from any location using Evolphin Zoom MAM. Once ingested, its editors can easily use Zoom MAM's transcode tool to create a proxy for remote editing without fanfare or changing the camera setup. 
After editing, the proxies are then exchanged for the originals, with both copies backed up to the cloud. 
How to turn a 4k video into proxy for editing
There are at least three ways to create proxies from high-res 4k (and even 8k) videos.
Record the video proxy using your camera.
Using a compatible camera, you can enable proxy recording to create proxy files while recording high-resolution native footage. This saves you the time and effort of manually creating proxies after shooting – especially if you don't have a robust MAM system. If your editing software  supports a proxy workflow, you will need to manually attach your proxy files to your project for editing. If your setup does not support a proxy workflow, use the proxy files for editing and manually swap with the source files before exporting.
Create a video proxy manually.
This is probably the most time-consuming option of all three, but a suitable last resort nonetheless. Here, you'll need to organize and convert your files
make copies of your originals, separate them into folders, and use identical file names in each folder (highlighting proxies with a "proxy" marker).
next, you will need to convert the files in your "proxy" folder into smaller "proxy versions" and save them.
then, clearly mark your folders to differentiate proxies from originals.
finally, export for editing.
Use Evolphin Zoom MAM
If your camera isn't enabled for proxy recording, you can save time by using Evolphin Zoom MAM to create proxy files that video editors can simultaneously access as long as they have an internet connection. Apart from managing your source footage, Evolphin Zoom MAM offers you several flexible means to create proxy files depending on what method best suits your editing process.
If you prefer your editing suite, you can create proxies using the media encoder feature on Adobe Premiere Pro or Quicktime before exporting to Evolphin Zoom MAM for collaborative editing.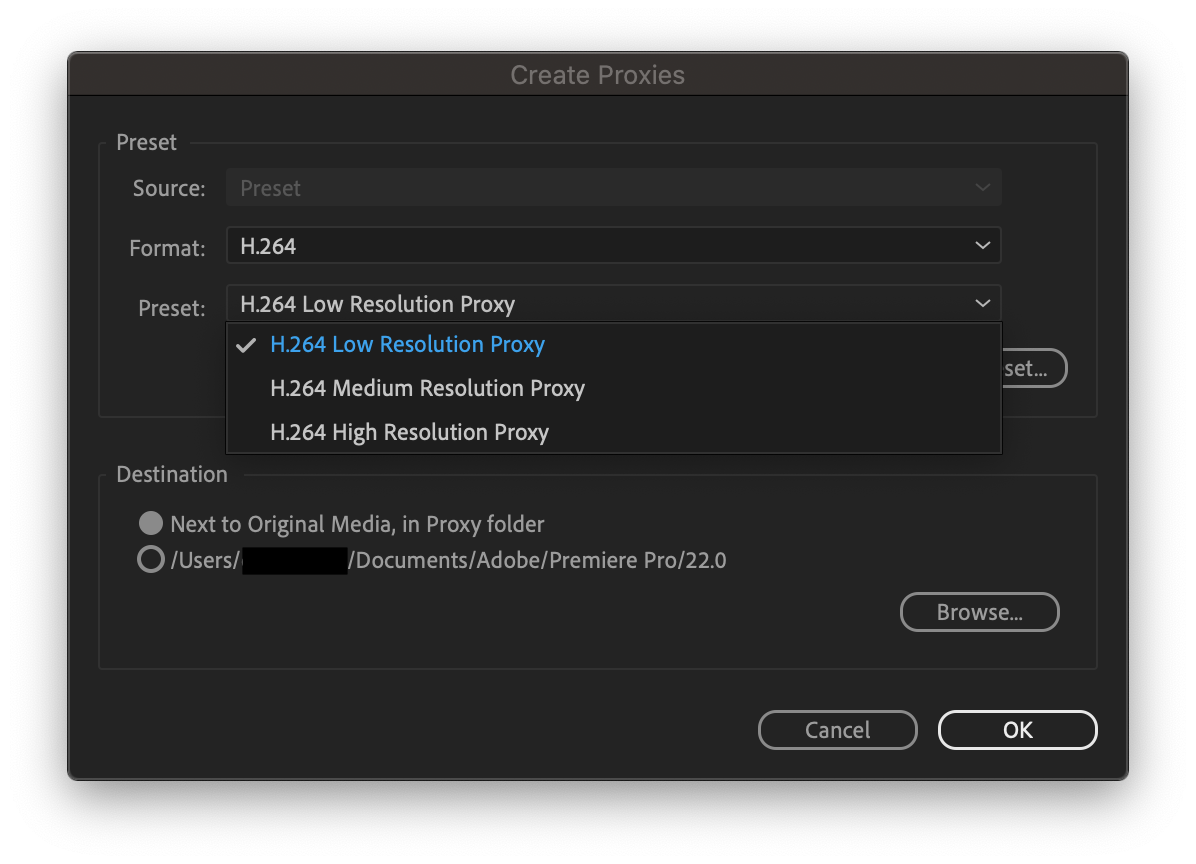 Alternatively, using the Evolphin transcoder, you can set rules to automatically create proxy files for every video ingested into your system, so you never have to worry about manually creating proxy files again. You can also create unique media conversion "recipes" to customize and automate your proxy creation process, especially for cameras and codecs incompatible with standard transcoders.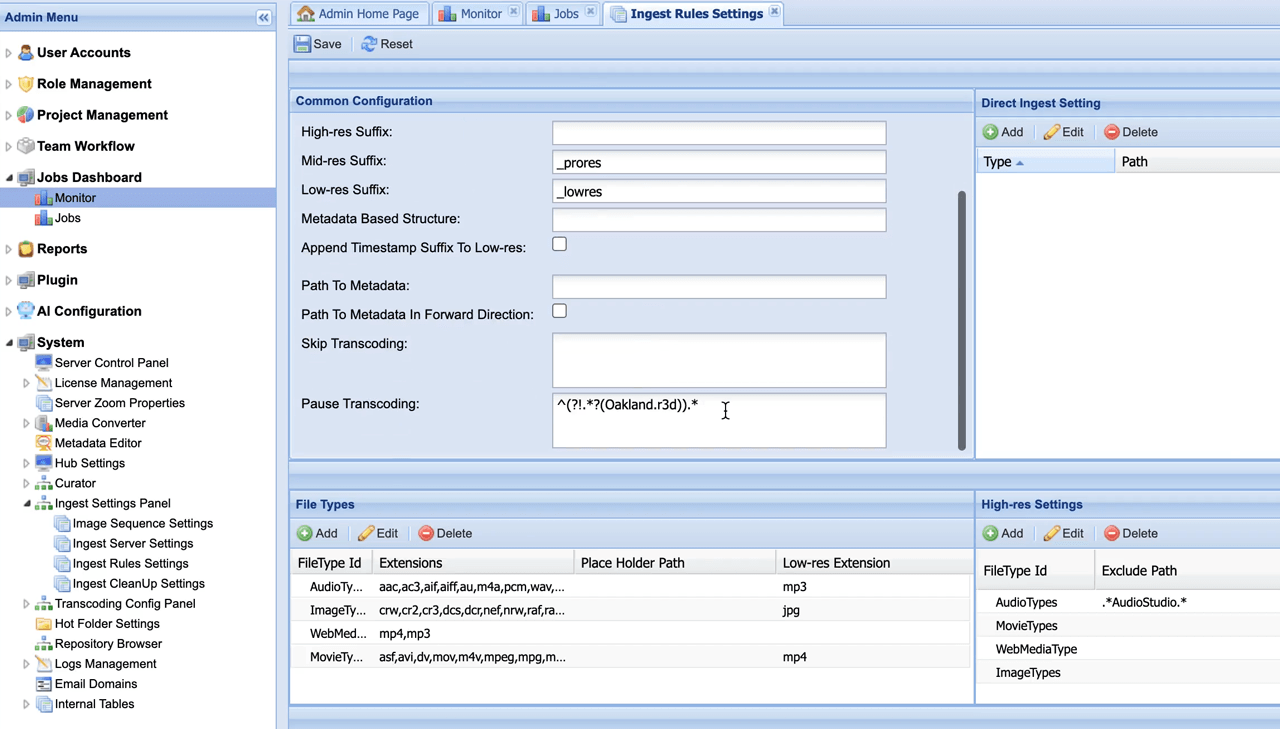 Evolphin Zoom MAM offers built-in proxy management support that saves editors time with a toggle proxy button for switching between proxies.
When using proxies in Premiere Pro, does exporting the video go back to full quality?
Yes. Evolphin Zoom MAM integrates seamlessly with Premiere Pro and has built-in proxy management support. After low-bandwidth edits are completed and approved, the proxies are replaced with their higher-resolution derivatives before final exports.  In-built proxy management support empowers editors to switch the proxy resolutions by dragging and dropping directly into integrated video edit sequences.
Benefits of using video proxies
When editing a video file in 4K, playing back files without a proxy can cause lag. Proxy video editing eliminates lag and increases workflow efficiency with:
Improved performance: As smaller versions of original files, proxies constitute less of a burden on compute resources and editing apps, enabling a lag-free workflow that runs smoothly.  
Reduced rendering times: Low-resolution proxies speed up the editing process by reducing the time taken to render previews.
Extra hard drive space: Smaller sizes mean significantly less space taken up on your computer's hard drive compared to their raw counterparts.
For every pro, there's a con. While video proxies are extremely useful for the video editor, they also come with a few caveats worth considering.
Disadvantages of using proxies
Proxies often require extra set-up time in post-production: Without built-in proxy management support, a video editor would need significant extra time to manually set up a proxy file. 
Proxies only offer low-resolution previews: Low-resolution proxies, unsurprisingly, generate low-resolution previews. But this isn't entirely negative since you can always revert your video files to their original quality once the editing process is complete.
While these are annoying, editing teams like KQEDs find that the pros often outweigh the cons. However, it is important to note that proxy video editing may not be suitable for all project types. 
Should I be creating proxies for my project?
Now you know what a video proxy is and how it can benefit your post-production workflow, how can you tell if you should be creating proxies for your project? 
Ultimately, the decision has to be driven by the nature of your project. If your video editor needs to visualize intricate details during editing, then proxy videos aren't for you. If, on the other hand, your project features less detail and more graphic effects, editing with proxies might be your saving grace. 
For instance, KQED used video proxy editing for projects like the richly annotated Above The Noise) but not for the intricately detailed Deep Science program that needed a focus on seeing finer details (like grasshopper's legs crisscrossing, for example).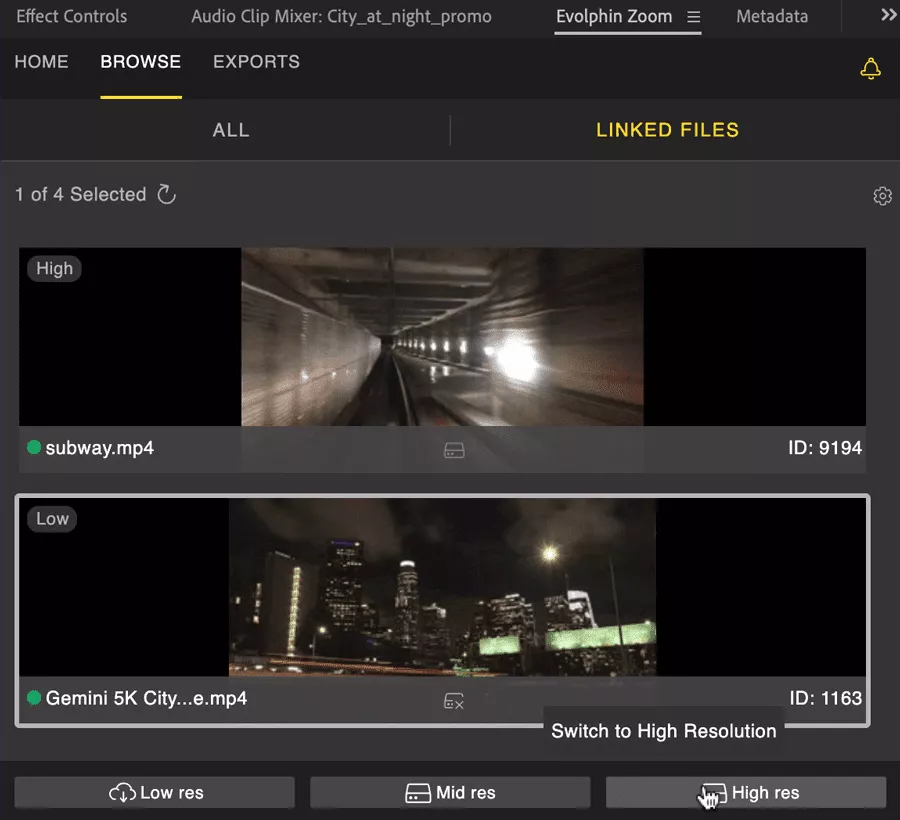 Are video proxies right for your team?
Proxies are an excellent solution for remotely-distributed teams that get work done on computers with limited resources to deal with terabytes' worth of source files.
That's the quick answer. A more in-depth answer to this question is that it depends on your unique situation and current challenges. You will need to evaluate your team's unique challenges to ascertain whether proxy video editing can address your team's issues. Some difficulties that proxy editing can address include:
Limited infrastructure: Proxies can help you make the most out of the tools you already have. For remote teams collaborating on large projects, difficulties with simultaneous access to original source footage can be addressed with proxies. 
Low-performance editing PCs: If you're stuck with low-performance hardware, editing raw footage — especially when you need to add visual effects — can be a headache. Proxy media can help you edit within the remits of your computing capacity.
Remotely distributed post-production teams: Cross-sharing source files can prove difficult as more teams opt to work remotely. Proxies can help multi-site teams effortlessly share files anywhere in the world.
Protect source footage: The more editors you have working on a project, the higher the risk of making irreversible mistakes. And that's a risk you simply can't take on precious source footage.
How Evolphin Zoom MAM makes using video proxies easier
Evolphin Zoom MAM is a powerful, hybrid media asset management platform that empowers editors to collaborate on video production projects from anywhere on Earth. 
Architectured for remote collaboration and big video workflows, Evolphin Zoom MAM eliminates the inefficiencies associated with file disorganization, poor time management, poor file version control, and security concerns. The platform facilitates effortless collaboration between users across geographical borders. 
Beyond making collaboration easier, Evolphin's transcoder saves customers time and cloud storage costs by enabling users to transcode 4K footage (RED files) natively in the cloud.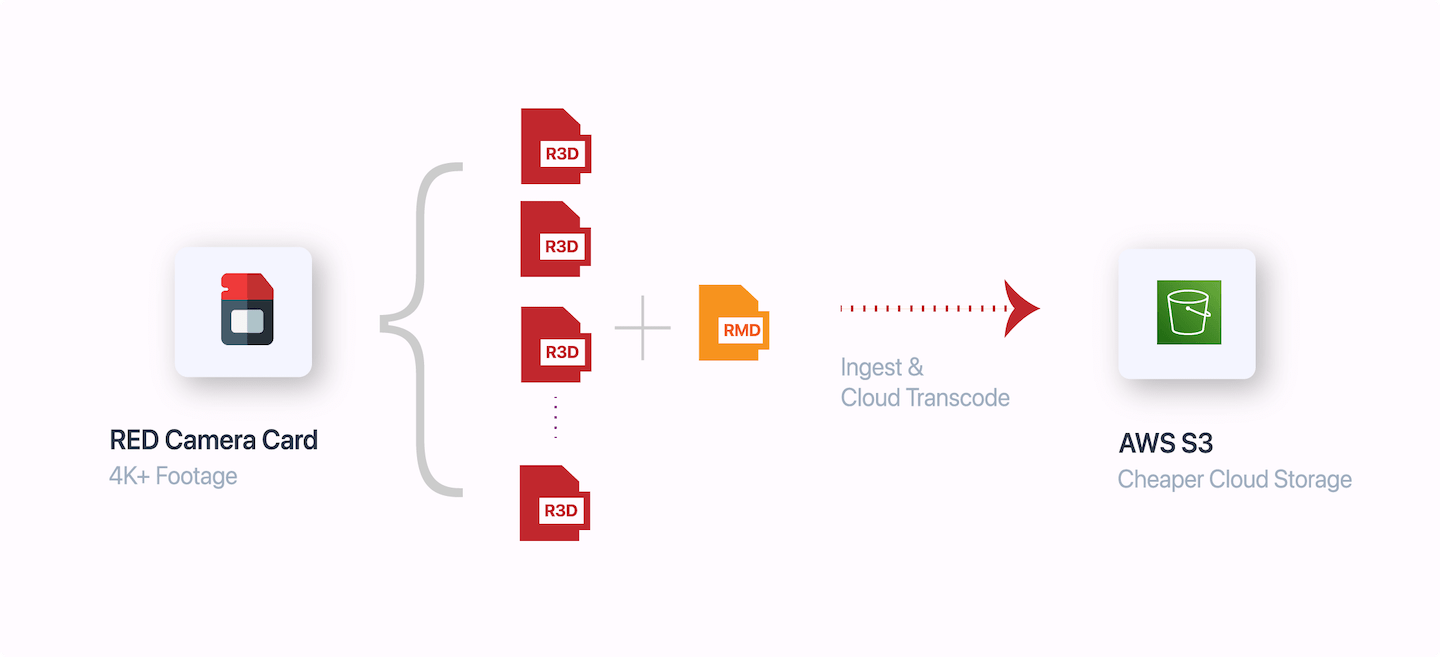 And Evolphin Zoom's extensive integrations for Adobe Premiere, DaVinci, and other editing tools simplify the process of transferring proxies across programs and workflows without lag or wasting time on manual setups.
Even better is the additional layer of collaborative enhancements that Zoom MAM offers for work-in-progress workflows. Data timelines allow users to tag clips with specific instructions for editors to reduce the time spent in lengthy unproductive vague exchanges seeking clarity. 
In addition, Zoom MAM's high availability and disaster recovery feature provides an extra layer of file security for both on-premises and cloud-based content. 
If you're looking to optimize your video editing workflow with proxy video editing capabilities, Evolphin Zoom MAM is the best tool for achieving multi-dimensional results in your teams' operational efficiency.