Picture this: You're a video operations manager who needs to create a series of short highlight reels for a client's 30th anniversary. Thankfully, your recently adopted swanky new media asset management system promises to make life much easier for you and your team. It's time to watch it perform its magic.
Except there's no magic to witness because your team has no idea how to use the system! Duplicate files still frustrate your team's editing efforts, sensitive data is everywhere and is accessible to team members who have no business accessing it.
A situation like this is worse than being back to square one. The client is on your neck – only this time, you have the technology you need to get the job done, but you just can't get out of your own way.
What's the next step?
Operational Best Practices Extract Value From Your MAM Investment
Adopting a MAM (or DAM) system is only the first (albeit major) step towards unlocking the value hidden in your digital assets. However, it's not a magic pill. After implementing new media/digital asset management software, you still need to follow best practices – guidelines and systems that offer the most efficient route to realizing your MAM investment goals. Make no mistake, a MAM (or DAM) deployment is a complete change management exercise and must be treated as such in every respect.
At this point, it is worth revisiting your reasons for implementing a MAM system in the first place. 
Why Invest in a MAM System?
You probably championed investing in a media/digital asset management system to reap multi-faceted benefits of digital transformation in your media management efforts.  
Benefits like optimizing the use of your team's time and eliminating wasted hours searching for multimedia files in siloed storage systems. 
Or perhaps your team wanted to reap the benefits of a MAM system that simplified storing, processing, retrieving, sharing, and archiving rich multimedia assets in one secure location. You recognized the need for industry-strength version control. Added to this are the prospects of eliminating 'search fatigue' and boosting operational efficiency, reducing unproductivity, minimizing the number of lost assets, and guaranteeing file security and access.
With these indisputable benefits reaffirming the potential viability of your investment, how do you ensure that your media operations harness your MAM system to deliver the benefits you signed up for and how do you bring your team along for the ride?
The rest of this article will highlight the top 8 operational best practices for maximizing the ROI of your investment in a MAM system. 
Let's begin.
8 Media Asset Management Best Practices
Assign Roles and Permissions
Data breaches can lead to file misuse, piracy, and even lost income through negative PR. The Role-Based Access Control (RBAC) feature on your MAM system limits user access and sets permissions based on organizational roles.
To get this part right, a designated RBAC team or provider must facilitate proper role engineering — designing a role hierarchy to protect corporate data through effective access management. In other words, the established RBAC team must give each user relevant access that aligns with their organizational roles and levels of expertise. Have you heard the term 'least privileged access'?
One step further from this, location-based access and mobile device management enable administrators to regulate file access by personal devices.
Assign a MAM manager
As an organization's multimedia library grows, it demands the service of a designated MAM manager to act as a librarian and curator who properly acquires, catalogs, manages, and protects digital assets. This role must be filled by someone with various technical, analytical, and personal skills, with the task of ensuring:
User training and adoption
Consistent branding
Water-tight digital security practices
Uniform content usage
Accurate data/report interpretation
Compliance with licenses and copyrights
Accurate, descriptive, and consistent file naming, and
Proper metadata tagging
With the right MAM manager, your MAM system's value can increase exponentially saving your organization time and money.
Digital Rights Management
A MAM system with built-in digital rights management can save your business time and energy. You won't need to hire someone to track licenses and digital rights manually.
Proper digital right management also ensures that specific rules regarding the use and distribution of assets are followed and that the owners of those assets (photographers, musicians, or camera ops) are paid accordingly. The best MAM systems will also notify you of digital rights expirations, allowing you to take timely action to avoid workflow interruptions.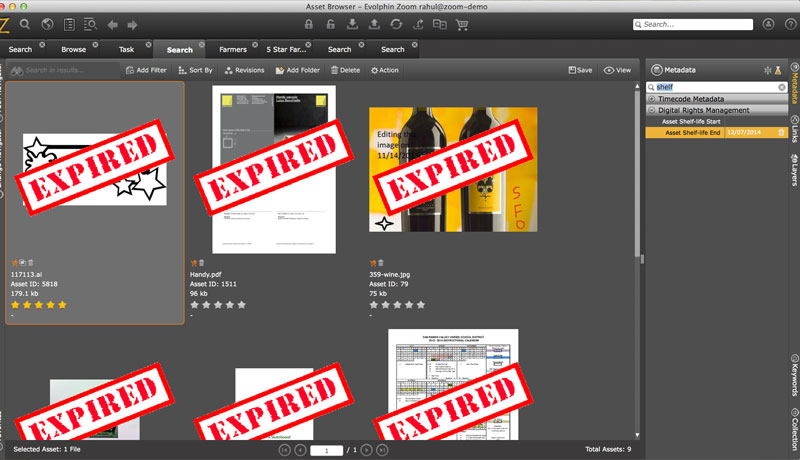 Leverage AI to Increase Efficiency and Reduce Human Error
Leveraging AI in media asset management offers a unique opportunity to save time, increase efficiency and reduce errors that often stall operations. AI replaces tedious repetitive tasks, significantly shortening the time-to-market of finished digital assets. For example, an AI-powered search engine allows you to quickly locate specific assets without having to manually comb through thousands of unrelated items. 
AI can also provide meaningful insights about your data that may have been otherwise overlooked when using human-dependent manual methods (for example, media types most popular among your customers). With better organization and more efficient use of data, AI better equips you to integrate data-led insights directly into the asset creation process. 
Mistakes like incorrect tagging are inevitable when tagging thousands of assets (even with AI), with significant consequences for search and retrieval. To counter these, robust MAMs like Evolphin Zoom MAM offer AI-assisted tagging, which complements human efforts to make media assets discoverable without investing thousands of hours in human labor costs before seeing results. 
Evolphin Zoom MAM also offers an AI-powered video editing solution that quickly identifies objects, logos, sentiments, scenes, etc, for near-instant rough cuts. 
For example, you could set a filter for "all goals scored by Player A" to quickly create a sequence for seamless export to video editing programs like Apple Final Cut Pro X or Adobe Premiere. Or you could filter "all video scenes containing Celebrity B" and send it to the sponsor's advertising department.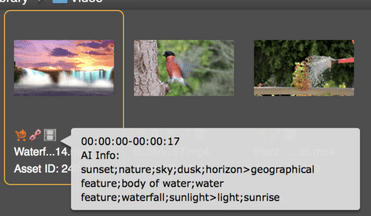 Limit Access
Beyond assigning roles and permissions to specific files, it is important to be able to completely limit access to assets when required – without deleting the files in question.
For example, when copyrights on protected files expire, your MAM system should enable you to limit access to the affected files. This feature keeps your organization out of legal trouble, supports compliance, and preserves the smooth running of your content creation workflow.
Create Standards for Metadata
Metadata holds the power to make or break your asset management system. Research shows that a standardized approach to metadata delivers direct benefits to teams – provided that users commit to taking advantage of them.
The correct tag allows users to access the required files within the shortest possible time and allows for the efficient reuse of knowledge and specifications. To ease the process of metadata standardization, Evolphin Zoom MAM offers a range of commonly used out-of-the-box metadata and custom metadata fields to suit your organization's unique discoverability needs.
Implement Regular Content Audits
Errors are not completely avoidable, even with a robust media management system with AI or automation capabilities. For example, duplicate files might slip through the net, causing confusion among video editors. A robust media asset management system like Evolphin Zoom MAM enables you to conduct content audits periodically, allowing you to identify unlabeled files, remove duplicate files and unnecessary files, correct metadata errors, solve naming issues, and so on.
These improve the overall quality and accessibility of your media asset repository and reduce the time dedicated to solving content-related problems in your team.
Leverage  Analytics
Your MAM system should enable you to access critical analytics data like a number of active users, most popular user roles, most frequently accessed data, etc. Keeping track of your content is important for commercial, compliance, and security purposes. This information provides an overview of how your asset management system performs and what is happening to the content, so you can quickly identify and fix gaps in your MAM system adoption and usability plans. Asset management systems like Evolphin Zoom MAM provide a plethora of analytics data that users can leverage to improve usability.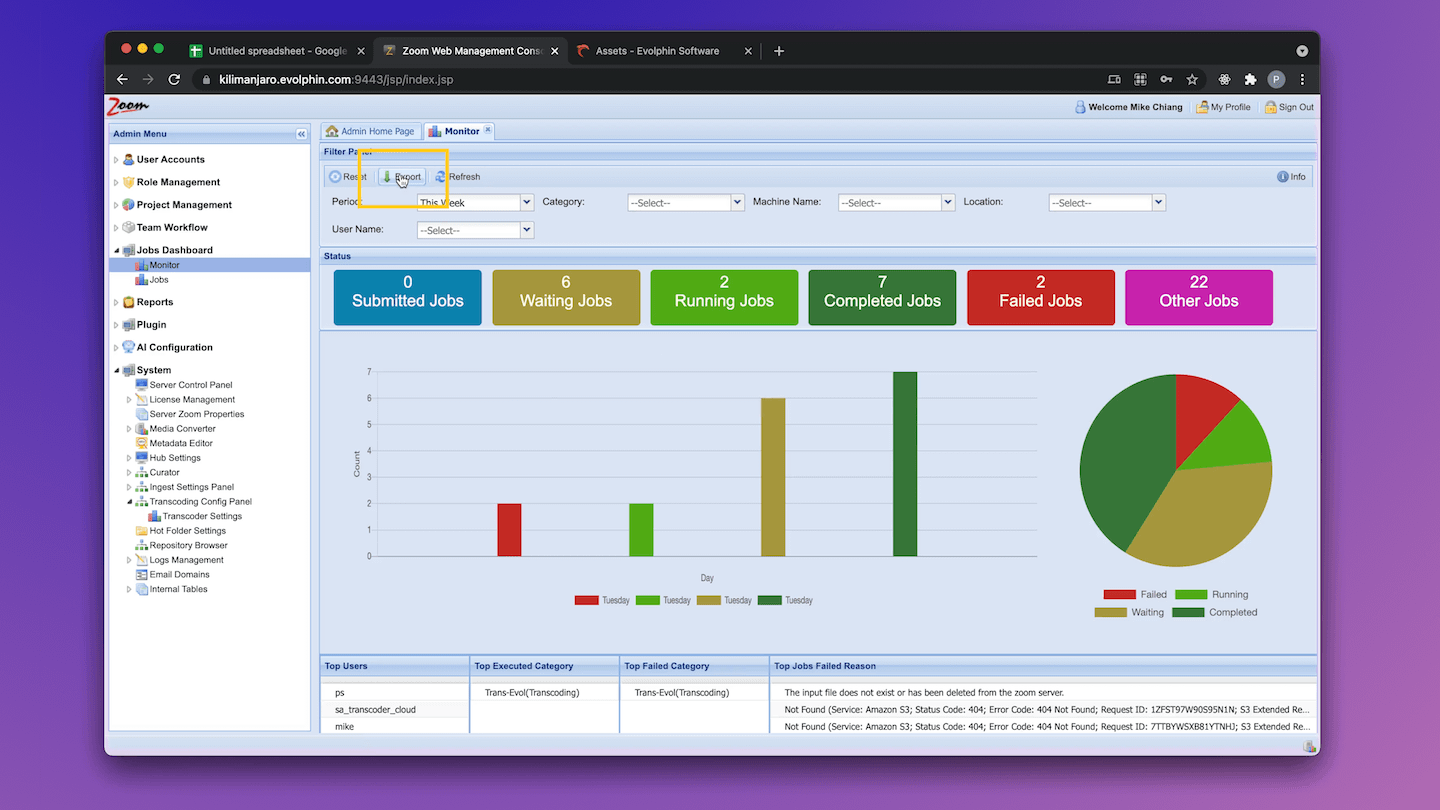 Evolphin Zoom Makes Implementing Best Practices a Breeze
Evolphin Zoom MAM offers in-built features that make it as easy as possible to adhere to operational MAM best practices. 
Automatic digital rights management with no additional resources required
Access control features to increase asset security and reduce the likelihood of expensive data breaches
AI capabilities to leverage technology to speed up laborious tasks
Decreased audit load with front-end deduplication system that automatically reduces the number of duplicate files. 
Smart link management which decreases audit content load by eliminating offline links and fixing broken links. 
Secure server architecture to protect on-premise content
Combined with the unified endpoint management capabilities of the RBAC system, Evolphin Zoom's features make implementing operational best practices easy by design. Apart from realizing the benefits of your MAM investment to its fullest potential, Zoom also offers the technical setup, advice, and consultations, all as part of its implementation package so that you're not left to figure things out on your own.