As a creator working with Adobe Creative Cloud, you need to be able to realize your vision in as few steps as possible. It's with this idea in mind that we improved upon our groundbreaking Adobe application support with the release of  Zoom 7.0 and updates to all plugins for all of the Adobe CC apps.
The Zoom 7.0 plugins for the Adobe suite refine what our users know and love, with sync and search more tailored to each specific Adobe CC application. Adding assets to your project from the Zoom MAM only takes a few clicks to find and insert. Comments are pushed live to your application, so you can view, reply, and take action without ever having to leave your Adobe app.
All new export settings are specifically tailored to each application. Choose presets upon export that are designed for each format of each application.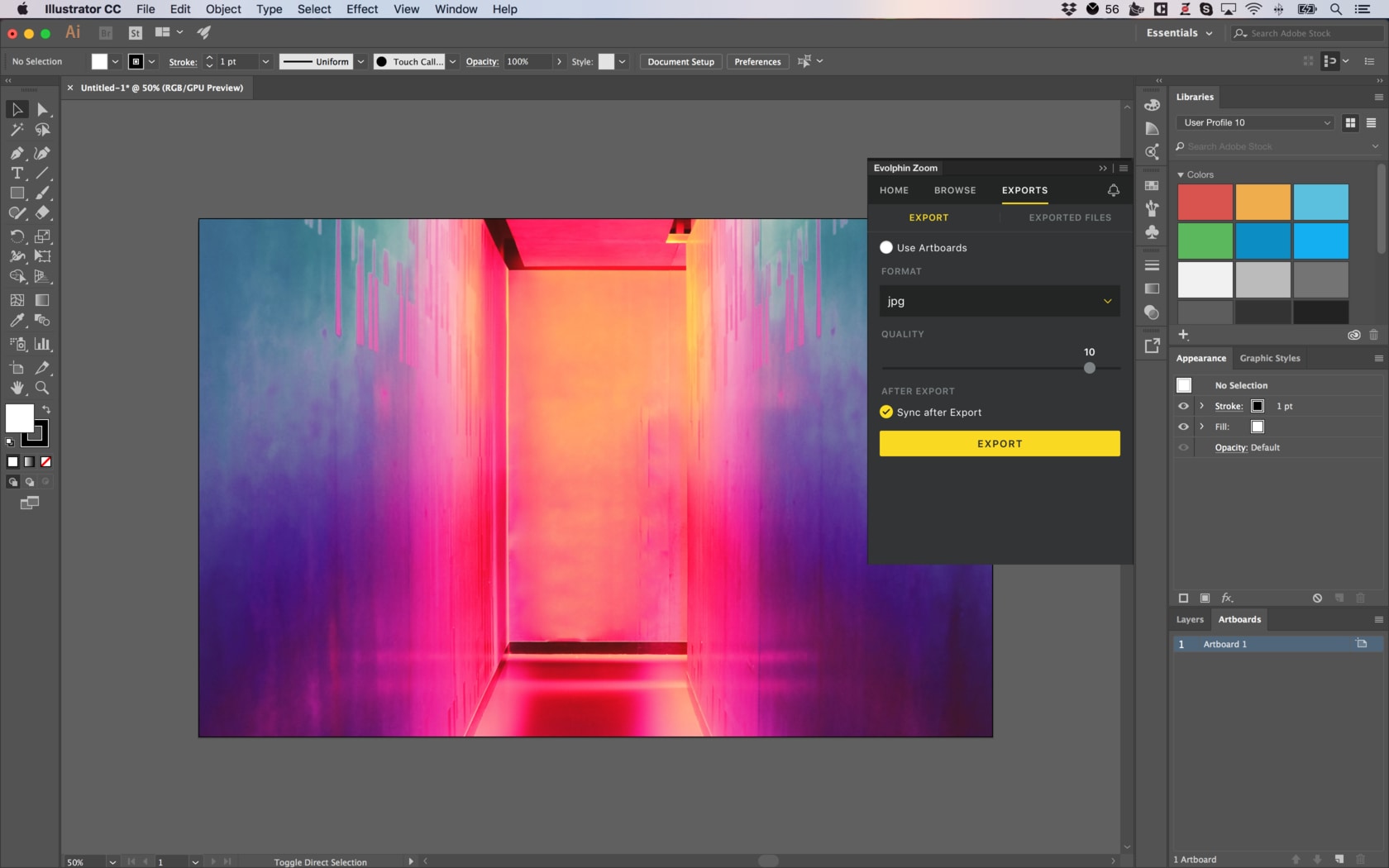 Illustrator: Choose from a variety of presets on which format to export. A variety of settings will come up tailored to the format you choose.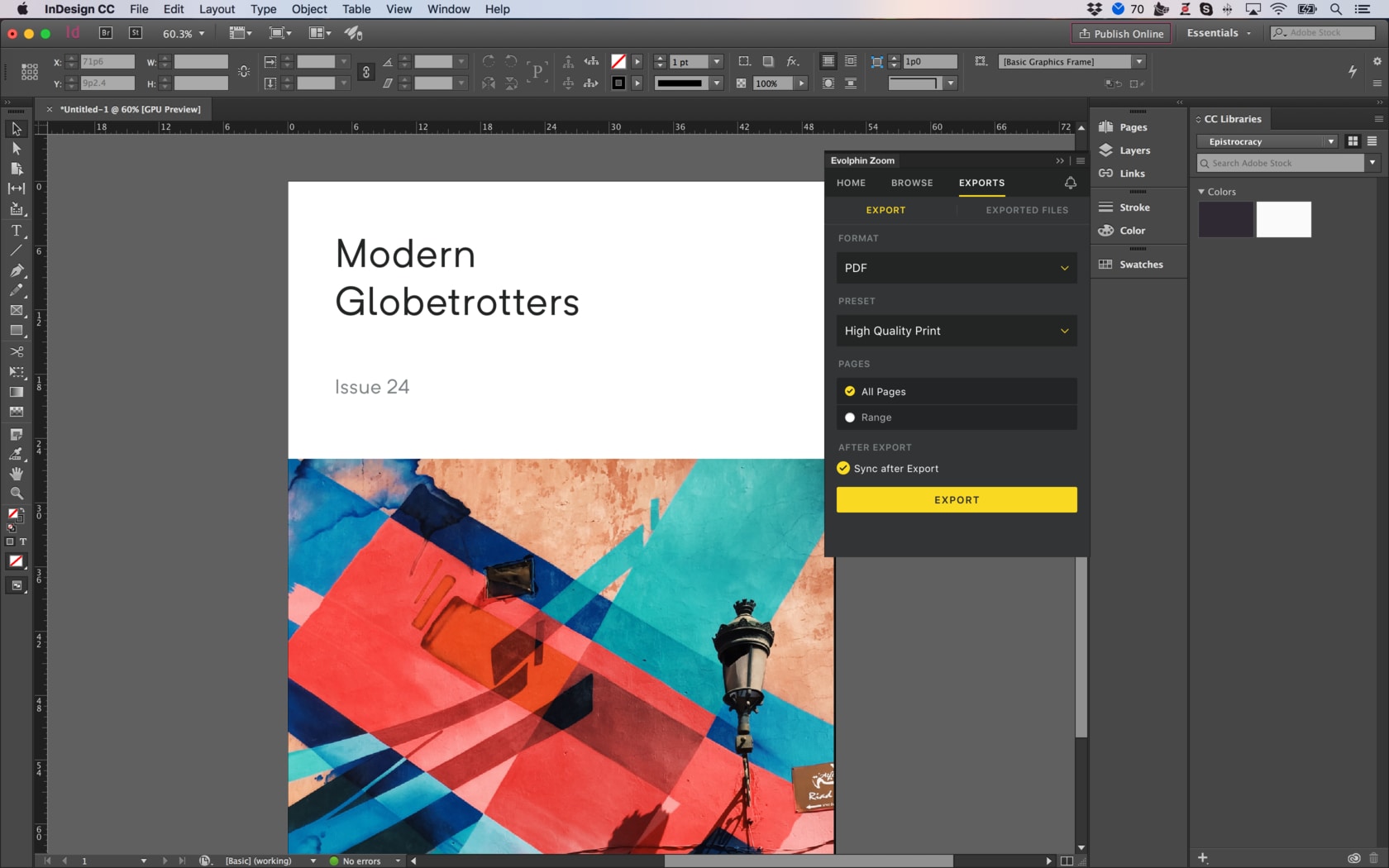 InDesign: Choose multi-page exporting and loading, and specify output from a variety of PDF presets.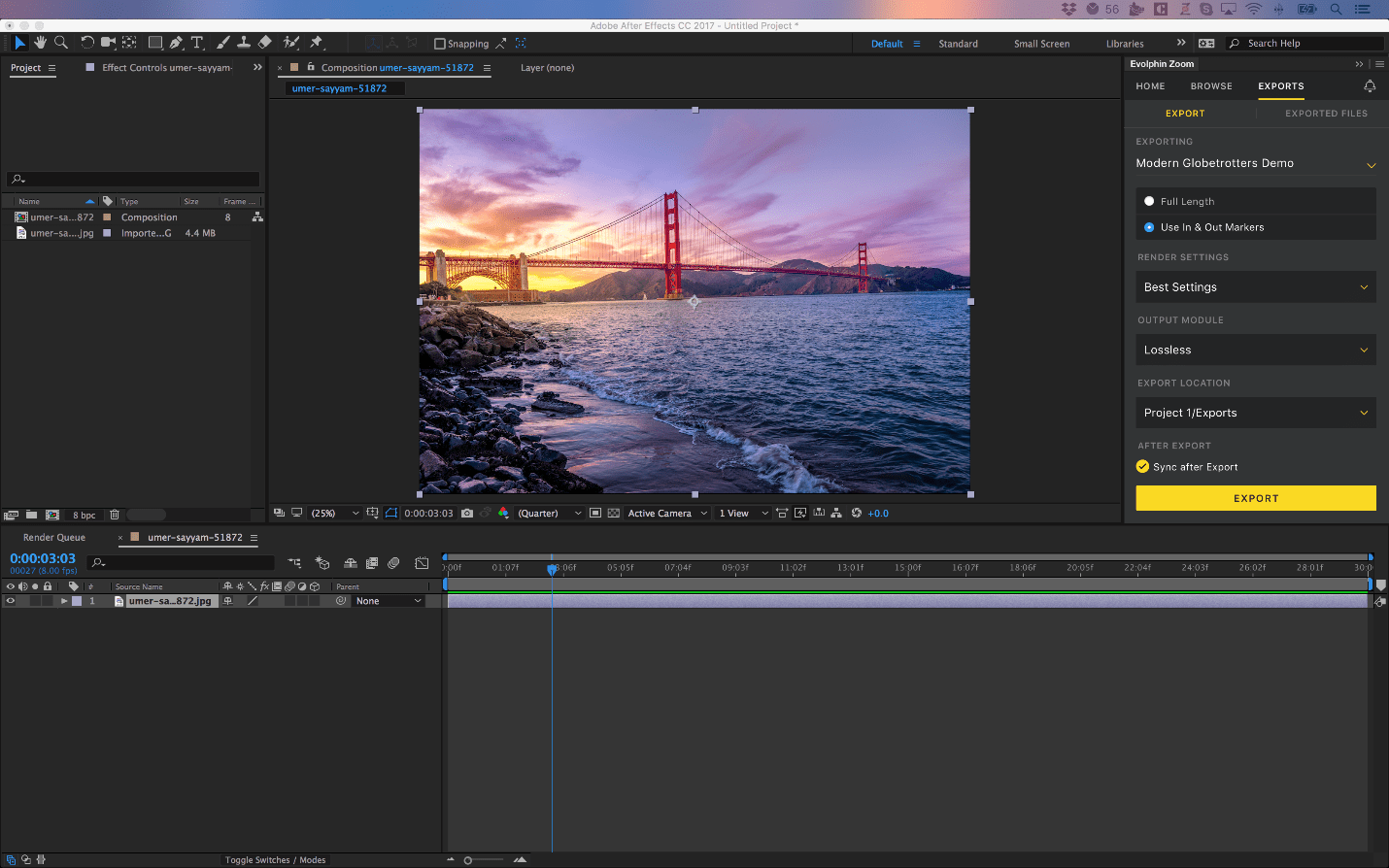 After Effects: Export using render presets and modules such as draft or lossless, and choose whether to use the work area or full comp length.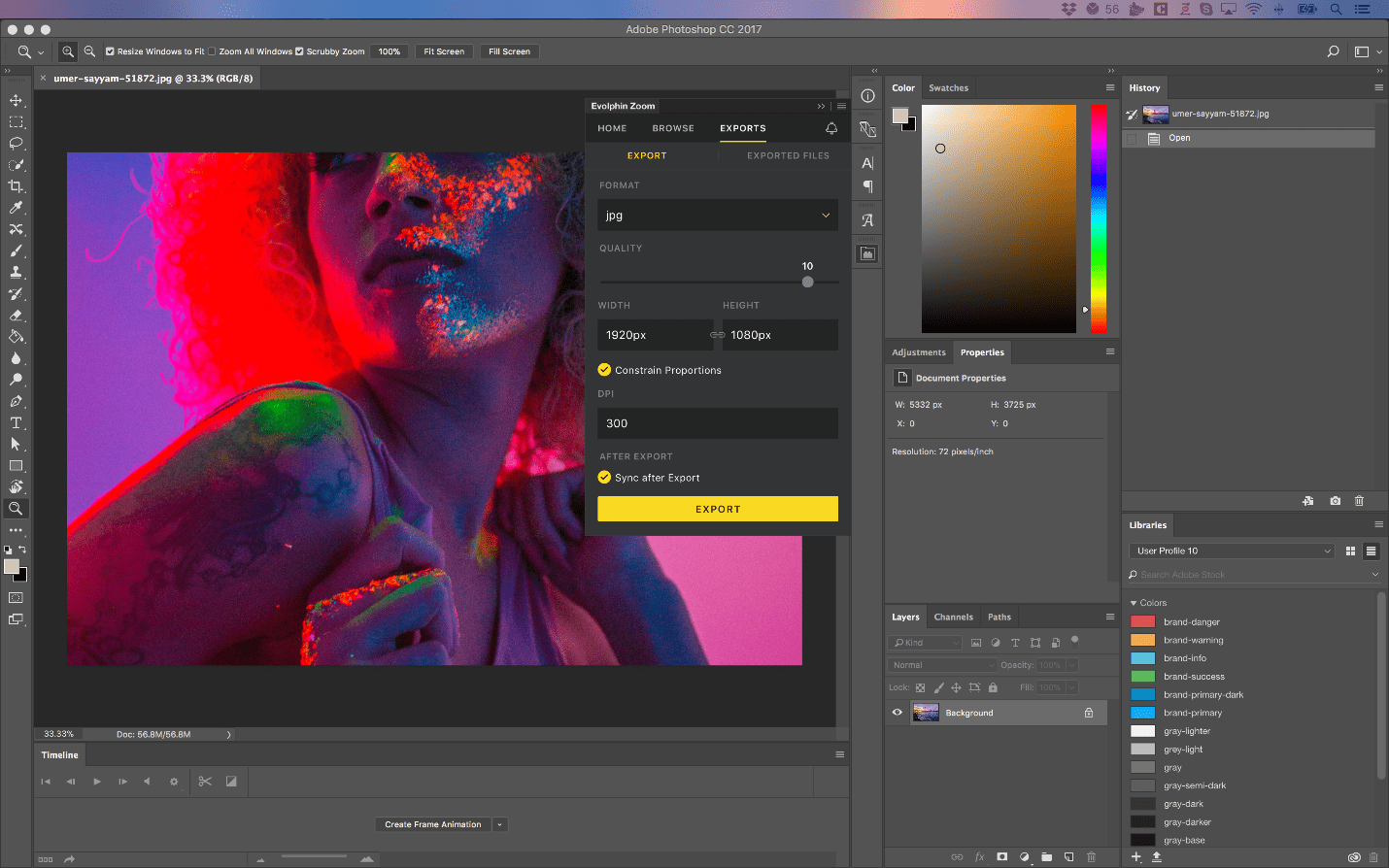 Photoshop: Zoom 7.0 lets you extract metadata from 1000s of layers of photoshop files in seconds. Choose the quality of exported images with dimensions dpi and a quality slider, such as the one for JPG pictured here.
Zoom 7.0 exports are automatically synced with your MAM repository, so you never have to leave your Adobe apps. Additionally, Zoom gives you the ability to define custom presets through the MAM server to ensure all users in your environment can access the same presets and keep export quality consistent.
Once exporting is finished, you can choose to add the export to a Collection to easily share it with your team or clients, saving everyone countless hours and increasing productivity greatly.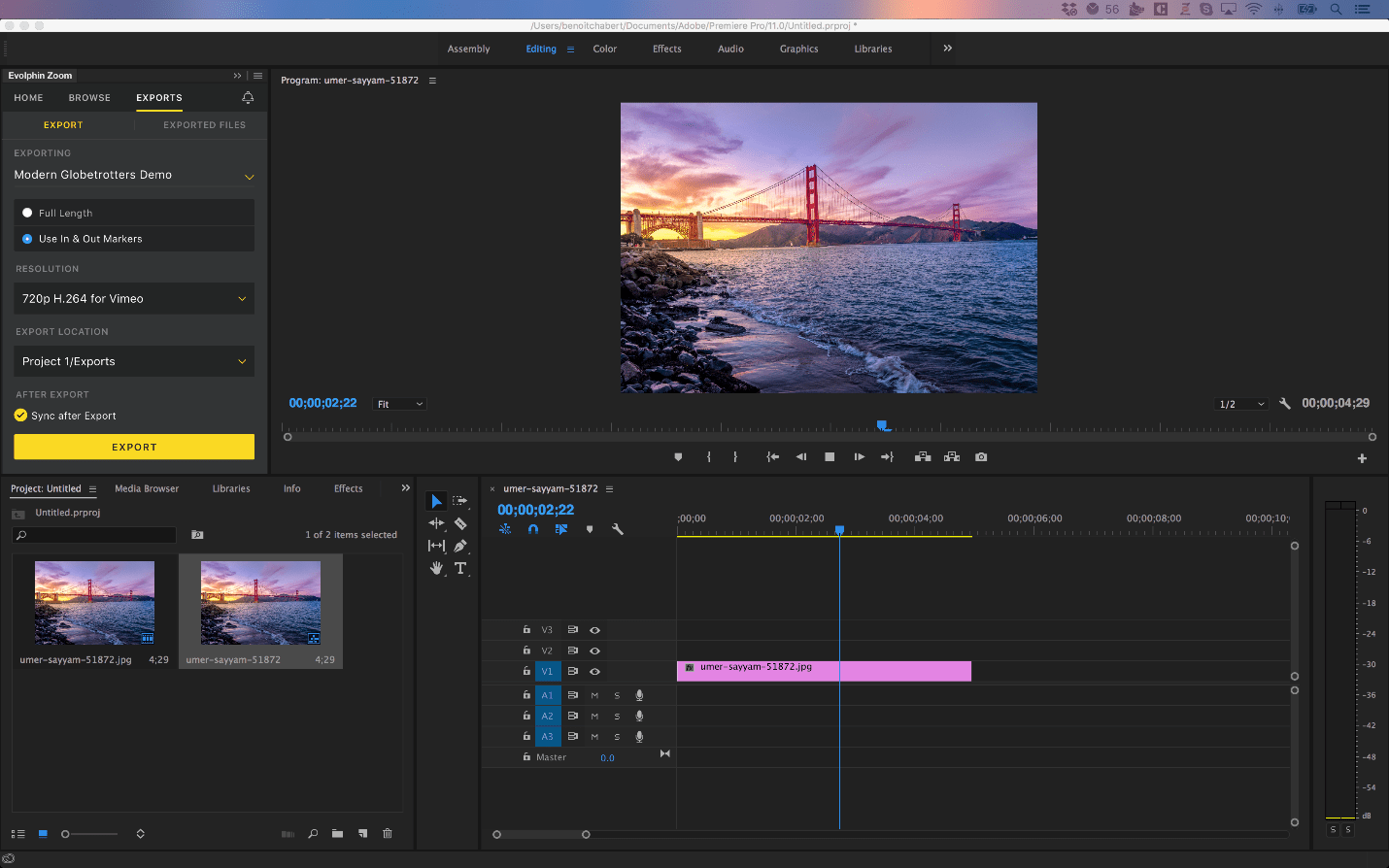 Premiere Pro: choose from a variety of export presets, all from within Premiere. Export your entire timeline or use in and out points for quickly exporting sections.
One of the greatest benefits of implementing a MAM in your production workflow is the ability to find and reuse assets whenever you need them. The new Adobe plugins from Evolphin take this to the next level, allowing you to easily search and retrieve any asset in your Zoom database and storage systems, such as SAN and NAS. In Premiere Pro, you can hover scrub over video files for a quick preview, or play the full video within the panel before adding it to your project. Once you know it's the file you want, simply drag and drop it into your project and start editing. With our powerful search tools accessible right in each Adobe app, you'll save countless hours looking for media, breezing through projects with ease.
Additionally, in the Adobe Premiere Pro plugin, you can swap between low res, mezzanine, and high res versions of each video file with the click of a button. Whether you're a remote worker needing to check out proxies for editing, or working on a low-powered computer, your workflow will not be hampered by a 4K video shoot. Simply swap in low bitrate proxies, make your edit, and swap in the high quality versions right before export. It's that simple.
If you're awaiting feedback from managers or clients, comments made from the web in Collections are automatically pushed to your application and displayed for you while you work. You can reply and act upon them immediately, saving countless hours of work. Collaboration has never been this efficient.
Zoom 7.0 streamlines workflows by enabling search, sync and export within the Adobe CC applications you use day in and day out. Learn more about Evolphin Zoom 7.0 here.