San Ramon, California – Evolphin Software, a leader in media production and collaboration, today announced the acquisition of WavePost and the expansion of its platform to include a fully cloud-based SaaS collaboration service for video producers and their clients to share and review media.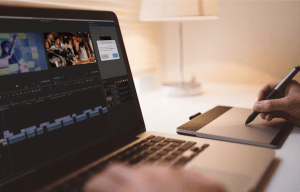 Evolphin's core product Zoom is being used in media production workflows at large companies around the globe. With patented technologies such as storage-saving front-end deduplication and real-time collaboration across local and wide area networks, Evolphin has established itself as a market leader for on-premises media production workflows. Zoom plugs into the entire Adobe suite and sits atop all common storage, transcoders, and archival systems, allowing customers to use their own hardware and not worry about compatibility. Evolphin was one of the first companies to offer cloud-based media review tools for its clients, and with the acquisition of WavePost, it is now a standalone offering.
"Expanding Zoom to support a cloud/SaaS based business model is a natural progression for us," said Brian Ahearn, CEO of Evolphin. "Our current portfolio includes on-premises and cloud-based deployments. However, customers are now demanding hybrid deployments that provide seamless integration between the on-premises and cloud operations. In addition, companies and their teams are becoming more and more distributed across the globe, further adding to the need for hybrid-based solutions to enhance collaborative workflows."
To support the hybrid deployment model, Ahearn looked for a partner that would help accelerate time to market and functionality. "We chose WavePost because the company has made significant gains in this space and has developed some very innovative tools and strong customer relationships, which will ultimately expand our cloud footprint," he said. "After looking at a number of potential partners, it was clear the culture and vision at WavePost aligned perfectly with Evolphin's."
Over the past few years, WavePost has carved out a strong niche in the cloud-based media collaboration space, with its efficient combination of video hosting, branded presentations, file transfer, time-coded commenting, user rights management, and more. WavePost clients include Hearst Magazines Digital Media and other major media companies, independent filmmakers, studios, and production companies including Wanderlust, Lantern Eye Productions, Rebel Road Studios, and Vacationland Studios.
"The possibilities today with video collaboration are amazing," said Evan Michals, founder of WavePost. "The support we can provide our customers is so far ahead of where things were a few years ago. We had a producer in California reviewing cuts on her phone on WavePost, while her editor in New York was cutting against her feedback. By joining our company with such a robust Media Asset Management solution, the Evolphin hybrid deployment model strategy will allow us to serve almost every media company out there."
"It's an exciting future ahead of us," Ahearn said. "Video producers push the boundaries with what's possible every single day, and they want to know their media is safe, secure, and accessible 100% of the time. At Evolphin, we're right there with them. Our goal is to make the creative process as easy as possible, so more time can be spent on creative decisions, and not on workflow."
Evolphin is a privately held company, with main offices in San Ramon, California. They work with a global team of developers and creatives, and offer a fully cloud-based workflow in addition to their battle-tested on-premises solution. For more information and to be notified of future releases, visit www.evolphin.com.